During a visit to Bordeaux a few summers back, a couple of French friends and I wanted to have a weekend trip together. They all suggested going to Vieux-Boucau-les-Bains, a place I had never heard of before. Roughly 2 hours away by car, they all agreed this would be the perfect spot for a weekend getaway. And, even better, they were introducing me to a new part of France!
Vieux-Boucau-Les-Bains is on the coast of southwest France, in the Department of Landes. And apparently, it is mainly a holiday town for beach-goers ready to have a city break. It is a relatively small area but perfect for a holiday getaway as it is equipped with a beach, an artificial lake, and forests surrounding the town.
We spent a total of 2 full days and 4 nights there and I found that it was the perfect amount of time to really enjoy what the area had to offer. Not entirely sure if it's worth the visit? Here are 3 things to do when visiting Vieux-Boucau-les-Bains!
Discover local traditions
During the summer season, there are many markets, movie screenings, concerts and sports competitions. However, on top of your typical activities such as mini-golf, tennis or bowling, this region of France also has very unique traditions and festivals! So there is a lot is going on to keep you busy!
Course Landaise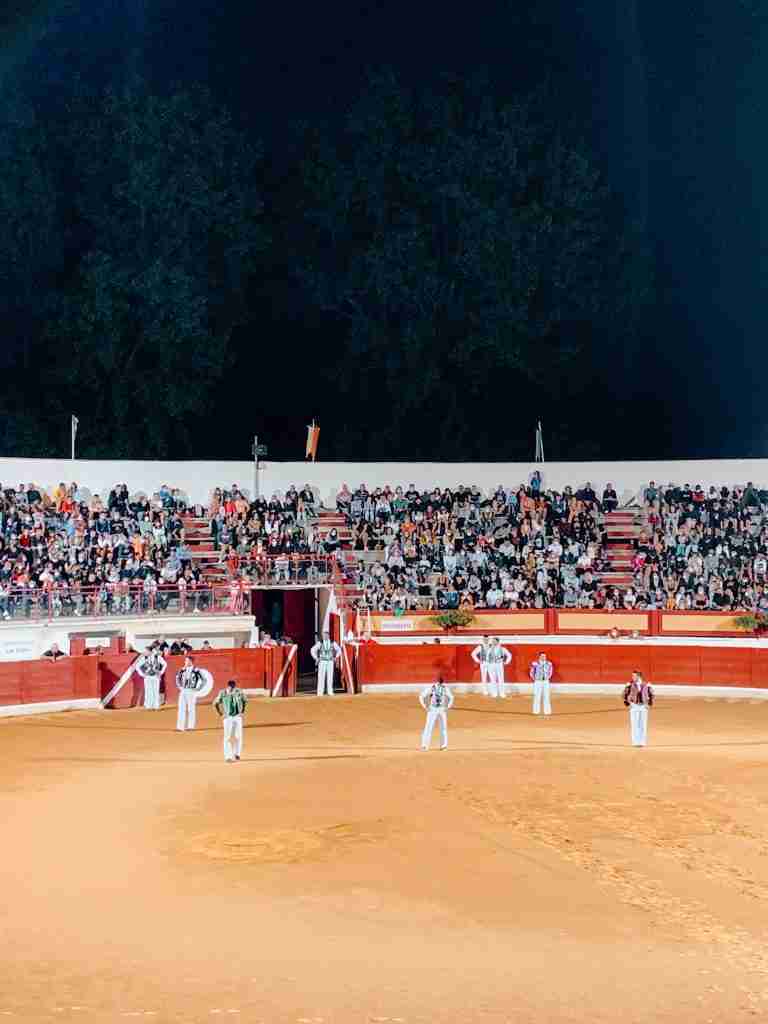 On the first night we arrived, we noticed in the centre of town a huge arena and signs all around the town advertising an event taking place that evening. It was called Course Landaise or Landes Race. I was told by my friends that it is a very typical tradition from the south of France. So we arrived later that evening, bought our tickets and were ready for the experience. The stands were filled with an energetic, cheering audience, a live band and an enthusiastic host.
The Course Landaise is a bull show, but not a bullfight. Throughout the show, the host explained to the audience how important it is for the people in their community to take care of their animals. He continuously explained the differences between the Course Landaise and the typical "Corrida" (Spanish bullfight) to reassure and educate the audience about this unique local tradition.
One of the main events consisted of trained people, dressed in their traditional costumes, jumping and somersaulting over a charging bull! It was really impressive to watch. Apparently, these activities are a part of a competition against other regions. Jumpers are awarded points based on their skill and the level of risk behind their trick.
The most shocking (and entertaining) part of the show was when they invited audience members to enter the ring (all over 18 of course). The host would explain various games to play, all the while the bull was let loose to run around the ring. Their main objective – avoid getting hit. I can only imagine that amount of adrenaline in that ring! Some of the games they were playing were absolutely ridiculous and hilarious to watch! We weren't surprised to see the volunteers dwindle from fear by the end of the show.
Explore the forest
I was expecting the beach during our visit, what I wasn't expecting was the Landes forest surrounding Vieux-Boucau-les-Bains. There were tonnes of options for spending our second day in the forest. There were many hiking trails to choose from and even the option to rent bikes.
We came across an advertisement for an accrobranche (a treetops activities park) called Adrénaline Parc. What a fun way to spend the day! Once you arrive, you are set up with your own harness and given instructions on how to operate the different tracks. They are organized by difficulty and you have a great variety of different tasks. You could be zip lining, swinging like Tarzan, climbing rope ladders, riding a bike on a wire or balancing on the treetops.
There are 24 different courses across all ages and abilities! I found it a nice mix of physically challenging (depending on the course) and releasing my inner child! All courses give you an idea before you start on the level of difficulty, physicality and time required. So it is all up to you whether or not you want to try the level! There were also staff around the grounds for questions, help and advice!
The park had other activities you can book and pay extra for! They had dirt bike trails, paintball spaces and a bungee catapult experience. On-site they also had a snack shack and places to sit when you're ready to take a break. We easily spent several hours there for 22 euros per adult!
Relax at the beach
One of the main attractions for tourists is the beach, which is called Plage des Sablères. On our first full day, we made sure to make use of the beach which was conveniently only a 10-minute walk away from our Airbnb. Leading towards the beach, there were plenty of restaurants, food stands and shops, so you have everything you need to spend a day at the ocean.
There are also plenty of options for water sports if that is more your speed! They had paddle boats, canoes and even an electric boat ride on the lake. Of course, visiting in the summer usually means lots of tourists. However, I personally found the beaches to be quite large and expansive. We didn't feel too crowded with the other tourists (which is always a plus when you're trying to relax)!
All in all, Vieux-Boucau-les-Bains was a pleasant surprise and ended up being a really nice weekend out of the city. If you're looking for a nice getaway on your next visit to the southwest of France, I would recommend giving Vieux-Boucau-les-Bains a chance!
Looking for other day trip ideas from Bordeaux? Find my day trip guide to St. Emilion from Bordeaux on Thatch.