Even though I live in Lille, Bordeaux I consider being my second home in France. I have visited this city on countless occasions mainly due to the fact that my boyfriend is from there. Since I've been toured around many times, I now consider that I have a pretty good handle on the top things to do in Bordeaux. Our local family has even said that I've visited more places around Bordeaux than they have! People always forget to be a tourist in their home city!
Finally, I feel that I now know the ins and the outs of the place. This may or may not be true because no matter how many times you visit a city, there are always so many places, restaurants, parks and hidden gems to explore and discover. However, based on my several visits, I have compiled a list of my personal favourite things to do as a tourist in Bordeaux. Think of this as your personal Bordeaux bucket list if you will.
*Disclosure: This article contains affiliate links. If you make a purchase after clicking one of these links, I earn a small commission at no extra cost to you.
1. Take a picture at the Mirror d'Eau
The Mirror d'Eau (or mirror water in English) in Bordeaux is iconic. It is THE place to take your cliché Bordeaux photo. It is essentially a huge pool of water located across the street from one of Bordeaux's most famous squares – the Place de la Bourse. As a matter of fact, it is the world's largest reflecting pool. Even though this pool was only established in 2006, it is now one of the top places to visit when in Bordeaux.
How does it work? There is 2 cm of water floating on top of some granite rock that fluctuates throughout the day. What I mean by that is that at times there are fountains going off, other times it emits a cooling mist and other times the pool lays still for people to cool off their feet or for children to run around and play. The best part is when the water is completely still (which is rare if there are lots of people about), then it acts like a mirror reflecting the image of the beautiful buildings across the road.
2. Visit the Cité du Vin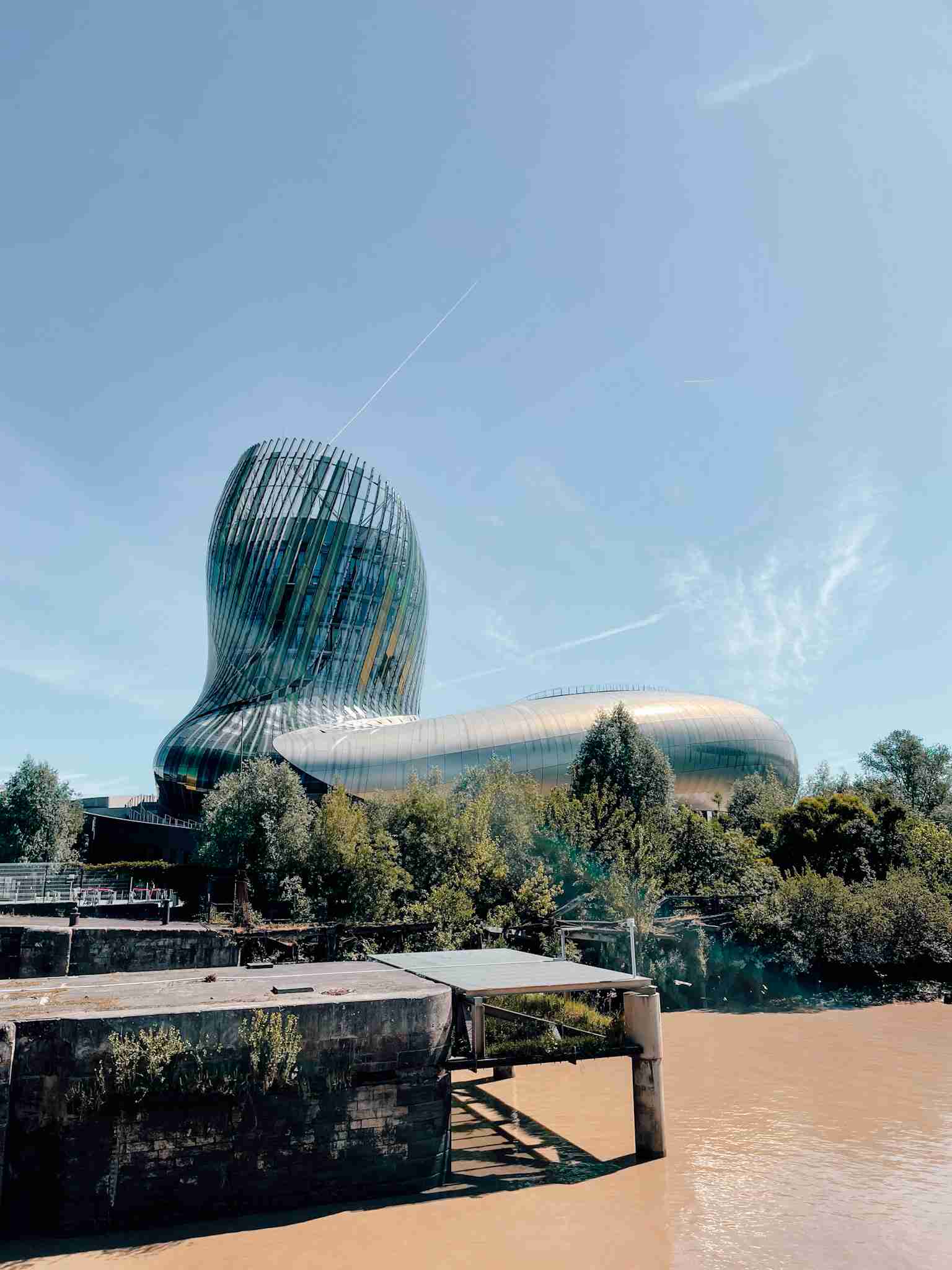 This is something I checked off my bucket list only recently. It was never a priority for me but I now know that I was wrong – I should have visited earlier! This is a really amazing and fun museum and I highly recommend visiting. It is located along the River Garonne, technically down the road from the Mirror d'Eau. The building itself is a pretty interesting shape. I've been told that it is supposed to be the shape of a drop of wine (I personally don't see the resemblance).
The Cité du Vin is the wine museum in Bordeaux. Above the museum, there is also a fantastic restaurant and a lookout complete with a wine tasting (which I believe is included with your visit). The best part of the museum is how interactive it is. One minute you are watching a video of winemakers around the world, and the next you are watching the ancient greeks perfect the wine-making process. They have sections of the museum dedicated to the senses (such as the aroma of the different flavours of wine). Surprisingly, they had sections dedicated to the art of setting the table, where you sit alongside holograms of chefs and experts. So, it is honestly one of the coolest museums I've been to and I really enjoyed it!
3. Go shopping on St. Catherine's street
St. Catherine's street, which begins at the Place de la Comédie (the Grand Theatre), is the longest pedestrian street in France as well as in Europe! The street stretches 1.2 km in length and is filled with shops, cafes and restaurants. It is another must-see place in Bordeaux. As a matter of fact, if you stand towards the start of the street (the Place de la Comédie end) you can see the entire street stretch down before you. And usually, it is filled with people, so its a pretty interesting view! Browsing some stores, grabbing some snacks and enjoying the beautiful streets of Bordeaux is really nice way to spend an afternoon.
4. Explore the old town
The Old Town of Bordeaux cannot be missed! I must repeat, the Old Town cannot be missed! The old town adds beautiful character to Bordeaux. It is filled with restaurants, bars and beautiful historical monuments. A couple of significant historic buildings worth putting in your GPS are the Grosse Cloche de Bordeaux and Porte Cailhau.
The streets surrounding the Grosse Cloche are filled with really unique and interesting shops, I totally recommend exploring. And not too far from Porte Cailhau, walk around Rue du Parliament Saint-Pierre, Rue des Faussets or all the different squares around this area. You'll find that they are filled with restaurants and bars. It's always buzzing at night, especially during the summer when people are enjoying the fresh air on the terraces.
5. Pop inside the Grand Theatre on your way to Place de Quinconces
I was pleased to discover that you can go inside the Grand Theatre (the Bordeaux Opera House) for free on certain days at certain times. When I went, Tuesdays to Saturdays between 1:30 pm and 6:30 pm were free. However, they might have updated this so be sure to check the Grand Theatre website or the Bordeaux Tourism website. But, it is important to note that free visits do not include a guided tour and only allow you access to 2 main rooms in the building. I thought this Opera House was gorgeous inside and I think if you aren't fully open to paying for a guided tour, at least pop in for free!
Afterwards, just down the street from the Grand Theatre is one of the largest squares in Europe, the Place de Quinconces! The space is the grounds of a former fortress called the Chateaux Trompette that was torn down in the 1800s. Nowadays, depending on the time of the year this huge space might be filled with festivals, concerts or fairs! It is quite an impressive square, lined with trees and a giant fountain and monument located opposite the Garonne river. It is one of the top things to do in Bordeaux.
6. Walk around Les Jardins Publiques
If you're interested in mixing up your city visit with some greenery, head over to the Les Jardins Publiques. It is a beautiful park that has several playgrounds, ponds and even a few museums inside! It's the perfect place to wander around, read a book, have a picnic, maybe ride a boat on the river or enjoy a French puppet show. I personally thought it was a really well-maintained park and there seemed to be lots of stuff going on to keep you busy!
7. Snack on a canalé
If you have never heard of a canalé, let me explain right now that it is the go-to pastry to try in Bordeaux. They originate from Bordeaux and it's pretty hard to miss the many canalé stores around the city. They are small rum and vanilla filled flavoured pastries with a dark caramelized outside and a soft custard centre. They're iconic to the region.
If I was to recommend a place to buy your canalés I would suggest heading over to La Toque Cuivrée. This is a particular brand and you can find them all around the city. There is another famous brand you will see around that is called Baillardran however I have now learned from several local Bordelais that La Toque Cuivrée is way cheaper and actually better quality.
8. Drink some wine
Of course, when you're in Bordeaux, drinking or trying some local wine is a must. I am sure you can get a great glass of wine in any restaurant. But as I mentioned earlier you can also try a selection of French wines at the Cité du Vin. Another idea would be to take a day trip over to St. Emilion. St. Emilion is only roughly an hour away from the Bordeaux city centre. There you can visit various local chateaux and visit an iconic wine region around Bordeaux. If you're unable to take a day trip, I would recommend stopping by Mama Shelter's rooftop bar. They have a great selection of wine, paired with a fantastic view of Bordeaux.
9. Get lost in Darwin
On the other side of the Garonne river is a "renovated urban wasteland" known as Darwin. They call it an ecosystem to be exact. It is free to visit and there you can find the most interesting surroundings. There is street art everywhere, a cafe, food shops, a clothing store, huge art installations, a bar, workspaces and several skate parks. The indoor skate park, located in a former warehouse, is huge. Inside, you can also find an old Bordeaux tram car and many old pinball games. It is really quite an eclectic space. Whether you're in the mood to exercise, to have a drink with friends, to look at some art, to do some shopping or have a new workplace environment, you can find it all at Darwin!
10. Visit the Bassin des Lumières
Lastly, I want to mention a relatively new attraction that only opened in 2020. It is a digital art centre for visual exhibitions. While I was in Bordeaux there was an exhibition on Venice with projected moving art all over the walls. The displays are very similar to the Live Monet or Van Gogh exhibitions that have become popular around the world.
But what is particularly unique about this place, is the grounds are actually a historic Submarine Base that was created by the Germans in 1940. When visiting and witnessing all of the projections of moving and living art, it is being displayed on the walls of the base with huge cells of water in the centre of the floor.
I thought this was amazing. I loved how they used the reflection of the water to add to the experience of the show. It created such a surreal environment – it was really beautiful. Another unique note to mention is that they also had 4 different art displays; 2 in the main base and 2 others in a smaller, more intimate rooms. All 4 of the shows were fantastic and I highly recommend visiting. I personally had never heard of this particular side of Bordeaux's history and loved how they chose to repurpose this historic space. Tickets can be booked here!
And there you have it, 10 ideas to keep you busy on your next visit to Bordeaux. Of course, there are also many other amazing places to visit but this should help get you started! If you want access to all of these spots on a may, you can find them on my latest Thatch guide – Highlights of Bordeaux! Be sure to give it a SAVE to access all future updates!