I lived in London for 2 years and it is one of my most highly recommended cities to live in or visit. My main argument is that, over the course of 2 years, I still didn't see it all! There are so many museums, neighbourhoods, events, day trips and markets that I was still left with things to see on my bucket list. One of my priorities was visiting as many markets in London as I could.
There are SO many markets in London! I tried to break them down into 2 categories: food markets and shopping markets. There are some markets where you could find both but for the most part, I noticed that the best markets in London had their had their own unique side to offer.
As I said above, even after living in London for 2 years, I still didn't visit all of the markets or museums. But here are 8 of the most memorable markets I did manage to visit. Below, I have ranked them in order, the last one being my personal favourite. Read on to help you decide which markets in London should be added to your bucket list!
*Disclosure: This article contains affiliate links. If you make a purchase after clicking one of these links, I earn a small commission at no extra cost to you.
8. Brixton Village
Type of market: food market & shopping market
Even though this market is also a huge shopping site, especially for the African community, I mainly came here for the food. There is a network and collection of different restaurants with so many options to choose from! This market wasn't my personal favourite but it was definitely a pretty well-known one that was worth exploring! Especially if you want to get out of central London for the day!
7. Seven Dials Market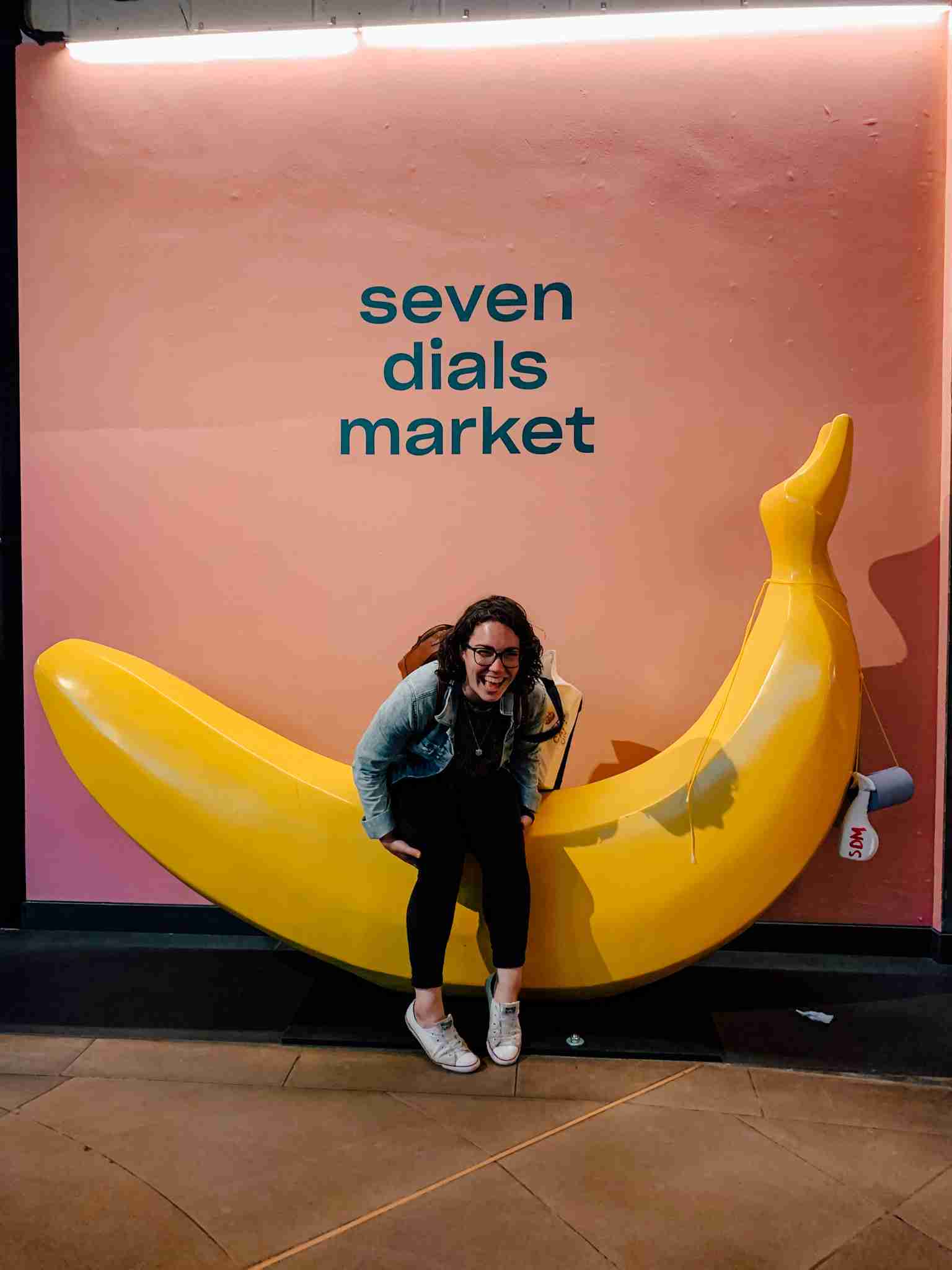 Type of market: food market
We stumbled upon this market when exploring the theatre district in London. From what I found, it is a bit lesser known than some of the other markets in London. It is a fairly large indoor space with quite a bit of seating! I would say that this particular market wasn't your 'typical' market, it gave me more food court vibes!
6. Convent Garden
Type of market: shopping market & dining
Covent Garden is one of my all-time favourite places in London. My day would usually end here after almost every visit to central London! I can talk endlessly about the lively vibe and endless selection of restaurants however when it comes to rating 'markets', this one didn't end up high on my list.
In my opinion, Convent Garden is not a traditional market anymore. It is more of a shopping and dining experience. There are more restaurants and very established shops, rather than food truck style and local shopping. I still wholeheartedly believe this is one of my favourite spots in the city, just not if I'm looking for a market!
BONUS: discover my favourite foodie finds in North London in my FREE GUIDE!
5. Portobello Market
Type of market: antique shopping
Portobello Market is the largest vintage and antique market in London. Sundays are the best day to come and walk around because it is quite large! I personally found a lot of interesting and unique things in this market – specifically prints! But all in all, if you want to do some antique shopping and find the strangest collection of objects, Portobello Market is your spot!
4. Broadway Market
Type of market: food market
This is a hidden gem in my opinion. It is out of the main city centre and is located in a more residential borough. In fact, it was my local market, so I was able to visit here the most! And it was one of my favourite markets! It is very similar to Brixton Village but I preferred Broadway market so much more!
The market is set up as a network of alleys and hallways with tonnes of delicious choices! Honestly, it was a maze and was so cool! It has such a lively, awesome vibe and was an awesome place to grab food after work or on weekends! Highly recommend checking it out if you want to escape the tourists and live like a local!
There are 2 markets located side by side: Broadway Market and Tooting Market. Broadway market is more expansive and, in my opinion, way more fun than Tooting Market!
BONUS: all of my favourite food spots in South London you can find in my FREE GUIDE!
3. Camden Market
Type of market: food market & shopping
Camden is probably one of the most iconic markets in London. It is super urban, really original and has such a cool aesthetic. It is located right next to the river and there are a good handful of food trucks offering fantastic food choices. But be warned, every time I've gone it's super packed and the lines are super long! You can take this as a sign that the food is superb! And just down the way from the food market, there are some streets for shopping as well! In all honesty, I missed the shopping section the first time I visited, but don't miss it! You can find it if you search for the Amy Winehouse statue!
2. Brick Lane Market
Type of market: food market & vintage shopping
This market is located in a fun, artsy area of London. You can find endless murals of street art and vintage shops to browse! I visited a few times and it's one of my favourite memories in London. It's most known for its vintage and thrift shops so be sure to check them out! But they also had AMAZING food. There were stalls outside on the streets but also an indoor hall as well. This is where I spent a good portion of my visit! It's a really fun space and another one I'd highly recommend visiting!
1. Borough Market
Type of market: food market
Even though Borough Market is probably the most cliche market on the list, I honestly think it is the best food market in London. I've eaten here so many times and each visit was different AND amazing! There is so much to see, do and eat that you can spend a whole afternoon here! It is also located right in the touristy centre of London, which for some is a great jumping-off point to visit Tower Bridge or Big Ben!
London's market scene is well known and there are so many markets that I wish I could have added to this list. There are flower markets, shopping markets and of course, seasonal markets that I wish I had more time to discover.
In the meantime, hopefully, this breakdown is enough to get you started on your London bucket list. Visiting one of the markets in London is an absolute MUST for any visitor and I promise you, you won't leave disappointed!
Is it a rainy day in London and you need something indoors to keep you occupied? Visiting one of London's Museums is a perfect way to spend time inside on a rainy day. PLUS, most of them are free!
And if you're a foodie like me, check out my FREE foodie guides to North London and South London!