To some, travel planning is an overwhelming process. It is stressful, overwhelming and people often don't have the time to dedicate to it. I, on the other hand, love travel planning! It's part of the inspiration behind this blog – to make travel planning easier for others!
So let's get straight to it, what are the basics behind travel planning? How can one break it down so it's more manageable? What should I do first? I hope by the end of this article, you have found the answer to all of your questions.
In this post, I will break down for you the various steps you should take to plan your next trip. I will also provide you with tools and resources to help you along the way!  You can also refer to my premade travel guides on Thatch which will also take some of the stress of travel planning away!
*Disclosure: This article contains affiliate links. If you make a purchase after clicking one of these links, I earn a small commission at no extra cost to you.
1. Deciding your budget
Defining your budget is a step some people tend to forget. Depending on your financial situation, your budget might not need to be strictly defined prior to leaving or if you're like me, your budget strongly impacts the type of trip you're able to manage.
If you have a stricter budget, setting parameters for yourself prior to choosing your destination is probably the way to go. From there, you can research locations, flights or accommodations that fit your budget.
If you have a little more wiggle room in your budget, you can also define your budget after you've chosen your location. You can start with the next spot you want to visit on your bucket list, research general costs and build your budget from there.
Whether you're operating on a flexible budget or a stricter one, I always think it's important to know roughly how much you spent AFTER each trip. This can help you identify your spending across different trips and can be used to help you set your budget for the future!
Want some examples? Here are the budget breakdowns for my trip to Malta and Cornwall!
2. Deciding where you want to go
If you haven't set your budget yet, that's fine because no matter what, one of the first steps in travel planning is deciding where you want to go! And I have been asked this a lot: how do you decide where to go on your next trip?
There are multiple schools of thought when it comes to deciding on your next destination:
1. You know your dates FIRST and you find reasonable flights for those dates. Everything revolves around the dates you have in mind.
2. You already know the destination you want to go to and you find reasonable flights for that destination. Everything revolves around your destination.
3. You find cheap flights and you choose your dates and destination based on the flights. Everything revolves around the flights.
4. You've stumbled across a beautiful hotel or Airbnb and decided that is where you want to stay and you choose your dates based on availability. Everything revolves around your accommodations.
Some other factors to keep in mind during this phase of travel planning are the weather and how much time you have for your trip.
When it comes to deciding your destination, you should do a bit of research on the weather. Look into shoulder and off-season for the destination you have in mind because they will be less busy and cheaper. But also look into what the weather conditions would be like. It's very easy to find "the best time to visit…" after a quick Google search.
When considering how long you need to spend at your destination based on how much time you have, you should ask yourself these questions. Are you going to stay in one place? Do you need extra days for day trips? Are you going to split your trip into sections so you can visit multiple places? This should help you decide how much time you'd need or what stops are possible for your trip. This is another really easy google search "how long do I need to spend in…" and you should have an idea!
3. Deciding on your flights
Searching for flights can sometimes take hours. And, from my own personal experience, flight prices can change super quickly. Which is a big pain.
My best advice for searching for flights are:
1. Use WayAway for flight research. For the longest time, I have been using Skyscanner, or Google Flights (which are other great options). But recently WayAway has been my go-to! It compares flights and provides you with the cheapest and easiest flight options to your destinations. But for me, the game-changer is the detail they provide. They will show you information about the seat sizes, amenities on board, bag prices and flight statistics. To some people, these things make a huge difference so it's super cool to have all of the info right in one place! Honestly, a super useful platform to use!
*Use the promo code: CZ10 for 10% off a WayAway Plus membership! For more info about what is included with a membership, click here!
2. Use incognito mode when booking flights. This is a controversial topic and many people say that this isn't a necessary step. Originally, it was believed that by using incognito mode or clearing your cookies, you will prevent the prices from jumping based on your search history. Nowadays this has been a bit debunked however I still think it is good practice nonetheless!
3. Don't forget about the baggage! I have travelled a lot in Europe and many low-cost airlines only include a backpack as their carry-on. I now always advise people to check the baggage policy! Sometimes we jump on a cheap flight but realize it isn't as cheap as we originally thought when adding the price of the bag!
4. Deciding where to stay
I have been an Airbnb girl for years and it is still one of my go-to sites when looking for accommodations. However, on a recent trip to Malta, I thought just for the fun of it, why not look at the cost of a hotel? And it turned out that the hotels were actually CHEAPER than the Airbnbs!
I came across this when using booking.com. There are a lot of great accommodations for various budgets, plus lots of filters to help you narrow down your options. You'll be surprised by the variety of beautiful places you can find! I now always refer to booking.com and compare the costs with other sites like Airbnb! There are more than just big hotel chains! You can equally support a local business, such as a boutique hotel, by using booking.com!
Another option for people with lower budgets is looking at Hostelworld. It is true that hostels are typically for younger people with lower budgets but you can find a lot of unique accommodations! I am visiting Croatia this summer and our hostel is located on the side of the mountain, and the walls are all stone! I am personally super excited! Hostels are another great way to meet other people, especially if you are a solo traveller!
5. Deciding on your insurance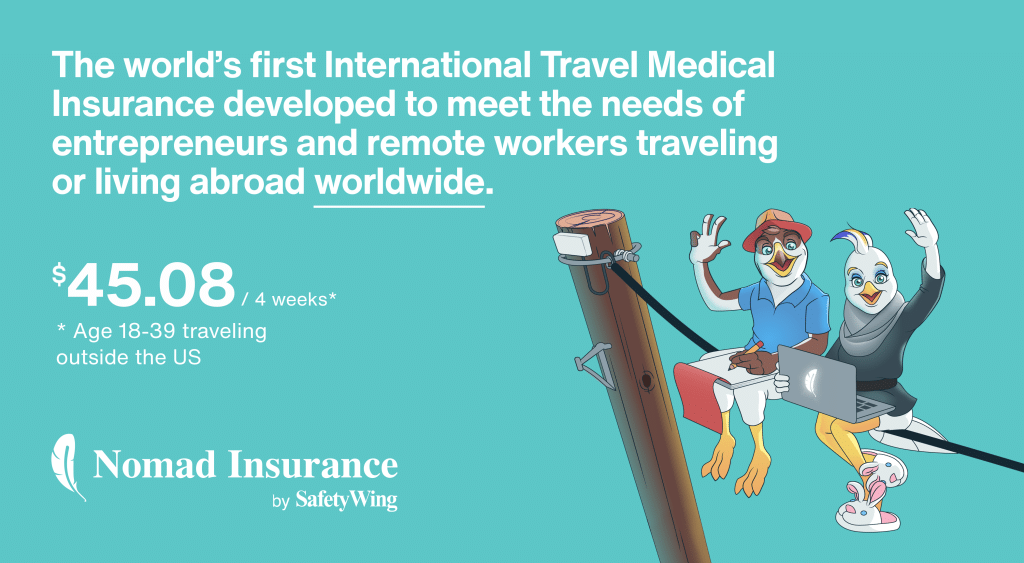 Travel is one of the most exciting passions however, it can also be one of the most expensive and unpredictable. Flights get delayed, accidents happen, luggage gets lost – you hope for the best but you can't be absolutely certain that everything will go as planned.
This is where insurance can put your mind at ease when you're travel planning. SafetyWing is a travel medical insurance that has been made for nomads and avid travellers. You receive travel medical coverage as well as travel coverage for anywhere in the world that is not sanctioned! Whether you're a nomad, traveller or remote worker, they have services to fit your needs and interests.
*Speaking of which, if you're a travel blogger and being a SafetyWing ambassador interests you, you can click here to learn more!*
What I personally find compelling about SafetyWing is its flexibility. Their insurance is more like a subscription with a payment every 4 weeks that you can start and stop as needed. You can even purchase coverage if your trip has already started! They are equally very reliable and transparent – something one can appreciate from their travel medical insurance provider!
You can learn more about their services on their website here!
6. Deciding on what to do
Now comes the fun part. You now know what your destination is, how you're getting there, when you're going, which insurance coverage you need and where you are staying. Your major expenses and decisions are done!
If you've been keeping track of your budget, you can now see how much you have left for the fun stuff! Remember to keep some money aside in your budget for food, transportation and unexpected expenses!
Some people think this is the easiest part of the planning process because it is usually the most fun. BUT, it still requires a tonne of research. But don't worry, here are some resources that should help make it easier for you!
Your itinerary:
Thatch is an online and mobile resource where you can build your own itineraries OR browse guides, maps and itineraries from travel experts and content creators. This is a resource I use quite often now and is a great way to keep track of everything all in one place. PLUS you have a map feature which is useful when navigating when you're out and about.
I personally have plenty of resources on France and the UK. These countries I have lived in and travelled around extensively. I share local foodie recommendations and other hidden gems in the various regions. Check them out here!
Transportation:
If during your trip you plan on venturing to various places, you will probably look at train and bus options. (For flight options, you can always refer back to WayAway!) My 2 favourite sites for comparing train and bus options are Omio and Trainline.
I have used both for years! Both platforms share train and bus services across various companies and will show you the best prices and easiest routes. I have yet to have any issues using these platforms and as I said, I have been using them throughout my 4 years living in Europe! Most recently, I have booked trains using Trainline from Paris to Lille and a bus from Dubrovnik to Kotor using Omio. Highly recommend them both!
Another useful site is Rome2Rio! They compare prices across ALL modes of transportation. They'll show you roughly how much it'll cost by plane, train, bus, car or ride share. What I particularly like is that they will show you an estimate of how much it'll cost by car. This is great when I am budgeting for road trips. They will estimate how much it'll cost in terms of gas and tolls! It really is a great platform to find the BEST and CHEAPEST method of transportation!
Excursions and tours:
GetYourGuide: This site has tonnes of tours and excursions, and is a great tool to use when travel planning (HIGHLY recommend checking them out!). Whether you want a group trip to meet people, or you want something private, you can find it all at GetYourGuide! Even if you aren't totally sure what you want to do or what there is to do, they are a great source of inspiration. They offer tours, day trips or even just entry tickets! It's a super easy platform to use and you have all of the information you need right there on their site.
Tiqets: This platform mainly offers entry tickets, rather than tours. So if you're looking for tickets to the Louvre, the Heineken Experience or the Vatican, browse Tiqets! You can find plenty of attractions and museums from around the world!
Big Bus Tours: We've all seen those bus tours around almost every major city. You can't get any more touristy than that but that doesn't necessarily need to be a bad thing. My family has been using Big Bus Tours for YEARS! Typically, we use them on the first day we arrive in a city, most recently we used them in Paris, and we take a tour of the city to get familiarized. It is a really great way to get a sense of the city and the spots you know you want to return to! From our trip to Paris, we also had access to a night tour AND a boat tour! So there are many other tour options to explore!
Airbnb Experiences: this is a feature of Airbnb that is sometimes under-appreciated. I have found some of the coolest tours and experiences with locals. I have done cooking classes, food tours or even walking tours with locals all through the Airbnb.
Pro tip: I personally like to have activities reserved in advance. After Covid, sometimes online bookings are mandatory or a time slot is needed. To play it safe, for activities I KNOW I want to do, I always make sure its pre-booked!
Other things to keep in mind
Ideally, when you head to the airport, all of the planning and organizing should be out of the way. From when you land, the goal is to just 'do'. Just enjoy and be in the moment, not worrying about bookings.
To help make this process smooth, here are some other things to keep in mind when preparing for take-off!
Visas: SOME countries require entry visas. Be sure to check the entry requirements and have all documents ready to go!
Passport Expiry Date: I bring this up from personal experience. Not all countries will allow you to enter if you have a passport that will expire in the coming months. In most European countries, you need a minimum of 3 months before your passport expires but some places need 6 months! Check this before you go!!!
Vaccines: although Covid is the vaccine that often springs to mind, there are plenty of other vaccines needed to travel. Especially to more exotic destinations. Finding out which vaccines you need can be found very quickly and easily online or chatting with your doctor!
Chargers and Adapters: make sure you have the proper outlet plugs with you and always make note of the voltage for the adapters! I have definitely broken electronics from using the wrong adapters!
Local currency:  this is a no-brainer, always check what the local currency is and have some cash on hand. For my debit and credit card, I personally use Wise and I have loved it. You can have money of multiple currencies on your account which works great for people who travel or move money often. I've been using it for YEARS and have loved how easy travel has become for me!
Local language:  knowing a bit of the basics before you go is the best way you can respect the local country you are visiting. Learning hello, please and thank you are the simplest ways to connect with the local culture.
SIM Cards and Phone Plans: decide before you go whether or not you would like to add roaming to your phone plan or if you'd like to invest in a Sim card abroad. There are pros and cons to each and it really depends on your personal preference. You can also always opt out, not have data and keep your phone on plane mode. If this is your choice, I highly recommend looking into downloading offline maps!
Safety: do a quick search about safety in terms of petty crime. I say this because a quick Google search saved us from several scams in the past. Whether it is that you should be aware of pickpockets or maybe there's a go-to scam in the area, just familiarize yourself with what to expect.
Pack Appropriately: like I said in the very beginning, knowing the weather is an important travel planning factor. Try your hardest not to over pack, you most likely do not need as much stuff as you think you do. I also always bring an umbrella because you never know!
Make copies of your documents: I ALWAYS travel with a photocopy of my passport and important cards just in case. It's great because I did it once and I reuse the same copies for every trip. It's always good practice to have backups in case of an emergency or theft!
Ready for your trip?
I hope by now you feel way more confident about your travel planning. I personally think where people find it challenging, is trying to think of everything. Trying to think about everything that needs to get done and not forget a step along the way.
Forgetting a step is definitely part of the learning process. This is why I know some very specific tips that I now share with people to avoid the headaches I have gone through in the past.
I truly hope you found this article helpful in your travel planning process. As I said, it is my ultimate goal to use my personal experiences to help people travel easier. To help you even more, in the coming future, I offer personalized travel guides and planning services on Thatch! Subscribe to my Thatch shop to find out more about this service!!