One of the most EPIC road trips I've done to date is through Scotland, Northern England and Snowdonia National Park in Wales! It was adventure packed, filled with history and some of the most beautiful landscapes I've ever seen. Let me do a complete breakdown of this UK road trip budget for you!
In this breakdown, for expenses that we shared (ie. accommodation and transportation) I list the total we paid and what that meant per person. Whereas my own individual expenses (ie. food, excursions and souvenirs), I listed expenses per person. These types of expenses will vary from person to person even when on the same trip! At points, I will also break down our costs for Scotland specifically and for Northern England + Snowdonia. I'll break it down this way in case you're curious about how the different areas cost!
It is also important to note that I was living in the UK at the time. This road trip budget does not include the cost of entering or leaving the country (ie. flying to any destination). Those costs are largely varied depending on where you're coming from, which airline you use, when your travel dates are and when you purchased your tickets.
*Disclosure: This article contains affiliate links. If you make a purchase after clicking one of these links, I earn a small commission at no extra cost to you.
Trip overview:
Of course, your trip might look different than mine, as we fit in A LOT of spots on this road trip. This particular road trip I did in August 2020 with a friend of mine (when we had a window of eased lockdown restrictions) was over the course of 14 nights and 15 days. I would like to note that since it was the summer of 2020, the prices of our trip could have been impacted since travel was restricted for the most part. Either way, this should give you a general idea of what to expect!
Here is a quick overview of our itinerary. We began by taking the train from London to Edinburgh where we stayed for 2 nights. We then picked up the rental car and drove to Inverness for a few days. Next, we then drove to the Isle of Skye for a night and then Glasgow for a night. We then drove to York for a few nights before heading to Snowdonia and ended our trip in Liverpool. This is where we dropped off the car rental and took the train back to London.
Accommodations Expenses
🏨 Total: £639.27 (or £319.64 per person)
Part 1 🏴󠁧󠁢󠁳󠁣󠁴󠁿: £393.83 total
Part 2 🏴󠁧󠁢󠁷󠁬󠁳󠁿🏴󠁧󠁢󠁥󠁮󠁧󠁿: £245.44 total
We tried to keep the costs of our accommodations low since we knew we would be out exploring most of the time. In total we stayed at 7 airbnbs over 14 days. Most of them we had the entire apartment, especially when we were staying for multiple nights. But for the places we were spending 1 or 2 nights, we had a private room inside someone else's home. This was our personal preference on how to keep expenses low! All bookings were made on airbnb!
That means on average we were spending around £45 per night on accommodations (or roughly £22 per person). We had to keep in mind that we needed access to parking on the premises but for the most part, for this Uk road trip budget we managed to keep our accommodation costs low!
Transportation Expenses (car rental, gas, and trains)
Total: £956.17 (or 478.09 per person)
🚂 Train: $CAD 127.40 per person (roughly £72.62)
We purchased a BritRail pass since we were Canadians living in the UK, which was a really great investment. We chose a 2 day flexi pass which meant that in the span of a month we could take any trains for 2 days using our pass. Once we purchased the pass, we activated it when we knew the exact first travel date. We then reserved our tickets from London to Edinburgh and Liverpool to London. There is a lot of flexibility with the BritRail pass – you can learn more here!
🚗 Car rental & Insurance: £ 546.86     ⛽️ Gas: £ 241.82 
Road tripping around Scotland and the UK was an amazing decision in my opinion. I believe a car is necessary to get around. To visit the rural towns, explore the highlands and other stunning locations were only possible with the flexibility and freedom that a car rental offered us. I'm sure you could make do with public transportation, however it would take a lot more logistical planning.
Reminder: most car rentals in the UK will be manual cars. There are options for automatic but they tend to be more expensive. They also drive on the left-hand side of the road in the UK.
I will note that the roads in Scotland specifically varied from high to lower visibility. There were definitely moments when there were very tight roads and stone walls or large hedges lining the street impacting your visibility. It is entirely doable but there were some tense moments for sure.
🚕 Uber: £22.25
We only had to take an Uber once, to take us from the car rental drop-off into central Liverpool. This is something to keep in mind with car rentals, sometimes their location might be a bit far from the central city. We preferred to opt for an Uber for convenience rather than wasting our time trying to make sense of the bus routes.
Food Expenses
🐠 Total: £175 per person (roughly)
Part 1 🏴󠁧󠁢󠁳󠁣󠁴󠁿: ~£100 (per person)
Part 2 🏴󠁧󠁢󠁷󠁬󠁳󠁿🏴󠁧󠁢󠁥󠁮󠁧󠁿: ~75 (per person)
Our food budget was another way to save money. The first day we got the car rental, we stopped by a grocery store and picked up fruits and car snacks. These lasted almost the entire trip – this was the best way to save money.
For lunches, most grocery stores in the UK have a meal deal where you can buy a sandwich with a snack and a drink. We did this most lunches because we were normally out hiking, driving or wandering. These meal deals were the PERFECT solution for a road trip like this. We would pick them up on our way out, and keep them in our backpacks until we were ready to eat. Highly recommend!
For dinners, we switched between trying local restaurants and pubs. Pubs or Fish & Chip shops were often cheaper since they were more similar to fast food. But we wanted to make sure we were also trying local restaurants and foods beyond fast food. We felt that this was a good balance, snacking, having the menu deal during the day while at night having a more substantial meal.
Excursion Expenses
🏰 Total: £ 36 per person
Since we had a car, we didn't need to look at tours to take us around the region; we could get there ourselves. During the 2 weeks, we did a walking tour in Edinburgh, visited a castle in Scotland and the Beatles Story in Liverpool.
The majority of our activities were FREE, such as hiking and visiting national parks. I was surprised that many other hidden gems we found (such as castles and similar historic sites) were free to explore. Especially if you opt not to go inside the castle. Visiting the outdoors made a huge difference for our Uk road trip budget!
Miscellaneous Expenses (gifts, souvenirs, unexpected expenses etc.)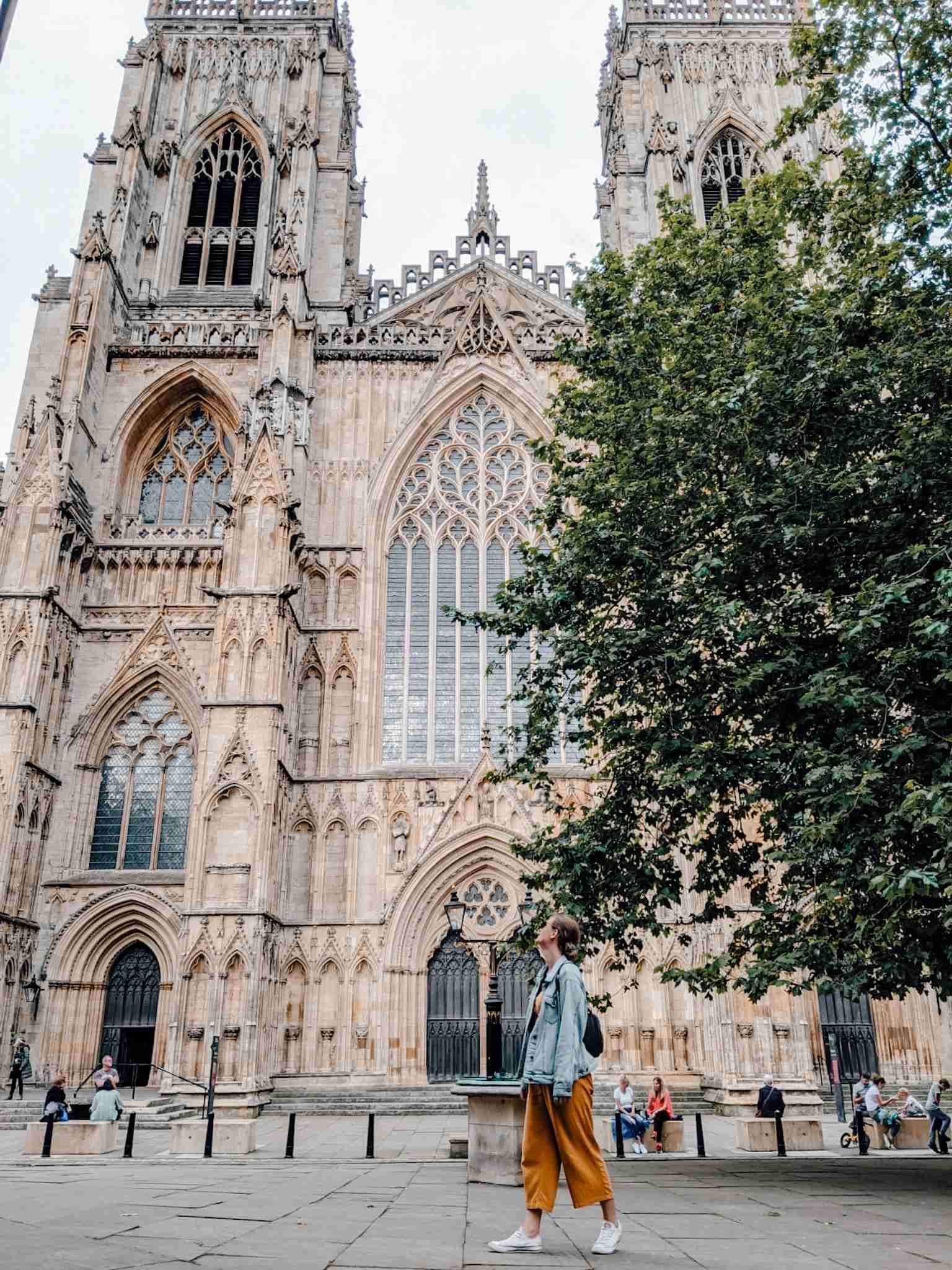 💸 Total: £ 50 per person (roughly)
My personal souvenirs usually tend to be magnets – on this trip I bought 2! I also bought a few other small souvenirs and gifts for myself and to bring home to others. Unexpected expenses included a car charger and a luggage locker for our last day in Liverpool. We wanted to explore the city more before our train so arranged a locker at the train station.
Summary:

My personal UK road trip budget was roughly £1,058.73 (or 70.59 per day)

It was after this road trip that Scotland became one of my favourite countries of all time! I highly recommend once in your life embark on a road trip around Scotland and explore the North of England and Wales. And hopefully, with the help of this budget breakdown, you'll see that it isn't too expensive to do so!
Considering the length of our trip and the amount that we saw and did, I was happy how we managed to keep our expenses low. Depending on the type of traveller you are or the trip you want, your expenses might look different. You may want to camp, travel by train, do more excursions, or try more guided tours – there is so much to do and see in the UK! I would also like to mention, there were moments when some food spots were cash-only. This is an important reminder to have cash on you while you're travelling!
I have built the ULTIMATE 2-week road trip itinerary through Scotland. The itinerary is based on my travels, but I expanded it based on where I felt I would have loved more time on our trip and on some conversations with locals. You can browse my other UK guides on Thatch here!