The road trip budget outlined here includes my personal expenses over the course of a 7-night and 8-day road trip. I was travelling with a friend, so do keep this in mind if you are planning to travel with more or fewer people – your expenses will look different.
In this outline, for expenses that we shared (ie. accommodation and transportation) I listed the total amount we paid and what that meant per person. Whereas my own individual expenses (ie. food, excursions and souvenirs), I listed my own expenses since they vary from person to person even when on the same trip!
This road trip took place in the middle of summer 2022 (the end of July and into August). It is important to note that prices might have been higher since we were travelling during the peak travel season.
It is also incredibly important to note that since I live in France, we had access to my car. My budget did not have to include the cost of a car rental and insurance. Do keep that in mind as you continue reading.
This budget also does not include the cost of entering or leaving the country (ie. flying into any destination). Those costs are largely varied depending on where you're coming from, which airline you use, when your travel dates are and when you purchased your tickets.
To give you an idea of our itinerary, our road trip started in Lille, with a stop in Brussels on our way over to Germany. We spent a couple of days on the Fairytale Route, and the Rhine Valley. We even popped into the Black Forest for a day before heading to Alsace. Soon after, we were back in Germany where we made a few pit stops in Luxembourg before returning home to Lille. All over the span of 8 days!
In other words, this was a very jam-packed trip. We wanted to do and see as much as we could in a relatively short amount of time. We could have easily added a couple of extra days to this trip however, as a way to save money, we kept it condensed and as cheap as we could!
Without further a do, below you will find my complete road trip budget for Germany, Alsace and Luxembourg!
*Disclosure: This article contains affiliate links. If you make a purchase after clicking one of these links, I earn a small commission at no extra cost to you.
Accommodations Expenses:
🏨 Total: 448.92 euros (or 224.46 per person)
This is where we tried to save most of our money since we knew most of the time we were only staying only 1 night per Airbnb. About half of our Airbnbs were private rooms (meaning we had a room in someone's house and shared a bathroom/entrance). The other half were total units (meaning we had the entire apartment to ourselves). This also meant that my friend and I ended up having to share a bed throughout the week.
This means on average we were spending around 65 euros per night on accommodations (or roughly 32 euros per person). We had to keep in mind that we needed access to parking on the premises and we wanted to make sure the locations were easily accessible to where we wanted to visit. This impacted our costs a little bit, but for the most part, we managed to keep our accommodation costs low!
Transportation Expenses (gas, parking and tolls):
Total: 268.87 euros (or 134.34 per person)
Again, it's important to note that we had access to my car and therefore didn't need to rent a car or pay for insurance, so that saved us money. We did, however, happen to go on our road trip when gas prices were close to an all-time high in Europe.
⛽️ Total Gas: 221.87 euros
Useful tip: if it is possible, make sure to drive using eco-mode (especially on the highways). For us, this made a huge difference because it really saved on gas (and is generally better for the planet, which I am trying to be more aware of during my travels!) and we only needed to fill up 3 times throughout our trip . Also, if you can avoid getting gas on the highway, you will probably save loads as well! We noticed a SIGNIFICANT difference in price!
🅿️ Total Parking: 36 euros
In terms of parking, where we could we tried to either score free parking in the street. I also tried googling cheap parking lots before we headed on the road and this helped us keep our expenses low. For the most part, parking wasn't too expensive where we were visiting. On average parking cost only a couple of euros per destination (the most expensive was Brussels!). We were also only parked for few hours per town and then continued driving.
🚘 Total Tolls: 11 euros
It's important to remember to keep tolls in mind in your road trip budget when travelling around Europe. I always tend to forget this when I am planning a trip and they always surprise me! We only came across tolls when we were in France which is  why we didn't end up paying a lot. But on other road trips I've been on, tolls can really add up!
Food Expenses:
🥨 Total: 228.28 euros per person (roughly)
I find it very challenging to budget for food. Food is a very personal decision and can be hard to get a sense of what to expect based on your specific needs. Perhaps you have allergies or food preferences. Maybe you prefer splurging on food because that is your THING when travelling or maybe you don't really care and will eat anywhere. For us, we were kind of in the middle.
To give you a sense of our eating habits during the road trip, our breakfasts consisted of stopping in local bakeries which would tide us over until late afternoon.
Every day we decided to have a big lunch/early dinner at a restaurant (sometimes with drinks and dessert). In between, we would either be relatively full from our bakery visit (sometimes we would grab a couple of pastries each since they were all so inviting and weren't expensive) or we had several car snacks going as well.
We also stopped once at a grocery store and grabbed snacks for the car which  lasted us the entire week. We heavily relied on our reusable water bottles (we had 2 or 3 in the car). Everyday, we would refill them so we rarely needed to grab a drink while we were out besides at meals.
Excursion Expenses:
🏰 Total: 26 euros per person
Since we had a car, we didn't need to look into tours to take us around the region; we could get there ourselves. During the week, we paid entrance fees for 2 castles  and the Little Red Riding Hood Museum.
Fun fact: the Grimm Brothers were born and raised in Germany. Today, there is a special Fairytale Route dedicated to their stories and literary lives! The Little Red Riding Hood Museum was one of the stops along that route!
If you're curious to know: in Germany we visited the Burg Eltz Castle and in Luxembourg the Vianden Castle. Both were spectacular!
The rest of our exploring was done independently, walking around the many towns and driving to spots we found interesting. We could have perhaps looked into some guided tours however due to the time we had on our trip, we decided to enjoy our flexibility as much as we could.
Miscellaneous Expenses (gifts, souvenirs etc.):
💸 Total: 8.95 euros per person
My personal souvenir expenses were spent on magnets (yes I am one of those people!). I bought 3 magnets in total during the trip at around 3 euros per magnet. My friend, however, spent a bit more on miscellaneous expenses. She bought a few more magnets than I did, some ornaments and a couple of gifts to bring home to family.
Summary

: My personal road trip budget for one ENTIRE week was roughly 622.03 euros (or 77.75 euros per day).

That more or less sums up our road trip budget for the week. I also want to mention that more than once on our trip we came across places that were cash-only. We were visiting a lot of small towns in Germany so this is perhaps why, however, it reminded us of the importance of having cash on hand just in case.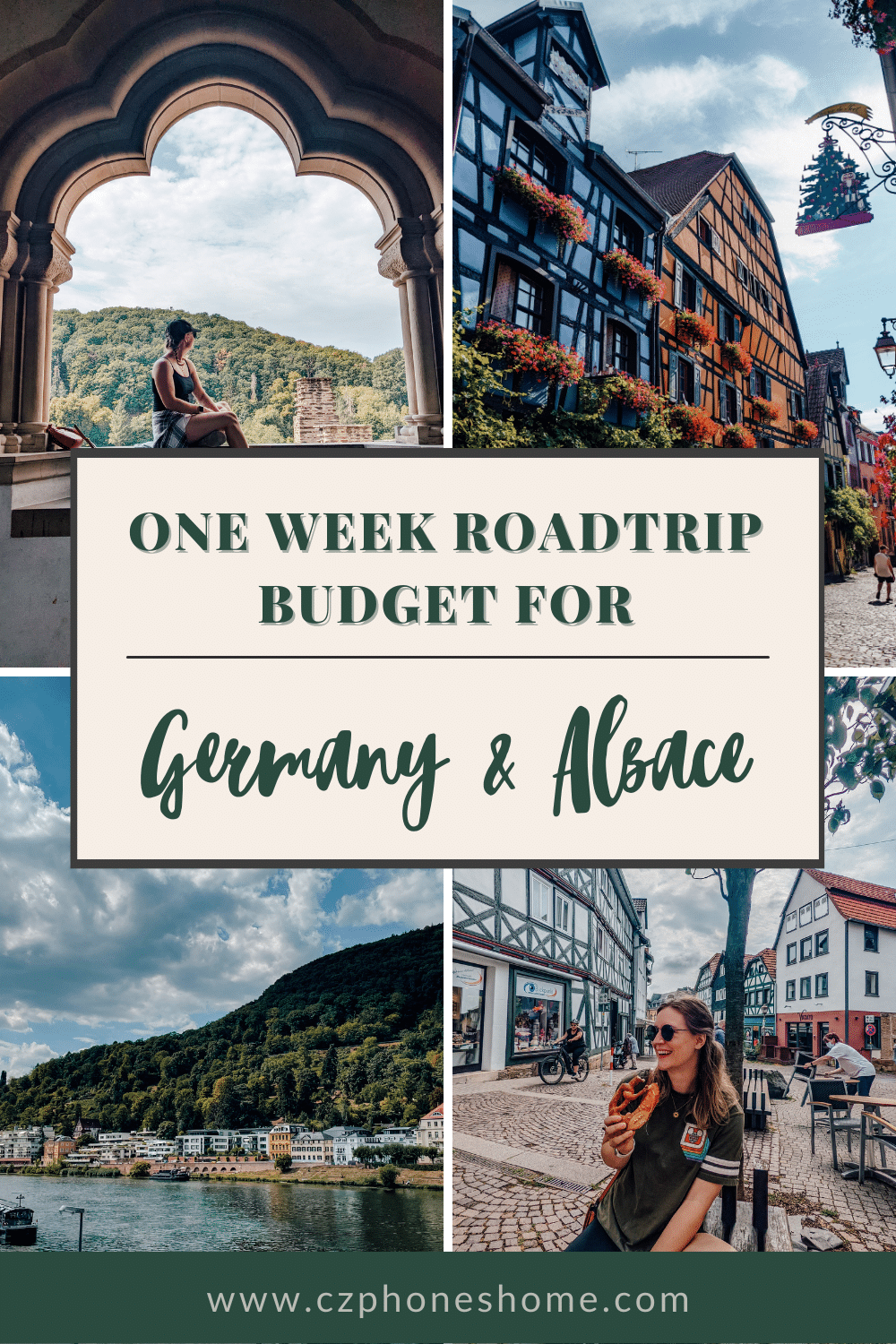 All in all, I was personally very happy at how we managed to keep our expenses low during our trip. This, of course, is a very personal decision and depends on what type of travelling you want to do. Like I said earlier, maybe food is your thing and you splurge a bit more. Or maybe you're a fan of really cool Airbnbs and you splurge a bit more there.
We found it very easy to enjoy the region, try the local cuisine and keep to our road trip budget!
Want to help budgeting for your other European adventures? I have also put together a budget breakdown for my most recent trip to Malta!