Ah, Provence! I hear the word and I immediately imagine rolling hills of lavender stretching out as far as the eye can see. This was the image I had in mind as I headed off on a 1-week long road trip in summer 2021. However, this world-renowned tourist destination had a few tricks up its sleeve and was ready to surprise me at every turn. I must say, it wasn't as I expected; I narrowed my view of Provence to the sole image of lavender. How unfair of me! What was so surprising about Provence you may ask? Well…
*Pst… if you want to embark on a road trip exploring the hidden gems and beautiful landscapes across Provence, check out my 10 days in Provence Itinerary!!
1. Unless you have a lot of time, save the Côte d'Azur as its own trip! 
As a foreigner the first cities that come to mind when I hear 'Provence' are Nice and Saint Tropez. This was my own mistake! The particular area that houses Nice and Saint Tropez is known as the Côte d'Azur or the French Riviera (another stunning area in France to visit I might add!). Yes, the Côte d'Azur is part of the Provence region (the region is technically known as the Provence-Alpes-Côte d'Azur region), but the rest of Provence has an entirely different feel than the French Riviera.
Once that was clarified, I realized how little I knew about the rest of the Provence region, and I had no idea what I was walking into. Which honestly is exciting! There is so much history in this region! On top of that, there are so many small villages that are worth the visit that some people (myself included) don't even know about! And that is what makes Provence unique; the small, quiet, picturesque villages nestled into the French countryside.
Two of my favourites were Roussillon and Moustiers-Ste.-Marie but there are so many to discover! Most of our time was spent driving from town to town and leisurely exploring. In the course of the week, we spent time in 8 different towns and that is only a bite into all that Provence has to offer!
That being said, if you're working with limited time, I'd advise visit either the Côte d'Azur OR Provence. Of course, it is entirely possible to visit both, however you would be missing a lot of the character and originality of each region – they are so different from each other! And they both deserve enough time to be enjoyed and explored!
2. It can get CRAZY windy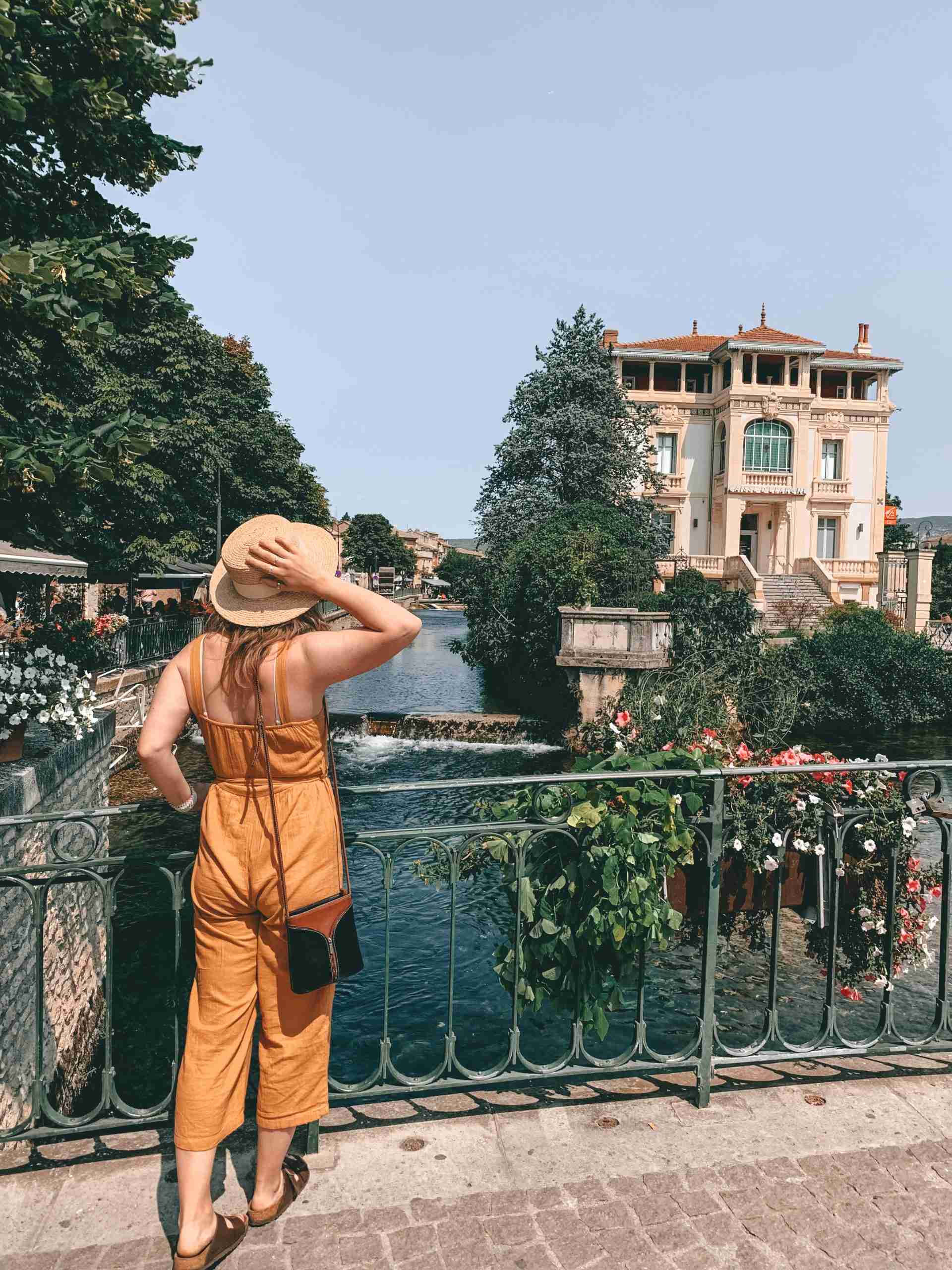 This I was not expecting at all. I always imagined Provence to be hot and dry (which it was). But I can't count the number of times I was almost blown off my feet or lost my hat from huge gusts of wind! On one hand, they were nice because they helped regulate our temperature but they were also really intense!
After a few days of this, I decided to ask around and look into this; why is it so windy!? I have come to learn that these winds are known as "the mistral" and they are a significant component of the geography in this region of France. They are cold, dry winds that blow from the north through the Rhone Valley to the sea. They can be so intense that they can blow up to 90 km an hour!
Luckily we didn't witness them being that intense and we didn't experience them every day, but they did show up several times throughout the week and when I say 'hold onto your hat', I mean it!
3. When to visit to see the lavender fields
We visited Provence at the end of August. This choice was mainly due to scheduling however it was good because it was less touristy! This was for a reason…because the lavender had already bloomed and had been harvested! This wasn't the main reason we were visiting Provence so it wasn't too big of a deal, but of course, it's on most people's bucket list to see the lavender in Provence! So it was a little disappointing that we just missed it!
For future visitors, you should keep in mind that the flowering season for lavender is from about mid-June to mid-August, so if that is something you want to experience, plan to visit in that window! Since we missed this window, what this looked like for us was fields and fields of empty, green, lines of recently harvested crops. Not the image I was hoping for!
4. There are tonnes of natural landmarks in Provence 
Another aspect I discovered about Provence was the amount of natural beauty in the area! Again, most of the time when I imagined Provence I imagined cities such as Nice; I didn't think of the rest of the region – man did I underestimate this region!
As I mentioned earlier, the technical name of the region is Provence-Alpes-Côte d'Azur, which hints that part of the region is mountainous. In Provence, they actually have the largest canyon in all of Europe; the Gorges du Verdon! I would add this stop to your bucket list, it is something you don't want to miss! And I didn't even know about it until we were there!
Another significant natural landmark in the region was the gorgeous limestone cliffs in the Calanques National Park along the coast near Marseille. It was a really nice outdoorsy day trip, perfect for hiking and water sports. Les Calanques was another pleasant surprise for me and is definitely a spot you shouldn't miss when visiting Provence.
5. The summer season can also bring forest fires
I was right in assuming Provence is very hot and dry! Apparently, it is hotter and sunnier than American cities such as Los Angeles or Miami! Fun fact: on average, Provence has almost 300 days of sunshine a year! Which is insane to think about! Of course, this is great news when you want a summer holiday but there is a flip side to this…this hot, dry weather also brings forest fires.
I don't know why I didn't put 2 and 2 together… hot temperatures combined with a dry climate of course will bring fire risks! I guess the south of France was an area I never heard about, on an international level, being prone to forest fires but they do impact this area.
While we were visiting, we actually drove past a fire that was actively burning alongside the highway, obstructing our view with a thick cloud of smoke! It was a really eerie and eye-opening experience for me. Some of the sites we wanted to visit were also closed due to fire risk or recent fires in the region. We were very fortunate to not be impacted by the fires more than that, but it was definitely a learning experience that I was not anticipating!
Now, why am I bringing this up? First of all, it was one of the most shocking realizations for me during my visit so I think it's worth sharing. Second of all, if you're planning on visiting during the summer, keep this in mind as they did slightly impact our plans. Visiting in the spring or the fall where temperatures are less hot will have less fire risk!
Your next trip to Provence…
So the next time you're planning a trip to Provence, keep these few experiences in mind. The main thing I want you to consider is to give the rest of Provence a chance. There is so much more out there than Nice and Saint Tropez! Save the Côte d'Azur as its own trip and really give the rest of Provence the attention it deserves. Because I promise you, it won't disappoint! You can embark on this epic road trip across Provence by checking out my 10 days in Provence Itinerary here!
Are you planning to visit other areas of France on your visit? Perhaps Bordeaux? Paris? Lille? Or Alsace? I have plenty of articles here on my blog to help you plan your trip! I also have FREE resources such as guides and itinerary on my Thatch page for you to explore!