This was a site, as a foreigner, I had never heard of before. But now I know, if you are planning to visit Provence, you NEED to witness the majesty that is the Gorges du Verdon! Even though it was almost a 2.5-hour trip from where we were staying, I am glad we made the trip because this was something I was glad I didn't miss!
Since we had to drive such a long way, we didn't have endless time to spend at the Gorges du Verdon. So we had to find a way to make the most out of the few hours we had to spend. So here are our top 5 tips for making the most out of your next visit to the Gorges du Verdon!
*Disclosure: This article contains affiliate links. If you make a purchase after clicking one of these links, I earn a small commission at no extra cost to you.
Tip 1: Visit later in the summer
When I was planning our visit to the Gorges du Verdon, the first thing I kept reading about was how busy the Gorges can get. I was expecting it to be littered with people and finding parking to be a nightmare. However, this was not the case during our visit at the end of August.
We had no issues finding parking at all, we were actually surprised by how easy it was. Don't get me wrong, there were still lots of people but not nearly as packed as I expected it to be! I would still recommend trying to arrive as early in the day as you can to avoid any potential delays! Note: a friend of ours visited 2 weeks after we did, and said it was more or less empty!
Tip 2: Come prepared
Now, when I say 'come prepared', what I mean is make sure you bring your essentials. There weren't many places nearby; we only could see one restaurant and no shops that we could find. We came with our water bottles full, a packed lunch, some snacks, plenty of sunscreen and our little first-aid essentials on hand.
There were public toilets at the parking lot at the beach that required you to pay coins (50 cents), so have some of those ready as well! I say this because from what we saw, there were mainly camping sites and beaches nearby so if we didn't come with our supplies we might have had to drive around a bit to find something.
Tip 3: Rent boats
I can't recommend this enough! This is a MUST do on your visit to the Gorges. When you arrive at the parking lot for the Plage de Galetas, you'll notice a few companies offering canoe or kayak rentals; we chose Verdon Canoe. When we arrived at the beach, we waited in line and were told to come back in 30 min to 60 min as they waited for more boats to be returned.
This gave us the perfect amount of time to enjoy our lunch and relax at the beach after our long drive. When it was our turn, we had to provide one piece of government ID per party to ensure we returned the boats, so keep this in mind during your visit. You have the choice between a 1.5-hour rental or a 2-hour rental. We went with the 2-hour rental to give us as much time as possible in the Gorges. It cost us 25 euros for a two-person kayak, which in my option was really reasonable. They provide you with a container to put all of your personal belongings in and it sits in your boat with you – this was super handy!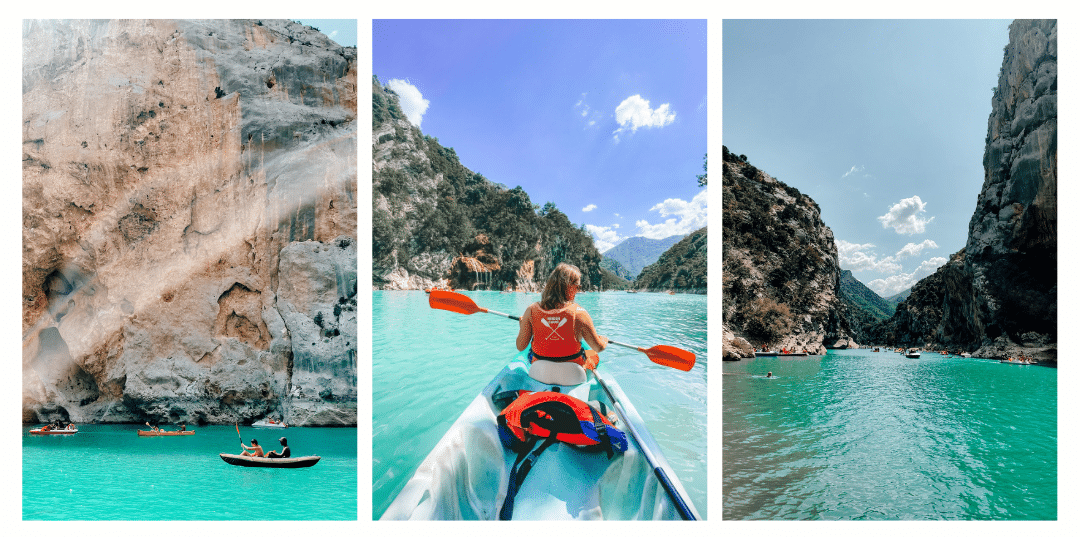 Best decision ever!
And we were off! I believe, renting boats is the best way to experience the Gorges. From this perspective, you get to witness how grand the canyon truly is. Fun fact in case you didn't know: the Gorges du Verdon is the largest canyon in Europe! There are plenty of spots where you can stop, have a dip in the water (maybe even under some waterfalls!) and just take in the natural beauty of the canyon.
An important thing to keep in mind is your time management! We were so caught up in exploring the Gorges, we weren't paying attention to the time. Luckily we had plenty of time to get back. We were a bit rushed to make sure we weren't late! Even though we were visiting at the end of the summer, there were still plenty of people. Watch out for other boats so there are no collisions (this might have happened to us a few times!).
Tip 4: Enjoy the beach
After kayaking for 2 hours, make sure to give yourselves some time to just enjoy the beach. Don't head off right away! Bring some beach balls, rackets or frisbees and make the most of your daylight at the Gorges! It really is a magnificent view, with crystal clear blue waters. Take it in, enjoy it!
Tip 5: Make a stop at Moustiers-Ste.-Marie
Before heading back on our 2.5-hour journey back to the Airbnb, we wanted to stop for dinner. Moustiers-Ste.-Marie was only 10 minutes away by car, so we figured why not! It was such an amazing find! The town is built into the mountains with a church sitting at the very top! We didn't have time to make the hike to the church, but the town was perfect for a little stroll to end our day.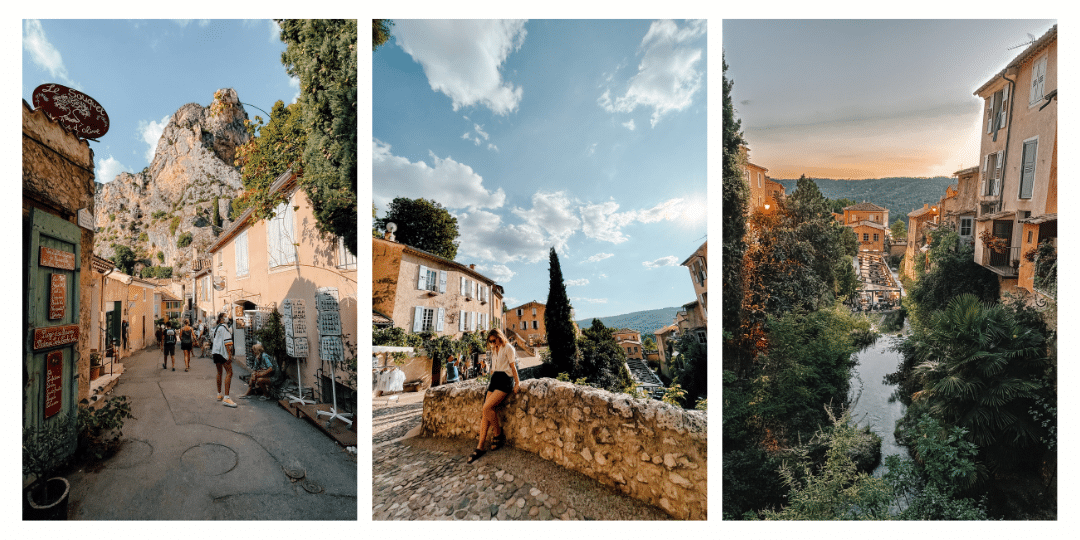 Hanging over the city there is a star. Legend has it, that a Knight from the Crusades was captured and throughout his captivity, he clung to his faith for guidance. Once he was released and returned home, he then placed a star over the church and the town as a symbol of thanks to the Virgin Mary for his survival. There are multiple other legends we learned about to explain the significance of the star to the town!
Our choice for dinner was Restaurant La Treille Muscate. This restaurant offered a gorgeous view overlooking the river running through the town. It was a bit expensive, but the food was delicious. One thing to note about this restaurant was that you should consider making a reservation. We didn't know we wanted to eat here until we arrived and we were incredibly lucky to be the first customers when it opened. We were able to grab one of their last remaining tables, but for future visitors maybe consider making a reservation!
If you are visiting from Nice and are interested in visiting the area, but not wanting to spend the day at the beach, check out this tour below! Your tour includes a stop at the Gorge, free time in Moustiers-Ste.-Marie AND a visit to the lavender fields!
You'll have a memorable experience
And there you have it! All of this to say, you should put the Gorges du Verdon on your bucket list because it is totally worth the visit! Have you visited before? Any other tips, share below!
Be sure to check out my 10 days in Provence itinerary on my Thatch page when planning your holiday in Provence! Visiting other spots in France on your trip? Check out my other France articles for more inspiration!