Bordeaux is filled with so many delicious places to eat to try. And sometimes when you're out, starving and desperate for food, it can seem like the restaurant possibilities are endless and choosing where you want to eat can feel like an impossible feat.
If this sounds like something you can relate to and if you and your group are feeling indecisive about where or what to eat, you've come to the right place. Browse below for some of my personal favourite food places in Bordeaux (so far!). Whether you're in the mood for a snack, a drink or a full-course meal, I've got you covered!
*Disclosure: This article contains affiliate links. If you make a purchase after clicking one of these links, I earn a small commission at no extra cost to you.
If you're in the mood for…
The rooftop bar experience: Mama Shelter's
📍 Address: 19 Rue Poquelin Molière, 33000 Bordeaux
Mama Shelter is a hotel chain that can be found in several spots around France and Europe. But one thing I particularly enjoy about their location in Bordeaux is their rooftop. It is a really gorgeous space and offers a wonderful view of Bordeaux from up-top. And of course, why not try some Bordeaux red wine while you're there? If that's not your thing they also have many cocktails and a wonderful restaurant inside!
A popular dinner destination: l'Entrecôte 
📍 Address: 4 Cr du 30 Juillet, 33000 Bordeaux
If you're looking for where to eat in Bordeaux AND want to eat at the go-to restaurant of the moment, then L'Entrecôte is your destination! However, it is also one of the most difficult places to get in. The reason for this is that they do not take reservations in advance, you have to arrive and hope to be seated. People can be seen lining up outside of the restaurant for close to an hour, and the line will run down the street and around the corner. But don't worry if you're in line, they tend to rotate tables very efficiently by having regular seating windows. When we went, we noticed that they sat between 10-20 tables at one time. But either way, be prepared to wait!
Their concept is pretty unique, they only serve one meal; every customer is essentially eating the same thing. And the quality is amazing (hence the incredibly long line!).
A fresh Sunday market: Marché des Capucins 
📍 Address: Pl. des Capucins, 33800 Bordeaux
One thing that I love about France is the markets! It is so lovely to head out on the weekend, tote bag in hand, ready to browse through some local vendors and produce. There are several markets that take place in Bordeaux but one that I particularly enjoyed was the Marché des Capucins. They had everything you could ever need from fresh herbs to fresh pasta. And the produce was amazing! It's a wonderful way to spend a morning and a great way to get some fresh local products!
The best canelés: La Toque Cuivré 
📍 Address: 5 Rue Sainte-Catherine, 33000 Bordeaux
You may or may not know that Bordeaux is also known for its canelés. It's the big pastry from the region and you'll notice pretty quickly that they are sold everywhere! They vary in size however traditionally they are bite-size rum and vanilla filled pastries. However, if you want a chain that sells the best and cheapest canelés, head over to La Toque Cuivrée. Most tourists go to their competitor, Baillardran, but everyone from Bordeaux knows that its better to go to La Toque Cuivrée. You can find La Toque Cuivrée shops all around Bordeaux, they even have some pop-ups around France, and they are known to the locals as being less touristy and more traditional.
A delicious dinner: Berthus 
📍 Address: 15 Rue des Bahutiers 33000 Bordeaux
One evening when looking for a place to eat, we stumbled across Berthus. We notice that they offer a prefixed menu and saw the review online were very good so we decided to eat there. The restaurant on the outside looks very tiny and then they take you upstairs to find a wonderfully open dining room. And the food was absolutely delicious. To me, it felt almost like fine dining but at a much more reasonable price. It was definitely worth the visit!
A HUGE selection of ice cream: Maison du Glacier 
📍 Address: 1 Pl. Saint-Pierre, 33000 Bordeaux
This is probably one of my favourite discoveries in Bordeaux – and when people ask me where to eat in Bordeaux, I always direct them here! It is a small ice cream shop located in Place Saint Pierre and has close to 100 different flavours of ice cream and sorbet. But not just any old flavours, some of the most unique flavours I have ever seen. To name a few, they have beer flavour, kiwi, canelé, macaron and tiramisu. I thought that was so interesting. And the best part is that they manage to capture the flavours perfectly! It really does taste the same! I highly recommend checking it out. Also, be adventurous! Try something besides your regular ice cream order, go for it!
Some amazing cocktails: La Comtesse 
📍 Address: 25 Rue Parlement Saint-Pierre, 33000 Bordeaux
If you're interested in visiting a really eclectic bar that serves fantastic original cocktails, then you should definitely stop by La Comtesse. Located right in the heart of the restaurant and bar area of Bordeaux it is a really cool place to grab a drink with friends. The inside is filled with a collection of antique furniture from old Victoria sofas to refurbished cinema seats. They attach their menus in up-cycled vintage books and the service was incredible. Our server asked us what we normally like to drink and right away had plenty of suggestions tailored to our interests. All in all, I really had a great experience in this bar and would highly recommend it!
A unique experience: Café Utopia 
📍 Address: 5 Pl. Camille Jullian, 33000 Bordeaux
"Utopia" is a really unique spot in Bordeaux. It is an old church that is now being used as a cinema. I personally find that so incredibly cool! Why am I recommending this as a place to eat? Well, they also have a cafe attached to the cinema and since the films are mainly shown in French I was unable to watch a movie, but I could still visit the location by trying the cafe. It is a really interesting place, right in the heart of Bordeaux so why not check it out?
Some tasty cookies: Be my cookie 
📍 Address: 55 Rue des Remparts, 33000 Bordeaux
On my most recent visit to Bordeaux, I spent some time researching new and interesting places I wanted to check out and I stumbled across this place. It was described as a 'bar but for cookies' and I knew I had to visit. And that is what it is! It is an ethical, organic, gourmet cookie bar that offers a variety of delicious flavours. And they don't skimp on the portion sizes either. So if you're ever out and about in Bordeaux and craving something sweet, I'd recommend stopping by!
Tapas from Pays Basque: TOPA Comptoir Basque 
📍 Address: 7 Rue du Palais de l'Ombrière, 33000 Bordeaux
Not sure what Pays Basque is? It is an unofficial region in France south of Bordeaux on the Spanish border nestled in the Pyrenees Mountains. It is a beautiful area of France I recommend checking it out as it is also a very unique area. In Basque Country, they have their own language, culture, traditions and food! The Basque culture is like a mix of French and Spanish cultures with their own little flare of independence.
Needless to say, if you want to experience some traditional Basque cuisine without venturing down there, well luckily you can, right in the centre of Bordeaux. There is a store that sells many local products from the Basque region and in the back, they also have a tapas restaurant with a gorgeous terrace! I personally really like Gateaux Basque which is one of their traditional desserts!
And there you have it; my favourite food spots I've discovered so far in Bordeaux. If you would like an interactive map of these locations, I have put together a FREE guide on my Thatch account for you to have at your side while you're out and about! Hopefully, this list is helpful to you when it comes time to decide where to eat to in Bordeaux for your next visit.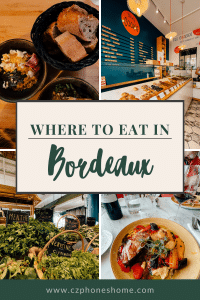 Any other really great food spots to check out in Bordeaux? Comment below to give us some ideas!