I had the once-in-a-lifetime experience in my senior year of high school of travelling to Bolivia and hiking the El Choro Trail. The hike was not the sole purpose of our trip but it was one of the MOST memorable experiences of my life.
At the time, I was merely 17 years old and didn't even really think about how AWESOME it was to be there. Especially because now, 10 years later, I have come to learn that the El Choro Trail is one of the most famous hikes in Bolivia.
If you're looking for one of the most diverse and eye-opening trails to discover the wonders of Bolivia's climate and ecosystems – you'll want to keep reading more about the El Choro trail. I want to share a bit about what it was like completing this hike. This post is mostly meant for beginner hikers like myself who are relatively new to these types of adventures. Especially since at the time, I was only 17 years old!
What is the El Choro Trail?
The El Choro Trail is a very historical and meaningful trail. It was built by the Incas in order to move goods and food around their empire to different communities. The trail cuts beautifully through the Andes Mountains and even through some communities that are still living along the trail today! It's part of the same network of trails as the Inca trail in Peru!
The trail begins very close to the country's capital city of La Paz in La Cumbre and ends in the Yungas Region of Bolivia. Your hike will start around 4,650m above sea level and descends to about 1,350m. I knew this information prior to our hike but it didn't fully hit me. That is a HUGE elevation decrease and it also means that a majority of your hike will be downhill. Of course, there are moments of uphill climbs don't get me wrong, but a good portion of the hike was downhill.
People tend to take around 3-4 days to complete the trail. Our group did it in 3! I have seen this hike listed as a difficult hike but this is mainly because the conditions are hard to anticipate and if they are wet they can definitely be more challenging. More on that later!
I also would like to note that our school group hiked with the help of an agency and some porters and guides came along with us, leading the way and carrying the main supplies. I will talk more about this later, but it is entirely possible to hike this trail without external help. However, this was not my personal experience.
Here is some more information from AllTrails.
What did I pack?
This is a multi-day trek with backpacks so overpacking is not recommended. We had porters and guides with us that dealt with our main supplies such as tents and food but we each were responsible for our own things. For example, I was carrying my own sleeping mat!
Some things you'll need to pack for the El Choro Trail are:
-A waterproof cover for your backpack: This technically isn't a necessity but was a game changer for me. Although it didn't rain the entire time, we did walk through clouds and cloud forests. Which meant that everything was always damp. Keeping your bag and supplies dry is a must!
-Plastic bags: Speaking of which, bringing some extra plastic bags to put wet clothes in is also worth considering! This again will ideally help keep your dry clothes dry!
-Raincoat: I invested in a good quality raincoat – this is a MUST. Even when I was feeling hot from hiking most of the day, I took off my underlayers and would keep my raincoat on, especially when hiking through the cloud forests!
-Multiple layers: The best way to go about packing for a trip like this is multiple light layers. I had pants that zipped off at the knee to turn into shorts. I had light active wear layers such as t-shirts and long sleeves. Because you're outside every hour of the day, you'll experience many types of weather and temperatures. It's best to come prepared to layer up or down!
-Bug spray/sunscreen: These might be obvious but don't forget them!
-Hiking boots: You want waterproof, sturdy hiking boots. Especially with good ankle support as you will be going downhill most of the day.
-Tonnes of socks: I might have overpacked my socks but I wanted to make sure I always had dry socks on hand!
-Water bottle: bring with you a good-sized water bottle and even a backup one if you can. You don't want to be dehydrated when you are hiking for this long!
-Toilet paper: This isn't a necessity but remember you will be out in the mountains and at times will be doing your business when nature calls. I made sure to pack toilet paper for my own personal hygiene.
What was the El Choro Trail like?
Of course, I don't want to spoil the beauty of this experience for you. But no matter what I say and show you, nothing is compared to seeing it yourself in person. I said this earlier, but this hike was one of my most memorable experiences so far. There is nothing I can compare this hike to. It is such a special memory that I hope you too can one day experience.
Here are some of my takeaways, memories and thoughts from this experience to give you an idea of what to expect:
Changing environments
The hike starts way up in the clouds and ends way down in the deep lush forest. This means that over the course of 3 days, every day is a little different. Each day you are at a new altitude and in new environmental conditions.
To me, this was my favourite part of the experience. I never thought I would be able to experience mountainous, alpine terrain, wet cloud forest and lush subtropical rainforests. Day one was chilly, with little vegetation as we were above the tree line and high in the mountains. By day 2, it started to get wetter and warmer and the surroundings came to life. And day 3, we were in the humid rainforest with even more flora and fauna.
In terms of hiking, these changes in temperature and precipitation meant that our hiking conditions were constantly changing. On the first day we were all decked out in layers and during the second at times we were slipping and sliding, covered in our coats while trying not to overheat. You just have to adapt and come prepared for these changes and expect every day to be different! It's part of the fun! This also means come prepared!
Downhill Hiking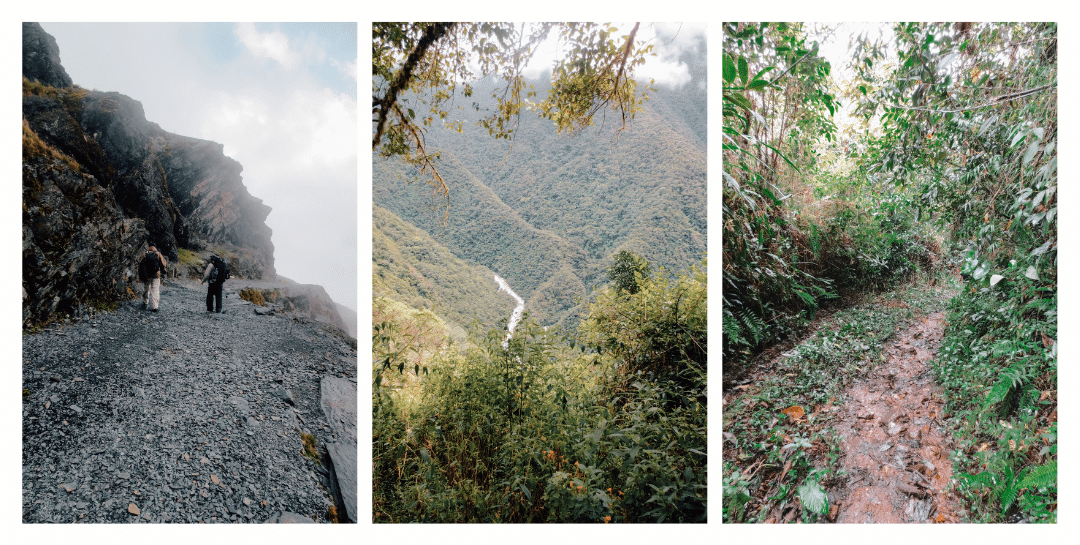 The majority of the hike is downhill which of course sounds like a dream. But after 3 days of hiking mainly downhill, you realize it isn't as easy as it sounds. It works specific muscles that we don't use that intensely. It's hard on the knees and REQUIRES proper shoes.
And since you might be hiking in wet conditions, it's also quite challenging to navigate downhill. We were definitely unsteady at moments trying to carefully continue our way down deeper into the mountains.
We had a guide with us
I mentioned this earlier, but I want to stress how helpful it was to have a guide. One of our guides would go ahead of us to set up the camp for us while we finished the hike. Our guides also carried the majority of the supplies and equipment. Guides also of course know the way, can help problem solve, can help with permits and can help teach you about the trail along the way.
Having a guide was practical but also really drew our attention to some of the finer details along the trail. They helped communicate with locals, they knew about the flora and fauna and just generally knew everything that was needed to know about the trail.
We walked A LOT
This was by far the longest and furthest I have hiked in a 3 day period. I had never done multi-day trekking before. So prior to our arrival, our teachers told us to really work up our stamina and prepare for the hike. During the trek, we were walking over 20 km or around 10 hours a day roughly. Keep this in mind if you're planning to do this trek to help you prepare!
Local communities
I was surprised to see the different local communities still living along this trail! There were places we could stop to buy food and take a break, there were farmers and we even came across a few alpacas! This trail is still actively used! Remember to respect it.
I have recently read that some people have said that the locals along the trails are not friendly to tourists or hikers. This was not my personal experience. We were students however and we were escorted by guides and teachers. But I do remember being greeted with smiles.
Altitude Sickness
This is something you cannot really prepare for prior to your visit. As I said, you will be starting your journey around 4,650 m above sea level. La Paz alone has an altitude of 3,625 m. It's important to note that we spent several days acclimatizing before we started hiking. Our hike was one of the last things we did over the span of a 2-week trip.
It is highly recommended to do this. From personal experience, I had altitude sickness when we first arrived in La Paz. Luckily, I only had headaches and some nausea. Others in our group had it worse than me. From my experience, I needed to take an afternoon to rest and drink some tea.
You are very isolated
As to be expected, once you begin your journey, you are quite isolated. So something to keep in mind is having a first aid kid and medicine in case of emergency. There is relatively limited access on the trail if you do indeed need assistance so try to come as prepared as you can. I know our teachers had this covered for us but you want to make sure even minor cuts and properly cleaned and cared for.
Its the most popular trail in Bolivia
Since it is one of the most popular trails in Bolivia, you may encounter other hikers! I have read recently that some people find the trail 'crowded' at times but I guess that depends on when you go. We visited in April and we ran across maybe 2 other small groups of hikers. But it has been mentioned by past trekkers that there were moments when it felt like a lot of people. So maybe choose your travel dates wisely!
Most memorable moment
This is where the guides also came in handy. At several moments along the trail, we had to cross bridges. One of the bridges on our second day of hiking had a few broken planks and we were told it was not safe to use the bridge. I remember so clearly sitting on the rocks of a river that was, luckily, low and watching the problem-solving in action.
We could make our way to the other river bank relatively easily. The main issue was the fact that there was a steep hill face separating us from the trail. I still can't fully believe and come to understand how we managed to do it. But we all essentially climbed. We climbed up this rocky hill face with the help of trees and our guides.
There was a moment when there were no more trees for me to use as support and the only way to continue up was to grab the hand of the guide as he managed to find solid footing and pull me up. Might have blocked some of that out of my memory but honestly it was the perfect example of how having guides with us made all the difference.
In the end
I've already mentioned that this was one of my most memorable life experiences so far. I hope you can see from my thoughts and experiences exactly how powerful and impactful a hike like this can be. It's hard not to get emotional thinking about the historical, ecological and cultural significance of this trail. AND not to mention the physical and mental strength of all of those who have trekked it.
I hope this has helped you learn a little more about the hike and given you an insight into what it was like for someone going through it! If you feel inspired to explore the El Choro trail or have done it in the past, share with me your experiences below!