Are you looking for the best restaurants in Lille? Are you visiting or living in Lille and are at a complete loss of where to eat? Do you have visitors coming and can't think of a restaurant to showcase the spirit of the north? Or are you just really hungry and just need someone to tell you where to eat?
If any of those sound like you, never fear! Here is a list of 10 restaurants to give you some inspiration for your next meal out in and around Lille! (Sorry in advance if you are insanely hungry after reading this article).
*Disclosure: This article contains affiliate links. If you make a purchase after clicking one of these links, I earn a small commission at no extra cost to you.
If you want to try northern food…
Note to future visitors: if your objective is to try northern French food, go to an estaminet. An estaminet is a typical northern restaurant that will offer traditional northern foods. Estaminets will clearly write on the front of their restaurant or on their awnings that they are an estaminet so you'll be able to notice them when you're out and about.
1) Estaminet du Chemin Vert
This estaminet is as authentic as it gets! It is located right on the border with Belgium (my phone even sent me a "welcome to Belgium" text) so it's a little farther out of the city centre but is an amazing restaurant. Walking inside, it feels like you've entered a grandmother's house with family photos and memorabilia all around the walls. From the decor to the food itself, everything about this restaurant is welcoming and cozy.
It offers all of the traditional northern foods but what is interesting is that the menu is also written in "ch'ti". Ch'ti is the dialect of the north of France and Belgium. Northerns typically have a very strong accent (and often add "ch" or "sh" sounds to "c" sounds, for example, "ça va" will become "ch va") and you can find language jokes all throughout the menu. As an English speaker, I couldn't follow the jokes but it is an interesting element of the culture of the north! All in all, a great restaurant to check out if you really want an authentic experience!
Address: 102 Rue du Dronckaert, 59960 Neuville-en-Ferrain
2)

Les Ptiots
If you want another traditional estaminet that is closer to the centre of Lille, there are tonnes located on the Rue de Gand and this one is one of my personal favourites. We actually tried this restaurant for my birthday because it was recommended to me by a local. Not only is it a great place to get northern food, but you can sample most of the top traditional foods in one sitting. On their menu, they essentially have a sampler meal where you can try 4 of the most common foods from Lille in miniature sizes. You can try chicken with maroilles sauce, welsh, potjevleesch, carbonade flamande and of course, it comes with a side of fries. What a perfect way to experience northern cuisine!
Not sure what these dishes are? Be sure to check out our article on the top Northern foods to try in Lille!
Address: 35 Rue de Gand, 59800 Lille
3)

Chez Raoul
When researching top restaurants in Lille to have mussels (another classic northern meal), Chez Raoul kept showing up on the list, so we decided to check it out. It is another estaminet on Rue de Gand (remember, look out for an 'estaminet' and if you're on the Rue de Gand, you're in the right place!).
The theme of the restaurant was very nautical so I think we went to the right restaurant to have seafood! They also have their own beer which was very tasty and quite inexpensive! The mussels or moules were offered in 3 various sauces: marinières, creme or maroille. I went for the most traditional, marinières and they were really nice! They were also served with insanely tasty fries (the best part is – you could ask for fry refills!).
Address: 56 Rue de Gand, 59800 Lille
If you want to try a friterie…
4)

La Frite A Dorer A Wambrechies
The north is known for its French fries and visiting a friterie is something you must do at least once in Lille. And if you want to visit the BEST friterie in the whole of France, go to La Frite A Dorer in Wambrechies. Yes, I'm serious, it has been rated as the best in the country. To my surprise, it looks like any other friterie, you would never guess that it is incredibly successful. It has an American 1950s theme to its decor and has a few seating options just outside (which is rare for friteries!). But what stands them apart is the quality of their fries. They are amazing! So if you want to try the best of the best, be sure to check this place out!
Note to future visitors: a true friterie almost without fail will only accept cash, so keep that in mind when visiting!
Address: 59 Rue Obert, 59118 Wambrechies
If you're in the mood for crêpes…
5)

Crêperie Saint Georges
Of course, when you're visiting France, it's nice to have crêpes at least once (or maybe more)! And you're in luck because Crêperie Saint Georges is all about crêpes (it is also a really beautiful restaurant)! I've been to other crêperies before and this one I could tell is unique. It is very chic, intimate, and stylish and the prices are very reasonable (around 10-19 euros). They have a huge selection of unique sweet and savoury crêpes all around the theme of different famous Georges! And I can tell you from experience that their sweet crêpes are just as good as their savoury ones, so be sure to save some room for dessert!
Address: 19 Rue Bartholomé Masurel, 59800 Lille
If you're craving a burger…
6)

Be Burger
This is one of our go-to restaurants when we have friends and family come to visit us in Lille. The atmosphere is warm and friendly and the burgers are incredible (they even have a maroilles burger —really keeping the spirit of the north alive)! My suggestion is, if you can't decide what to eat because all of the burgers are just so inviting, why not split one with a friend so you can try two different recipes? It's a great way to get the most out of your meal. Also, their sweet potato fries are *chefs kiss*!
Address: 39 Rue de Gand, 59800 Lille
If you're a meat-lover …
7)

Le Barbier qui fume
Their specialty is meat. Smoked meat to be exact! So if you're coming here, have your inner carnivore ready for a large selection of various types of meats all slow-cooked on beech wood. You can choose between fish, duck, ribs, beef, pork … you name it, they've smoked it! I personally thought that their selection of sides was also delicious (I went for the gratin dauphinois – amazing)! There are a couple of Le Barbier qui fume in Lille, one by the Lille Europe train station and the other in the old town (Vieux-Lille)!
Address (Vieux-Lille): 69 rue de la Monnaie 59800 Lille
8)

La Taverne du Petit Wasquehal
This restaurant is a little outside of Lille in Wasquehal but if you can make the journey out there it is worth the trip. The restaurant, at first, looks like a small pub but it expands into a lodge-style restaurant or tavern in the back. I particularly enjoyed the atmosphere! The specialty at this restaurant is known as 'la jambette', a pork leg whose meat just falls right off the bone. It is so incredibly tasty and congrats if you can finish the entire thing! If you're not in the mood for pork, they also offer a selection of northern specialties as well.
Address: 2 Rue Faidherbe, 59290 Wasquehal
If you really don't know what you want to eat…
9)

Grand Scène
I have come to realize that in France, 'food courts' aren't very common. But in the centre of Lille, they have something similar! The Grand Scène is filled with many 10 small street-food booths, similar to a food court, all offering a different type of cuisine. You have a selection of Greek food, Mexican food, Pizza, Burgers and so much more! But what's great about Grand Scène is that the food isn't crummy fast food like most food courts. Your selection is from different actual restaurants so the quality is amazing, and the price is very reasonable. So if you're with a group that can't really agree on what to eat, this is the place for you!
Address: 31 Rue de Béthune, 59800 Lille
10)

La Friche Gourmande
This is another food court-style place to eat however, it felt more like a food truck-style as this former industrial area now has several booths serving a choice between Thai food, burgers, tacos or Indian food! It is also equipped with a bar, an apero station and a dessert booth! The best part was the vibe (and the pint-size cocktails). It reminded me a lot of Boxpark in London (if you know what that is) with various shipping containers spread around! It is partially covered and is filled with picnic tables, private igloos and plenty of other places to sit with twinkle lights scattered around and a fashionable disco ball hanging in the centre.
Address: 90 Rue nationale, 59700 Marcq-en-Barœul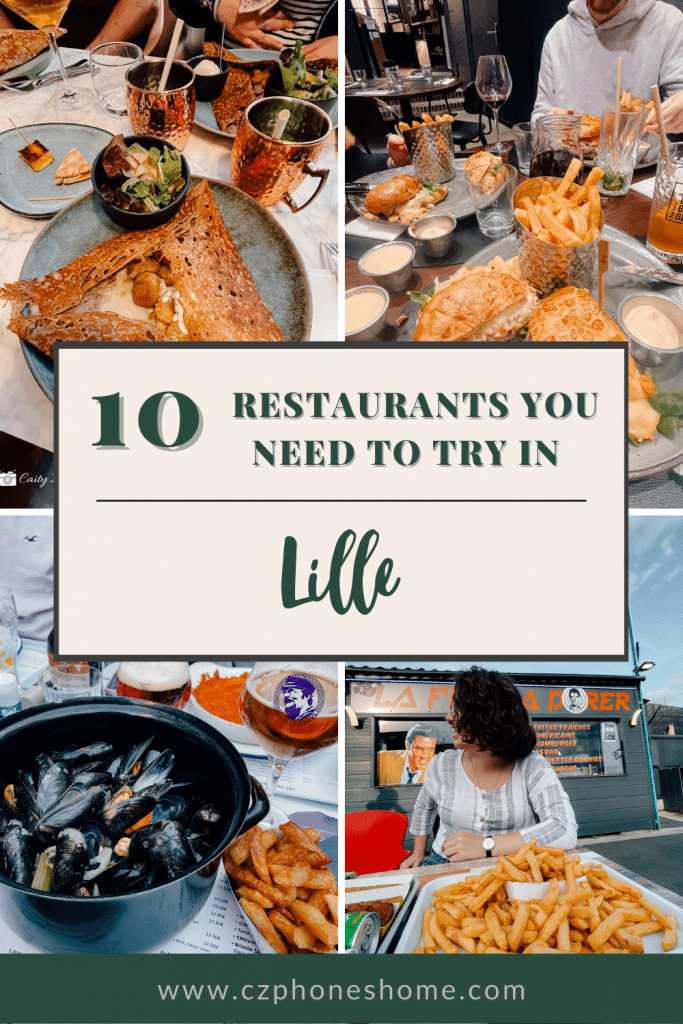 And there you have it! All of these restaurants in Lille have put a smile on my face without fail! I hope you find them just as tasty as I do! If you liked this guide, you can find MORE recommendations of restaurants in Lille in my FREE Local Foodie Guide to Lille on Thatch!
Any other restaurants in Lille I should check out? Share with me your recommendations below!