When I picture a cabaret show in Paris, I immediately envision a line of beautiful women dancing the can-can. But little did I know that there is more to a cabaret than just the can-can. In fact, it is a huge part of French history and culture.
Visiting a cabaret had been on my bucket list for a long while and during my most recent visit to Paris and finally was able to go! Before my visit, I spent time researching the cabaret scene in Paris to help guide my choice of venue and to get a better idea of what to expect. I also spent some time speaking with French friends and family to get their opinions and recommendations. And now having been to a show, I can confidently say I learned a lot about this element of French culture and found it to be a wonderful evening out!
If you want to know more about the Parisian cabaret scene, read on!
*Disclosure: This article contains affiliate links. If you make a purchase after clicking one of these links, I earn a small commission at no extra cost to you.
History of the Cabaret Show in Paris 
What is a cabaret show exactly? Nowadays, it is a theatrical performance where guests can see a variety of types of performances. Guests can be wowed by singing, dancing, bright costumes, flashy sets and various acts. At a cabaret show, you can also drink and dine.
What we know as a cabaret today originated in Paris, and many were often found in Montmartre. In the 1880s, Montmartre was the centre of the bohemian culture of Paris where spirits were high, extravagance was endless and optimism was all around. Before the 1880s, the term cabaret was synonymous with bars serving food to all sorts of people. Le Chat Noir was actually the first cabaret house where flashy entertainment was introduced and where all classes of people could come together and enjoy.
After the success of the cabaret houses in Paris, they then spread all around the world. Germany and America are other notable countries that brought their own taste to the cabaret scene including political satire and jazz. The cabaret soon evolved into the burlesque style of performance which incorporated striptease elements. Today, you can find this historic element of Parisian culture, still thriving as they have evolved over the years!
Different Cabaret shows in Paris
To my surprise, there are many shows available around Paris. Some are in a smaller, more intimate setting, some shows are more modern and others are keeping traditions alive. There are probably over 20 cabarets to choose from around Paris but there are 4 that stand out and are the most popular.
Moulin Rouge
Without a doubt, the Moulin Rouge is the most iconic cabaret show in Paris. Even though it wasn't the first cabaret in Paris, it soon became the most popular. Why was and is the Moulin Rouge so popular? It brought in an element of glamour and luxury (and is also the birthplace of the French can-can)! Inside you can find red velvet curtains and crystal chandeliers all as a way to encourage the upper classes to venture into the artistic centre of Paris. The Moulin Rouge housed some pretty well-known artists including painter Toulouse Lautrec and singer Édith Piaf, who started her successful career on the stage of the Moulin Rouge! Today, the show is made up of 80 performers on stage and you are guaranteed to have an evening filled with fascination, flair and fun! You can book your tickets here!
Crazy Horse
This show is probably the most experimental and modern take on the cabaret performance and is one of the most popular as well. The Crazy Horse cabaret is described as a nude show which sets them apart from the other more burlesque-style shows. They are a completely women-led and run show and have had costumes designed by significant designers including Balenciaga. Since the show opened in 1951, it continues to modernize and test its creativity by incorporating new artistic and cultural movements. A great example was their introduction of the pop art style. It stands out amongst the other shows and is more sensual, modern and intimate. They also have had many "guest stars" grace the stage including Pamela Anderson, Dita Von Teese and Conchita Wurst. If this sounds interesting to you, you can book your tickets here.
Lido – now closed
Sadly the Lido has closed since Covid-19 and has no plans on reopening. However, since it was an institution of the cabaret scene in Paris I wanted to make sure I spoke briefly about it. It was the largest of the cabaret shows and did everything on a grander scale! It went beyond just dancing and included elements of acrobatics and gymnastics. They were also the first to introduce the dinner show which became popular amongst other venues. The dancers were known as Bluebell girls and interestingly enough, the dancers were all professionally trained however were not accepted into the ballet industry because they were too tall. As I mentioned, the Lido is now officially closed, however, it has closed in the past due to financial troubles so who knows if it will re-open its doors again one day!
Paradis Latin
Paradis Latin is another venue that offers a more traditional approach to the cabaret. It is known for offering the best dancing show and is often less expensive than some of the other shows. It is also more popular with locals as tourists tend to flock to places such as the Moulin Rouge. According to French people, the Paradis Latin offers just as great a performance, and some will even say more authentic, for a reasonable price! The current show (in 2022) is also choreographed by a well-known French dancer and choreographer, Kamel Ouali. Here is a fun fact about the venue: it was originally built by Napoleon as an entertainment theatre and it was then rebuilt by Gustav Eiffel! It was renovated recently but the Great Hall, when it was re-opened in 1889, was the work of Gustav Eiffel. Feel free to  book your tickets here.
My Experience
On my most recent visit, I finally got to visit a cabaret show in Paris, something I had been wanting to do for a while. I chose to visit the Moulin Rouge because of its history but also because The Moulin Rouge is my favourite movie. I have a personal interest and connection to this particular venue and show.
Book in ADVANCE
I'd advise booking well in advance. I say this because, in the time between when I originally looked at prices and when I actually bought my tickets, the prices had jumped by 30 euros. Don't hesitate and book it as soon as you comfortably can. Also, if you have flexibility on when you can visit, prices were generally cheaper mid-week, during the later show. You can also choose whether or not you want dinner or champagne included. Of course, these options are more expensive, so I personally opted out. But if you really want to splurge, I believe some champagne could really add to the experience. Prices were as low as 88 euros per person, for an 11 pm show on a Monday night without champagne (which isn't too bad in my opinion!).
Dress code and when to arrive
Now, on the day of the show, people tend to dress nicely. Not super formal, but it is a nice evening out and they say on their site that certain items of clothing will not be accepted (ie. sweatpants, flip flops etc). They also advise arriving early. It is important to note that the doors will be closed 10 minutes before the show. We attended the 11:30 pm show and it said that doors opened at 10:45. We arrived around 10 pm because we were in the neighbourhood and noticed that people were already lining up. So we naturally joined the queue. But not to worry, your table is reserved upon your reservation. Arriving early does not guarantee you a better table. We were, however, seated at the front of our table, so perhaps being the first to arrive at your table will give you a better view.
Inside, I was surprised to see how full the room is. It is a stunning room, with low lighting, walls drenched in curtains and a wonderful ambience. Just being inside was an excitement. I was attending as a party of 2 and at our table, we were joined by 2 other parties, so in total, our table sat 6. You can choose to order drinks at your table but heads up, they're expensive! Dinner is served during the earlier showing and is done before the show. From my understanding, you will not be eating during the performance.
The show
The show was incredible. The sets, the costumes and the music – it was all so overwhelming in a wonderful way. Something else that surprised me was that it wasn't just singing and dancing. There were several acts during the show which were all so engaging and exciting. They had the crowd at the edge of their seats without a doubt! And the performances were organized in several scenes, each telling a story of some sort. I won't go into too much detail about the show because I do believe some of the magic is found in experiencing it for yourself. I will say that it felt as if we stepped back in time. It felt like attending a nightclub in the 50s where the audience enjoyed drinks to live entertainment. It was a truly wonderful evening.
If you were curious, children as young as 6 are allowed to attend the show. They need to be accompanied by an adult and they do remind parents that the show does include some nudity. You can find out more on their FAQ page. Also, it is important to note that photos inside are permitted however no photos are allowed to be taken during the show.
Was it a tourist trap?
As you might be able to tell, I thought that an evening at the Moulin Rouge was well worth the hype. It was the most expensive option on the list of cabarets and is definitely the most touristy. However, I personally wouldn't necessarily classify it as a tourist trap. I think that attending a cabaret show in Paris, the city where they originate, is a worthwhile experience and is part of its historic and artistic culture. I do think that the cost of drinks and dinner at the show was quite pricey. This is perhaps is where the tourist trap comes in. But the show, history and experience alone are all worth it in my opinion.
However, as I explained above, there are many cabaret options to experience around Paris. I only discussed a few and each of them offers a different experience from the others. At the Moulin Rouge, you can have an iconic, historic experience while at Crazy Horse you can have a more sensual, modern experience. And of course, at Paradis Latin, you can attend a traditional cabaret with local Parisians, far away from tourists. And there are plenty more.
So, if you're interested in seeing a cabaret show in Paris but hesitating on whether or not it's worth it or too touristy, from my personal experience, it was a delightful evening stepping back in time to the Belle Époque of Paris. It is an element of Parisian culture to experience at least once in your life!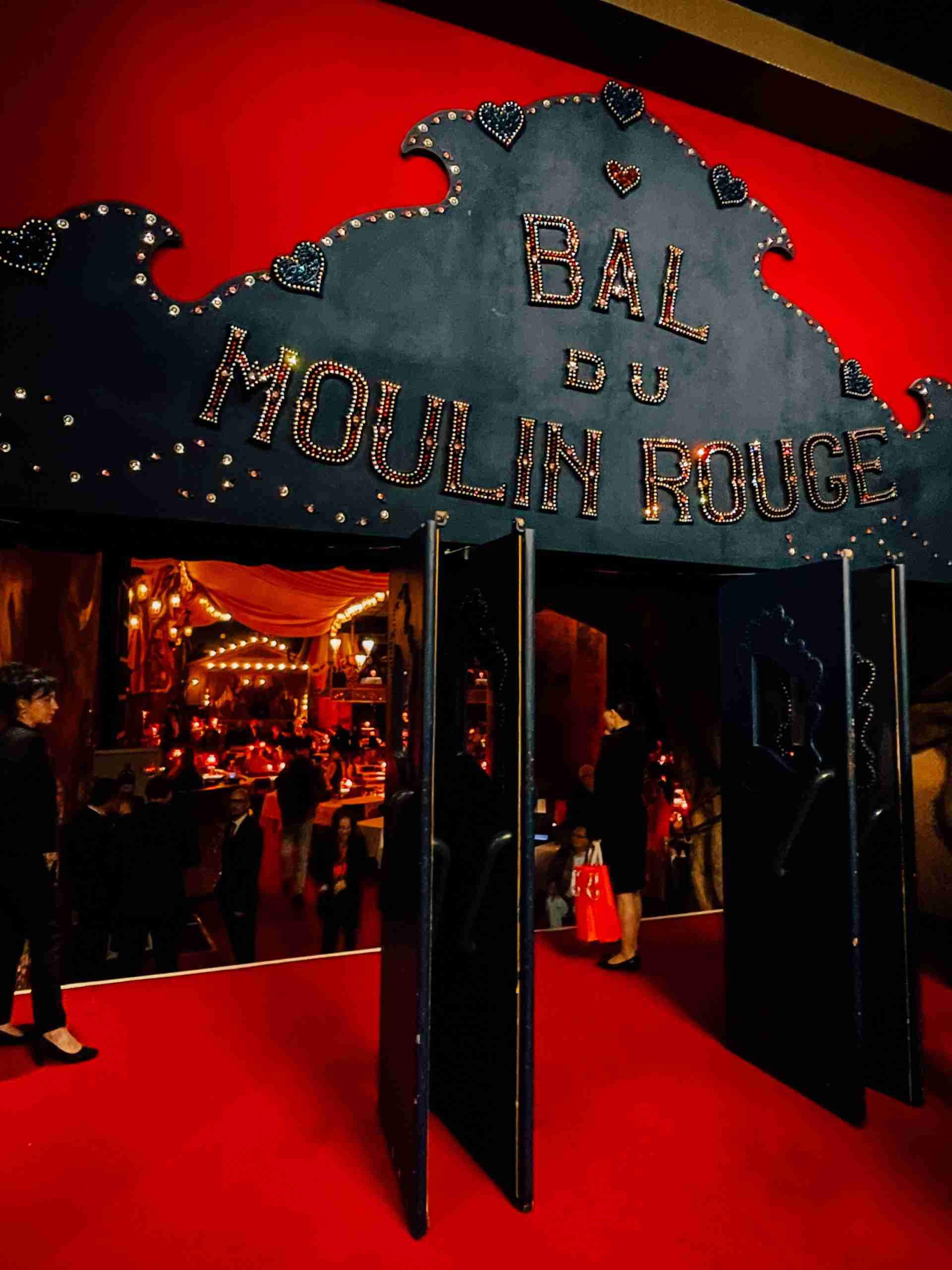 Have more time to spend in Paris?
If you have more days in Paris, I'd also highly recommend checking out some of the beautiful parks are the city. Stay tuned for more Paris blog content!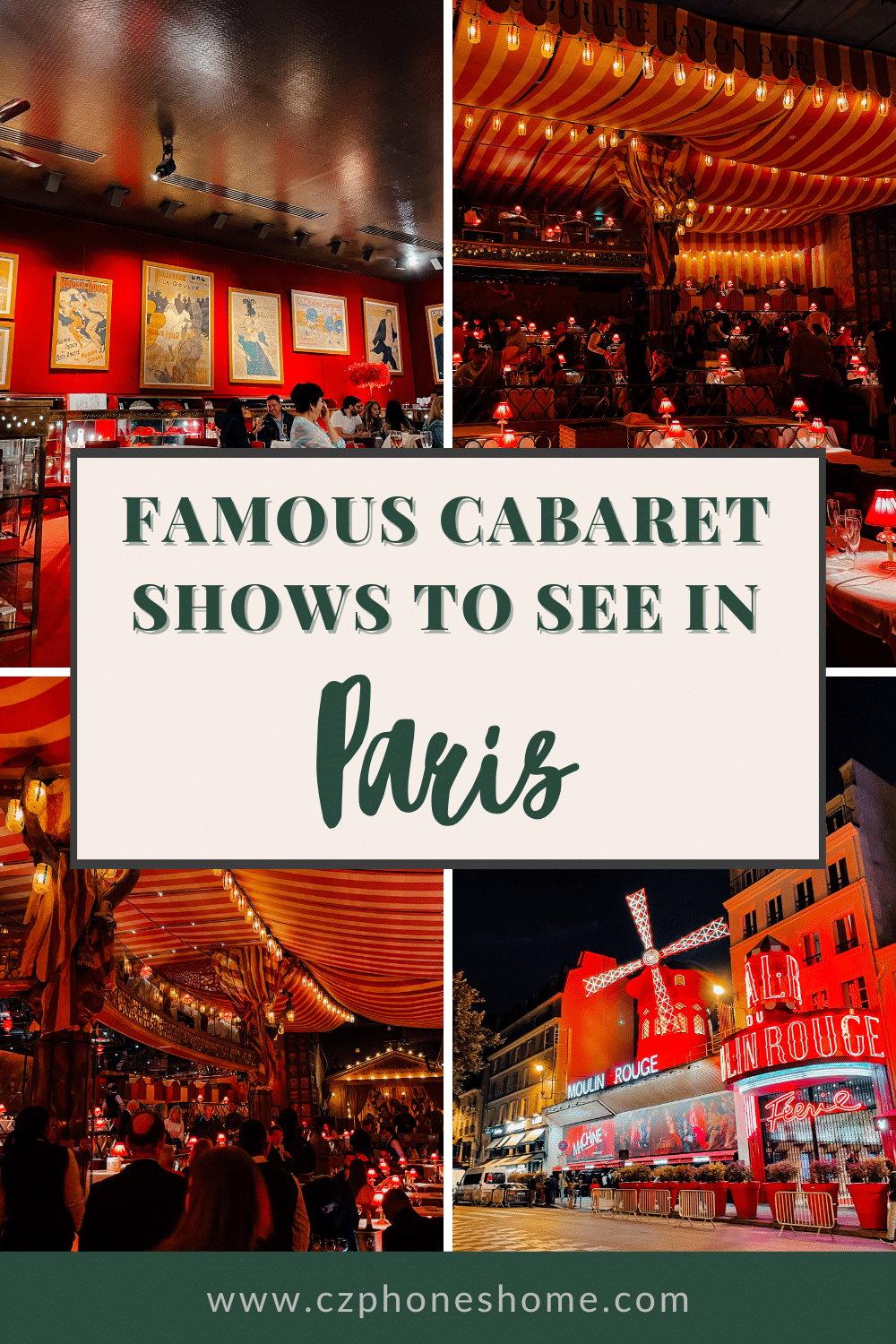 In the meantime, I have a tonne of FREE guides on my Thatch page. I have also put together a Less Touristy Day in Paris Itinerary. I hope it helps you explore different neighbourhoods in the city! Find out more on my Thatch page!