People are drawn to Paris from all over the world for many reasons. Some people visit for its history – to witness the many iconic buildings that have survived the test of time. Some visit for the food – to end up in any restaurant knowing that no matter what, their meal will be delicious. And some for fashion – to see what's new in season, to be surrounded by beautiful people and clothes, and to browse the endless number of shops around the city. Shopping in Paris and all of its luxury is one of the main reasons people visit the city!
The shopping possibilities are limitless in Paris. We all know it is a major fashion hub in France and many luxurious brands and high-end couture shops can be found sprinkled around the city. Whether or not that is your style or in your budget, it is pretty interesting and cool to explore this side of the personality of Paris. I mean who doesn't love to do a little window shopping every now and then? Below you will find a list of some of Paris's most beautiful and iconic stores. I would even say they are worth visiting even if you don't end up buying anything!
*Disclosure: This article contains affiliate links. If you make a purchase after clicking one of these links, I earn a small commission at no extra cost to you.
Must-see Department Stores:
1. Gallery Lafayette
Gallery Lafayette stores can be found all around France but this specific store in Paris is the original and it might very well blow you away. Just nestled behind the Palais Garnier (the Paris Opera House) is a huge shopping centre in Paris. You can find many brand names stores including Zara, H&M and of course department stores like the Gallery Lafayette. This specific store's interior is absolutely incredible. At one point in time, this store was considered the second top tourist destination in Paris, second to the Eiffel Tower of course.
When popping into this store, make sure to walk straight into the middle of the room and look up. Your eyes will be met with a stunning Art Nouveau glass dome. I've recently learned that they actually removed the glass dome during World War II to prevent it from being damaged. On every floor that you visit during your wander about the store, make sure to pop your head out and admire the dome from every new angle.
Note to future visitors: I recently discovered that on one of the top floors of the Gallery Lafayette there is a vintage and used clothes section! So if this is more your speed, be sure to head on up! Also, at the very top of the building, there is a terrace that offers a spectacular panoramic view of the city, for free! You can access it by riding the escalator to the top floor of the building et voilà!
Address: 40 Boulevard Haussmann, 75009 Paris
2. Printemps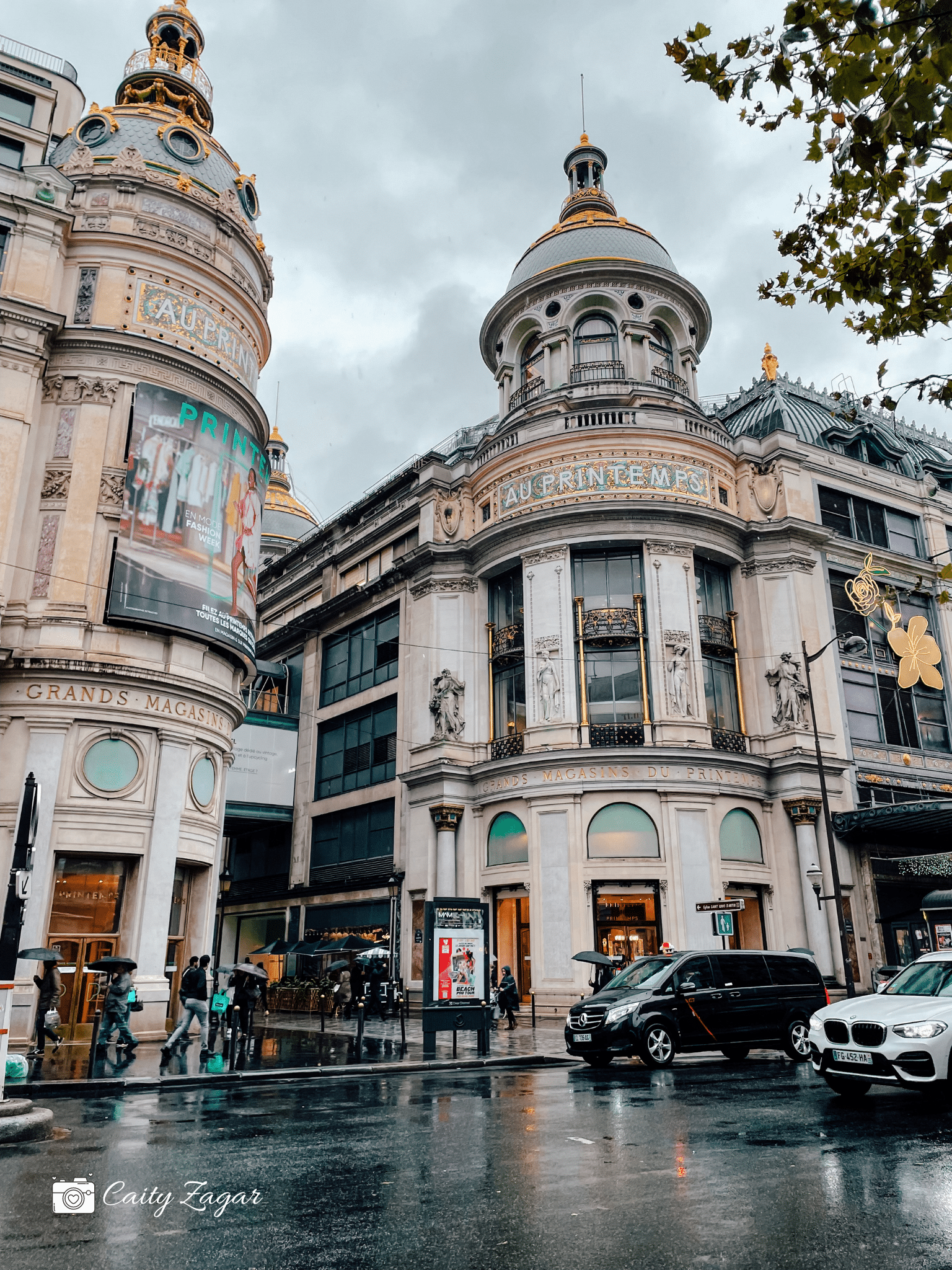 Just down the street from the Gallery Lafayette is another department store called Printemps. This store stretches across 3 different buildings! One building is dedicated to "La Mode", another is dedicated to "Beauty and Home" and the last is dedicated to menswear. Interestingly enough, historically what set this department store apart from the competition was its introduction of sales and its modernization by using elevators! Similar to other department stores in Paris, it offers a wide selection of high-end brands and products. It's another wonderful place to window shop, wander around and get lost in the land of luxury.
Their window displays are also iconic, especially around the holiday season! I was particularly impressed with the exterior of the building. As the Gallery Lafayette's interior was stunning, its exterior is relatively bland. But just looking at the  Printemps' building you can tell it's a place of style. There are hints of gold details everywhere, huge, vibrant window displays and wonderful floral decorations dripped over the side of the building. You can easily spend an afternoon admiring the clothes and the exterior of the 3 buildings while pausing at one of the cafes that can be found inside.
Address: 64 Boulevard Haussmann, 75009 Paris
3. Le Bon Marché
You can't talk about department stores in Paris without talking about Le Bon Marché. It opened in 1852 as a new kind of store where you can find everything you need in one place. As a result, this 'store' actually became the world's first department store and it is still around today.
Nowadays, it also includes la Grande Épicerie – here they offer 30,000 products! I personally find that insane! Also, interestingly enough, Le Bon Marché is a place where you can find art – it's a store as well as an exhibition space! To me, this makes it one of the most unique shopping experiences. It is an interesting blend of the traditional French market, luxury shopping and art gallery. They can proudly say that they achieved their goal of being a place where you can find everything you need under one roof!
Address: 24 Rue de Sèvres, 75007 Paris
Can't-miss iconic shops
4. Original Chanel Shop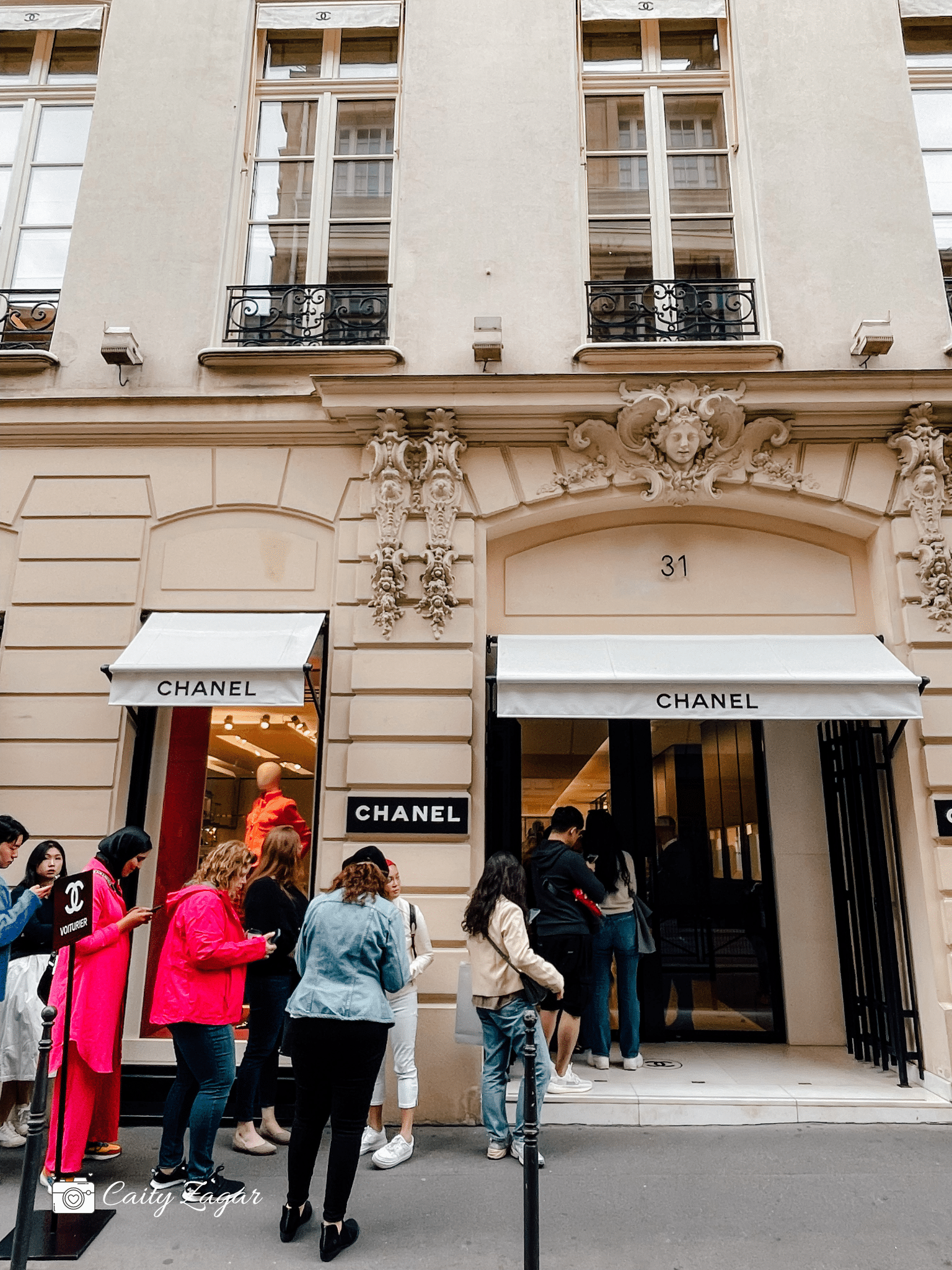 Not too far from the Haussmann shopping area around the Palais Garnier is a wonderful hidden gem. It is the original Chanel store, which can be found tucked away on some side street. I loved witnessing the birthplace of such an iconic name and brand. I was met with a huge line of people itching to get inside. There were security guards at every door and just looking inside you could see the minimalism that usually defines a place of class and luxury.
In 1910 the shop was opened at number 21 and by 1918 was expanded to become the first modern boutique. Here, women could find hats, perfumes, accessories, jewelry and beauty products. Even today you can still find the company's headquarters! It's a very unique aspect of history worth seeing that's for sure!
Address: 31 Rue Cambon, 75001 Paris
5. Louis Vuitton
This is another famous name that had its beginnings in Paris, however unfortunately the original Louis Vuitton store has since been closed. But don't worry, there are plenty of amazing Louis Vuitton stores around Paris for you to experience. One recently opened at the Place Vendôme which is more or less around the corner from the original store. One store, in particular, you cannot miss is the one on the Champs-Élysées. Just from the exterior alone, you know it's going to be a luxury experience (like most Louis Vuitton stores are).
This particular store is the flagship store. This means that it is the most important location for the brand and is the largest Louis Vuitton store in the world (it is 1,800 m2!). Every single time I come across this store, there is an incredible line. But trust me, waiting in line at least once, is worth it. It feels like stepping into a museum. And there are 5 floors of luxury and class for you to explore.
Address: 101 Avenue des Champs-Élysées, 75008 Paris
This guide is also available on my FREE Thatch guide, which can be easily accessed on your phone while you're out and about using the map feature.
Your next visit to Paris
As it says in the title, this is a beginner's guide to shopping in Paris – the go-to's and must-sees. And it goes without saying that there are plenty of non-luxury stores and small unique experiences that can be found all around the city! You just have to know where to find them. But hopefully for now, this has given you enough fashion inspiration for your next visit to Paris.
If you'd like a more travel friendly version of this blog post, you can use my guide to shopping in Paris on Thatch! Here you can also find tonnes of other resources for your trip including a less touristy day in Paris itinerary. You can also find a list of my favourite restaurants, photo spots and less popular activities!