As we all know, Paris is one of the most beautiful cities in the world. But the parks in Paris are not talked about as much as in other major cities. Paris is filled to the brim with history, people, fashion and food – which can make it feel crowded at times. But what adds to the beauty of this busy, urban landscape is also the splattering of vast green spaces around the city.
Paris houses several gardens and parks that many tourists might not know about or take the time to visit. But trust me, after several busy days in the City of Lights, some relaxed, slow moments in nature will be needed! Whether you're in the mood for a stroll, a picnic, people-watching or simply enjoying the view, these are some of my favourite green spaces to check out during your next visit to Paris.
Parc Monceau
So far, this is one of personal favourite parks in Paris. Located in the 8th arrondissement, only roughly a 15-minute walk away from the Arc de Triomphe, this park is the perfect spot for a picnic. In Parc Monceau, you can find a gorgeous Venetian bridge, stunning Corinthian pillars surrounding a large pond and your typical Parisian Carousel. This diversity of styles is why I consider this park to be one of my favourite hidden gems in Paris. Just outside the walls of the park, you can find many elegant and luxurious buildings as the park dates back to the 17th century. But once inside, you don't even feel like you are in the number one tourist destination in the world anymore.
Even as summer slowly transitions to fall, this park was a wonderful way to spend an afternoon, enjoying the sunshine and escaping the noise of the city. Wandering the winding paths, we passed children and families playing sports, watched a photographer capture photos of beautiful models draped across the Greek-inspired architecture and enjoyed a wonderful spread of cheese, bread and pastries that we put together.
Buttes-Chaumont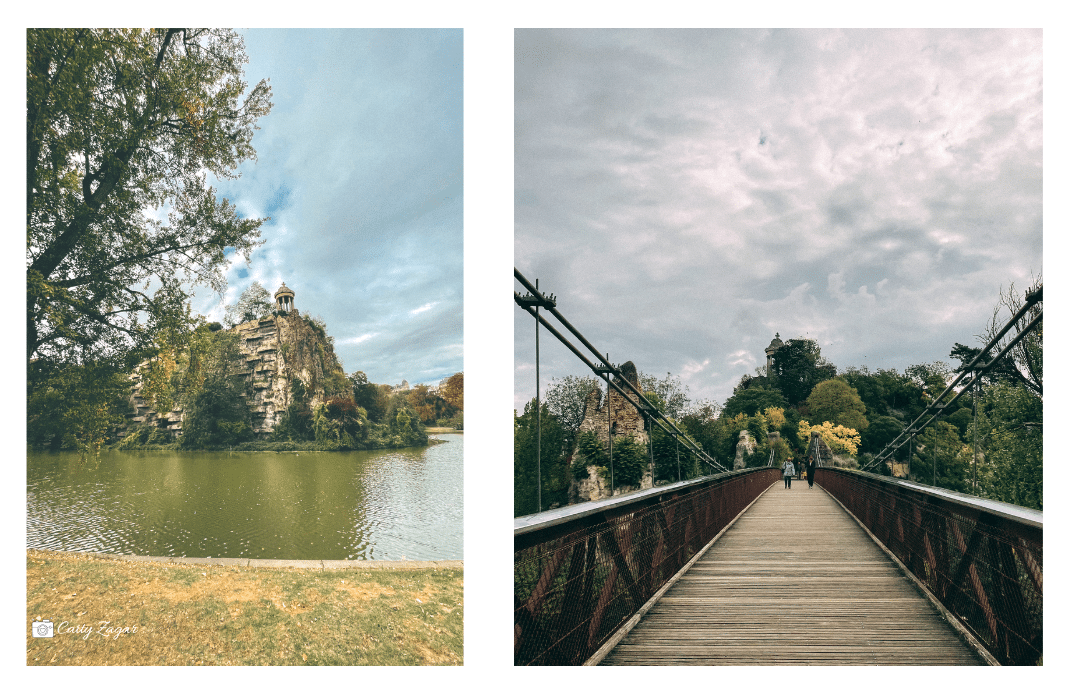 This is another hidden gem but this time it is out in the 19th arrondissement. It is one of the largest green spaces in Paris and what surprised me was how hilly it was. At one of the entrances to the park, you can watch the paths twist and turn down towards a lake. Above the lake, hovers a small temple on top of caves connected to the rest of the park by a large suspension bridge. Not at all the landscape that I was expecting in Paris!
It was a perfect spot to sit and drink a coffee while enjoying your new-found oasis. I could tell it was a popular spot for locals because of the number of families and nannies taking children out for walks and admiring the many ducks floating in the artificial lake. This park used to be a quarry, which explains its size, and hilly nature. There even is a grotto in one of the caves. It is full of statues and is made complete by a magical waterfall. It really is one of the best parks in Paris!
Père Lachaise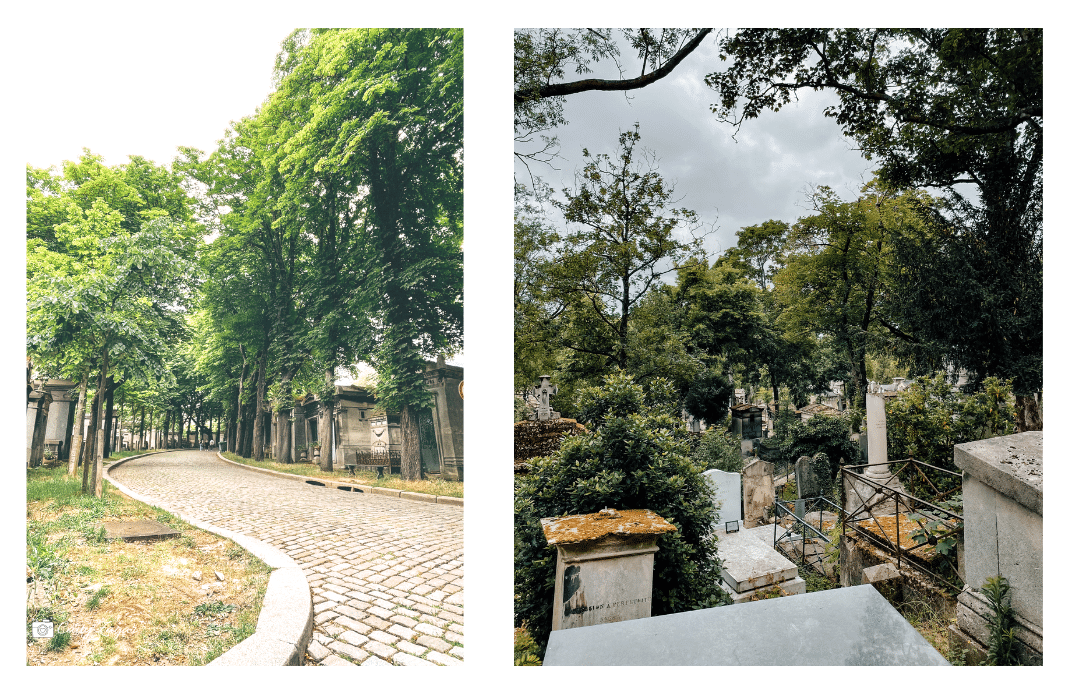 It is worth mentioning that this park is a cemetery – not the same vibe as the other parks in Paris. But, it is one of the coolest public spaces to check out in Paris in my opinion. For starters, many famous and important people have been laid to rest in this cemetery and that alone makes it worthwhile to visit. Wandering the grounds you can search for legendary people such as Oscar Wilde, Frederick Chopin, Edith Piaf, Marcel Proust and Jim Morrison.
The grounds themselves are also very beautiful. The streets are lined with massive trees and there are 70,000 burial plots with some stunning, ornate, gothic graves. It is also worth mentioning that this is a surprisingly hilly cemetery. It really is a wonderful place to take your time to stroll around , wander and explore. But be careful not to get lost; the streets are very small, winding and confusing. If it wasn't for the photo I took of the map at one of the entrances, we would have been easily wandering for hours trying to spot some of the most iconic plots on the grounds.
Jardin des Plantes
One of the best aspects of this botanical garden is the fact that it houses a Natural History Museum, a botanical school and France's oldest public zoo! On your next visit to the Latin Quarter in the 5th arrondissement, you could easily spend the day bouncing from building to building. All while strolling through the gardens on your way.
But why is it worth the visit? Well, it is a botanical garden meaning that they have gathered many different species of plants to study and display for the public. This garden is massive! 75 acres in size and students from the botanic school have gathered and organized over 4,500 different plant species. Inside you will find your typical French garden complete with symmetry, a garden of 'useful plants' (meaning medicinal or textile plants), an alpine garden, a rose and rock garden, an iris and perennial garden and even a maze. Needless to say, there's a lot goings on. And because of the diversity in plants, there is usually something to see all year round! In terms of green spaces in Paris, this is as 'green' as they get!
Jardin du Luxembourg
The Luxembourg Gardens is only a short 5-minute walk from the Pantheon. I feel that this park might be of the more recognizable names on this list. Created in 1612, these gardens are interesting because it consists of a combination of English and French gardens. This is all against the backdrop of the stunning Luxembourg Palace. Between the two styles of gardens, there is a large pond (where you can find children playing and racing wooden boats), some greenhouses and an orchard! Surrounding the entire space, you can find 106 statues sprinkled around of some very recognizable names including Beethoven and Chopin.
For me, the Luxembourg garden is the perfect place to grab a seat, relax and people-watch – especially in the summer months. You can find many people enjoying the outdoors either running, reading, strolling or snacking. What I recently discovered about the gardens is they have a beekeeping school that has been around since the 1800s. They have almost 20 hives and annually they collect around 450 pounds of honey! You can find this little gem hidden in the fruit orchards on the southwest side of the park.
Lastly, if you want to know where these gems are in Paris, you can check out my FREE map on Thatch!
You can find more inspiration for your trip to Paris by visiting my Thatch page! I have tonnes of FREE guides for you to explore such as My Favourite views of the Eiffel Tower or the Unmissable Parisian food stops! You can also take a look at my Less Touristy Day in Paris walking itinerary! What are your favourite green spaces in Paris? Is it a park, a garden or a hidden gem? Share with us to give us more inspiration!