Hiking in Ontario is a beloved pastime in my house. One park, in particular, that blew me away specifically in the autumn season, was Algonquin Provincial Park. If it's not on your bucket list already, you need to add visiting Algonquin Park in the autumn to your bucket list! I have never been surrounded by such vibrant, colorful leaves! It set the bar pretty high!
Algonquin Park is one of Ontario's most stunning parks and is quite famous for having inspired many artworks including pieces by the Group of 7, books, and movies.  Not only is it Ontario's first Provincial Park, but it is also one of the largest!  And if you're lucky, you might run into some moose, bears, or other Canadian wildlife!
Here you will find a helpful guide preparing you for your experience of spending autumn in Algonquin Park. I hope I answer any important questions you might have on the topic, but if I missed anything please feel free to drop questions in the comments!
I am by no means an expert hiker or camper! I like I good challenge but I also like a nice leisurely stroll or a relaxing weekend away. I hope the advice you'll find below will give you a bit of both, hopefully making it accessible for all! Because, no matter what, everyone should get to experience the autumn colors in Algonquin Provincial Park!
*Disclosure: This article contains affiliate links. If you make a purchase after clicking one of these links, I earn a small commission at no extra cost to you.
How to get to Algonquin Park?
You can find Algonquin Park west of Ottawa and North of Toronto. I like to think of it as if the 3 locations make a triangle! If you're coming from the GTA (Greater Toronto Area), driving there should take roughly 3 hours. And it's roughly the same length of drive from Ottawa! It's a pretty MASSIVE park so depending on where you're going, it might take you longer to get there!
If you are visiting Ontario and do not have access to a car there are a few options for you. There are two bus services that offer routes to Algonquin Park: Ontario Northland and Parkbus. For more information, visit their websites!
Or, if you do not have access to a car and are not able to take a bus, there is a tour that runs from Toronto to Algonquin Park! You can check that out below!
Where can you stay to visit the park?
If you're not interested in camping inside the park, there are still several town options nearby that act as a great home base! From my personal experience, I loved staying in Huntsville! It's a super cute town around a 30-minute drive from the entrance of the West Gate of the park. It is also one of the larger cities in the area giving you lots of shops, restaurants and other things to explore! Another option is to access the park from the East Gate, which the closest town is Whitney.
Best time to visit Algonquin Park?
You can visit the Algonquin Park all year round. I personally visited in the autumn and think it is an AMAZING place to see some beautiful, colorful foliage! From my experience, the first 2 weeks of October are the ideal window for experiencing the maximum amount of color. However, Algonquin Park actually posts updates online called "Fall Colour Report". Here they share details and the status of the foliage in the park!
How much does it cost to visit?
If you're planning on camping in the park, you have the choice between a developed campground or a backcountry camping. I would advise if you're not an experienced camper to stick with the developed campground. Backcountry camping, although is an amazing experience, can be dangerous if you do not know what you're doing.
Developed Campground fees can range between $40-50 a night depending on your choice of location. Backcountry camping will cost roughly $12.50 per adult per night. You can learn more on the official Algonquin Park website.
Even if you aren't planning on camping in the park, you'll still need a vehicle permit for the day. These cost 21$ per vehicle per day. You can buy these online 5 days before your trip. During our visit, we saw park rangers checking the parking lots for people's permits. So it is important to get one, or else you might be stuck with a fine. For more information, visit the official Algonquin Park website.
What to do in Algonquin Park?
Stop by the visitor's centre
Believe it or not, I think stopping by the visitor's center in Algonquin Park is one of the MUST-do activities. For starters, the building also has a great viewing platform outside on their balcony. They also have a gift shop and lots of information about the various hikes as well as animal sightings!
But what makes it really worthwhile is that inside they also have a museum. I think it's super important to take a minute and wander through to learn about the park's resources, habitats and also its long history. There is so much to learn there and I think it's really well done for both adults and children alike!
Click here to find more information, such as opening hours, on their official website!
Camping
As I mentioned above, there are plenty of camping sites you can find in Algonquin Park, and this is one of the main reasons people come to visit! Whether you want to camp in the traditional camping grounds or give backcountry camping a try, there is lots of space in Algonquin Park to explore and choose from! Just make sure you have the right permits and equipment for your stay!
I also remind you to do the proper research about camping etiquette and wildlife safety before arriving! I am not the most experienced camper so there are many rules, and pieces of equipment that I am unfamiliar with. I relied on a friend to help me get organized! And it goes without saying, remember to leave no trace!
You can find more information about camping permits for Algonquin Park here!
Easy hike: Spruce Bog Trail
A really quick, easy walk would be along the Spruce Bog Trail. This trail is flat and perfect for a nice stroll or hikers who aren't looking for anything too strenuous. The hike takes about half an hour to do but it takes you through the bog along a boardwalk. The boardwalk makes it a very pet and family friend walk!
Note: if you are visiting Algonquin Park in the autumn and want to see some colors, the Spruce Bog Trail won't really offer that for you. The trees in this area are mainly evergreen!
Here you can find the hike on AllTrails for more information!
Moderate hike: Centennial Ridge Trail
This was by far my favorite hike – especially in the autumn! This hike is listed as moderate on AllTrails and I would agree with that for a few reasons. One, there are moments of steep incline that really got my heart rate going. And two, because this trail is 12 km! When I went, I didn't complete the entire loop because it was getting late and we didn't want to be wandering around after dark! But the views you can find at the top were absolutely incredible making it all worth it!
Note: there was a moment or two where we lost the trail markers and got turned around. Something to keep in mind for future hikers!
Here you can find the hike on AllTrails for more information!
Canoeing
Canoeing is also another great way to explore Algonquin Park! There are backcountry canoe routes or even whitewater canoe routes to try! But overnight canoe trips are not the only way you can experience canoeing in Algonquin Park. It's becoming more popular for visitors to just head out for the day! For more information about how to spend a day canoeing in Algonquin Park, visit their website!
Fishing
The best fishing in Algonquin Park is in the backcountry! There are over 1,500 lakes in the park and 54 different species of fish! As this is a Provincial Park in Ontario, there are fishery regulations in place that you should read up on before planning your visit! You can learn more about that here!
Visit Huntsville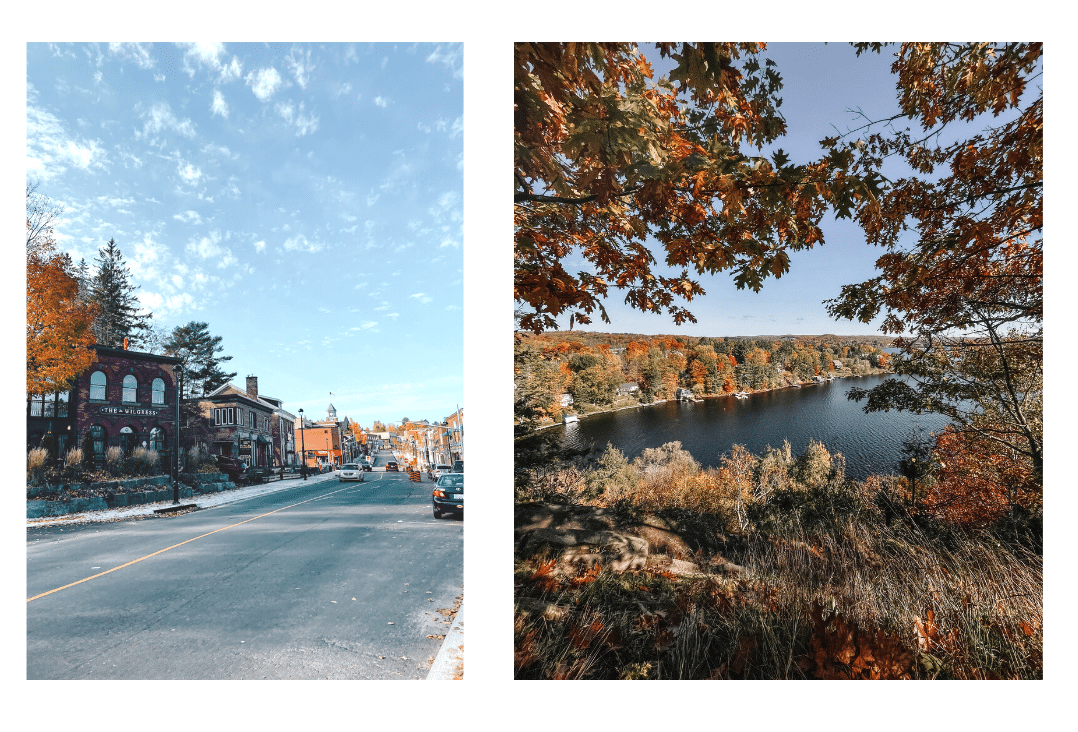 I mentioned Huntsville above but I did find this town to be super cute! I think it's definitely worthwhile to pop in here for a visit, a bite to eat, or a bit of shopping. The locals were super friendly and we were even directed to another viewpoint you can access from the town called Lion's Lookout! You can hike to the top or alternatively, there is a road you can drive up as well! Either way, the views were gorgeous!
Other hike options
I have been to Algonquin Park twice now, once in the autumn and once in the winter. I will for sure be visiting again as there were many hikes I didn't get around to on my previous visits! Here are some of the other hikes on my Algonquin Park bucket list:
Tips for Visiting
Get the right permits


As I mentioned above, there are specific permits needed if you plan on camping, visiting the backcountry or even driving in for the day. Make sure you arrange those before your visit. I mentioned it above but I'll remind you that I did see rangers checking vehicles to see if they have the day permit!

Anticipate parking challenges


Depending on when in the year or when in the autumn you're visiting Algonquin Park, there might be limited parking. This was true for us when we visited during Thanksgiving weekend. There were some trails we had to reconsider because there weren't any parking spots. It's always good to have a plan B in place or try to plan to avoid crowds in any way you can.

Mix it up!


The past few times I've visited the park, we only did hiking. But I know there is so much more to the area and to the park. There are canoe trails, fishing spots, and camping opportunities that look equally thrilling!

Visit for at least 2 full days minimum


We visited over a weekend and planned to give ourselves 2 days to explore the park. As you can see by now, there is lots to do and see in the park so 2 days is great to get your first taste, but if you can spend more time, you won't be disappointed. In our 2 days, we managed to do 4 hikes, visited the visitor's centre as well as explored Huntsville!

Dress appropriately


This is your friendly reminder that you do not need crazy gear if you're visiting for the day but I'd still recommend bringing comfortable shoes with good ankle support. And remember to bring layers because the autumn temperatures in Canada can change quite quickly from my experience. Even if it's a bit chilly out, when you're working up a sweat from hiking, it is always good to have layers to take off and put back on as needed.
Algonquin Park has quickly become one of my favorite places in Ontario in the autumn season. There is so much to see and do and it is one of the best places to fall in love with the autumn colours! I hope by now you're convinced to check it out the next time you're in South Western Ontario!
Looking for other seasonal Canadian travel guides? Check out my guide to visiting Quebec City during the Carnavale Season!