Here's a fun fact I learned on a weekend visit to Budapest; Budapest's name derives from the union of the "Buda", the more hilly district on one side of the Danube river with the "Pest" district. Together they form Budapest! Pretty cool right?
I love visiting new countries, but Hungary was never really high up my list for some reason – for no particular reason besides just not knowing much about it. But my trip to Budapest was my first visit to Hungary and I think it's fair to say that Budapest is a very underrated city!
We visited in February (2020 – right before the pandemic took over Europe!) and we were absolutely blessed with beautiful weather. The weather helped us forget that we were visiting during the winter months. Typically it is said the best time to visit Hungary is in the spring and fall seasons.
We had only a weekend to get the most that we could out of this city – so we saw and did as many highlights as we could! Here is our itinerary that gave us the perfect weekend in Budapest!
*Disclosure: This article contains affiliate links. If you make a purchase after clicking one of these links, I earn a small commission at no extra cost to you.
Day 1 – Getting Settled in Budapest
Begin your weekend in Budapest
Of course, first things first, you have to arrive in Budapest! From the Budapest Ferenc Liszt International Airport, there were several options for getting into the city centre. We had the choice between public transport (either bus or metro), airport shuttle minibus service, taxi or Uber. We opted for a taxi, as we were several people with luggage and were starting to get hungry so didn't want to waste too much time sorting out the metro.
Once we were settled into our hotel, we actually didn't need to rely on public transportation to get around the city. We found that everything was more or less walkable (of course this also depends on where your accommodations are located) and was an excellent way to wander the city. We were able to wander around the Jewish Quarter on our walk toward the Danube River.
Explore Budapest by night
After we got food in our bellies from a local restaurant (which is sadly now closed), we headed on a walk around central Budapest, along the Danube. Admiring the House of Parliament at night was absolutely stunning and is something I recommend doing at one point during your visit. The riverside walk passes in front of the House of Parliament and down towards the Chain Bridge. Seeing Budapest lit up at night was magical, to say the least. During this walk, you'll also pass the Shoes on the Danube which is a war memorial located directly along the river.
There are also plenty of options to take river cruises to get the same experience. We did not have time to try this during our weekend in Budapest but we saw many choices of tours operating! This is something that might be worthwhile to book in advance.
Check out the Ruin Bars
The Ruin Bars are one of the top tourist attractions to check out when visiting Budapest. What are they you may ask? Well, they are a group of cheap bars in the neglected, run-down buildings of the Jewish Quarter. These bars have become so popular that the owners have turned to second-hand stores to buy extra furniture. This actually contributed to their popularity because now the spaces are quite eclectic and eccentric.
Szimpla Kert is by far the most popular bar and was a spot I really wanted to visit. It was a long room, with many small spaces following no theme whatsoever with some of the most interesting seating options I have ever seen. One room was filled with people sitting in bathtubs and another had people sitting in a converted car. There was 'stuff' (art, mirrors, graffiti, memorabilia, lights, TVs – to name a few) filling the walls and ceiling from head to toe. Just visiting, is an experience in itself and it is definitely something you should add to your bucketlist.

Day 2 – Both sides of the Danube
Walk along the Széchenyi Chain Bridge
The next morning, we decided to walk over to Buda. One of the main and most important bridges that connect Buda and Pest is the Széchenyi Chain Bridge. We had seen this cast iron wonder lit up the night before and decided that it offered the most direct path to our next stops over in Buda. It reminded me a lot of the Brooklyn Bridge in New York and apparently has similar significance to Hungarians.
Explore Fisherman's Bastion: my highlight from my weekend in Budapest

Fisherman's Bastion was by far my favourite destination in Budapest. The building itself was absolutely stunning and it offered a fantastic, panoramic view of Budapest. And the best part is, it's free to visit (if you want to visit the turrets, you'll have to pay extra for that). I didn't think it was necessary to pay to visit the turrets since there are so many wonderful viewpoints and photo opportunities across the building. We spent quite a while wandering around taking photos and didn't even need to pay extra.
This was a nice place to stop and have a quick snack. There were several tourist shops at the top and even a restaurant and cafe. Of course, these I'm sure are a little more overpriced than other spots but we felt the views made it worth it!
It is worth noting that Buda is more hilly than Pest which means that accessing Fisherman's Bastion did require a bit of a hike, nothing too extraneous but something to keep in mind,
Admire Matthias Church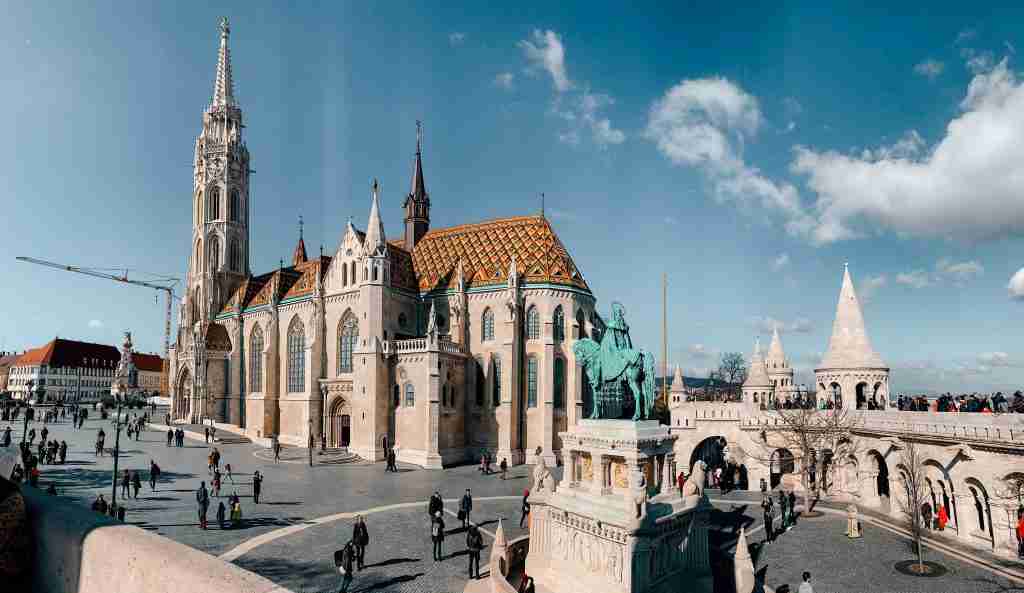 Directly behind Fisherman's Bastion is an enormous, colourful church (I was a bit confused at first when turning to google but Fisherman's Bastion is the white buildings overlooking the city and the church is directly opposite, in the same square). We weren't able to visit inside, but the church itself is so stunning from the outside we had no complaints. I loved the colourful roof tiles, they reminded me of a mosaic.
From the church, we wandered around the shops of Buda. We found many paprika shops (Hungary is a major supplier of paprika so they aren't hard to find!) and more or less followed our way to our next destination which was the Gellert Thermal Baths (more on that later). Our 30-minute walk took us past many other beautiful buildings like the Buda Castle and Palace.
Enjoy a thermal bath
Our weekend in Budapest would not be complete without visiting a thermal bath!
As I mentioned above, this was our next stop. It is iconic to try a thermal bath in Budapest – they are all over the city! The most touristy one to visit is the Széchenyi Thermal Bath – the larger of the thermal bath options. We actually read that this bath is now mainly visited by tourists. We wanted to find one that was a little more authentic (and hopefully less crowded). So we opted for Gellért Thermal Bath. You can book your tickets here. 
Important things to know when visiting a thermal bath:
💰 We had to pay for our admission to the baths, for a locker, for a swimming cap (they were required) and for towels (mainly because we didn't have any). I believe this was roughly 20,000 HUF or approximately 50 euros.
⏰ The baths were open at 9 am and closed between 6-7 pm.
Important note for future visitors: if you are interested in Gellért Thermal Baths I read that some of the baths and pool will be closed in 2023 for repairs. I would check their website before planning your visit. There are plenty of other thermal baths in Budapest to check out if this particular one doesn't work out for you! 
Try Goulash for dinner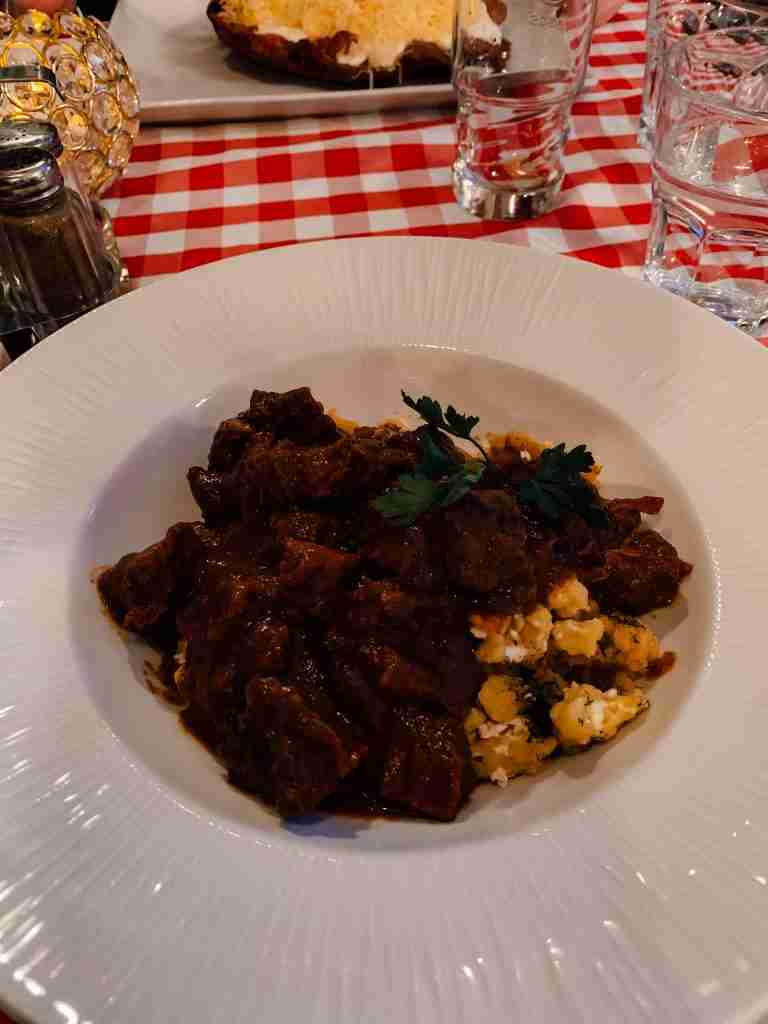 After our relaxing thermal bath experience, it was time for dinner. We crossed the other famous bridge connecting Buda and Pest, the Szabadság Híd Bridge and headed back over to Pest.
Goulash is one of the go-to authentic foods to try in Hungary. It's the staple dish so it isn't hard to find in most restaurants. What is it exactly? It's a meat and vegetable stew with paprika and other spices. Sounds pretty generic but it was delish and was the perfect comfort food on a winter day!
I didn't write down the name of the restaurant we went to but I have a feeling it was Alma & Körte Restaurant. It has really good reviews and has goulash on its menu!
Day 3 – Last Minute Moments
Wander around the Central Market Hall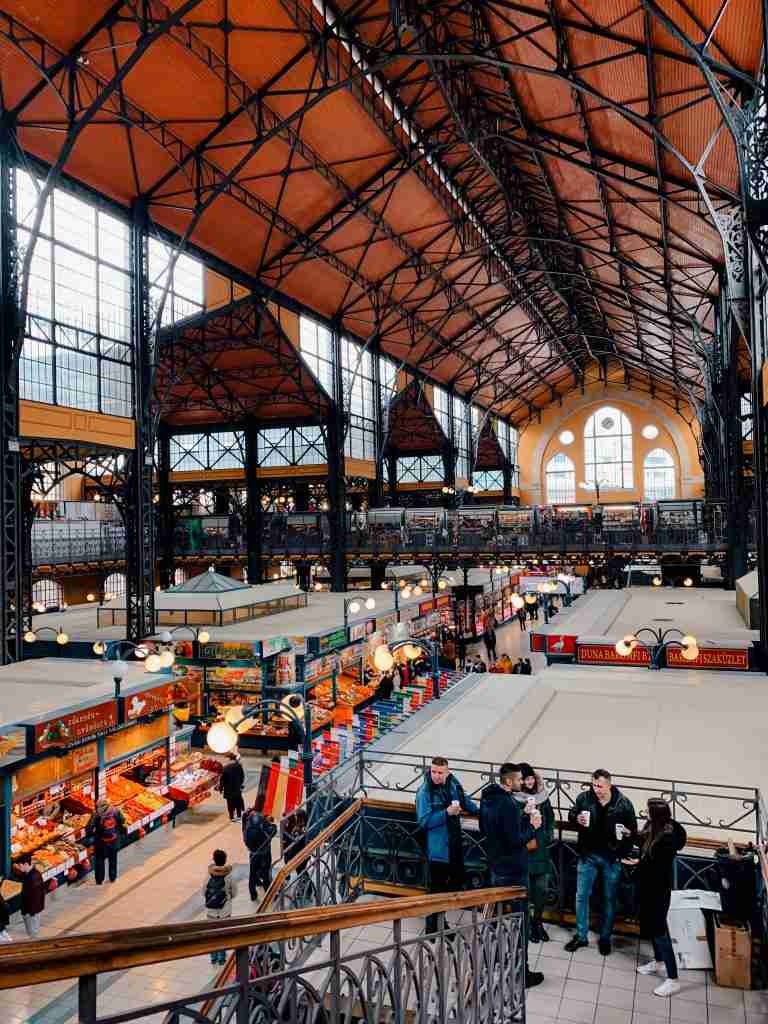 Before heading to the airport, we wanted to check a few more things off our bucket list. One of which was the Central Market Hall. Our original plan was to go there for dinner after the Thermal Baths BUT all of the stalls were closed when we visited – everything is closed by 6 pm (keep this in mind for future visits!).
So instead, we stopped by the next morning and I am so glad we did because it was bustling! It's the largest and oldest market in the city and is made up of 2 floors! You can find everything there! People were selling fresh produce, crafts, purses, clothes, and souvenirs and there were even stalls offering limited seating for lunch. I wasn't expecting it to be that big and have that many options of things to explore. We spent probably close to 2 hours walking around and eating our lunch.
Try a chimney cake
On our way back to the hotel, we needed to try another food staple of Hungary for dessert – the chimney cake. It is a tubular dough (that's cooked on a spit) and is topped with sugar. You can also add other toppings/fillings (I opted for Nutella!). These cakes can be found in other countries in Eastern Europe, I also tried one in Czechia – where they are called trdelník. They are super tasty and I recommend trying one at least once!
Head back to the airport
Just as you arrived in Budapest you can most likely take the same route back. We again opted for a taxi because that is what worked best for us. But as I said above you can also take a bus, metro, Uber or shuttle as cheaper options!
I hope you found this weekend in Budapest guide useful for planning your next visit! I try to provide as much detail as I can – I know how important it is when visiting new cities!
If you've been to Budapest before, comment below and share which of these spots is your favourite! (I already mentioned mine above!)