Picture this – it's the middle of winter and you are standing in the snow holding frozen maple syrup stuck to a popsicle stick. You're watching a row of men and women wearing red and black plaid tap dance with brooms to a Québecois folk song on the fiddle. This was my first experience walking into the Carnaval de Québec.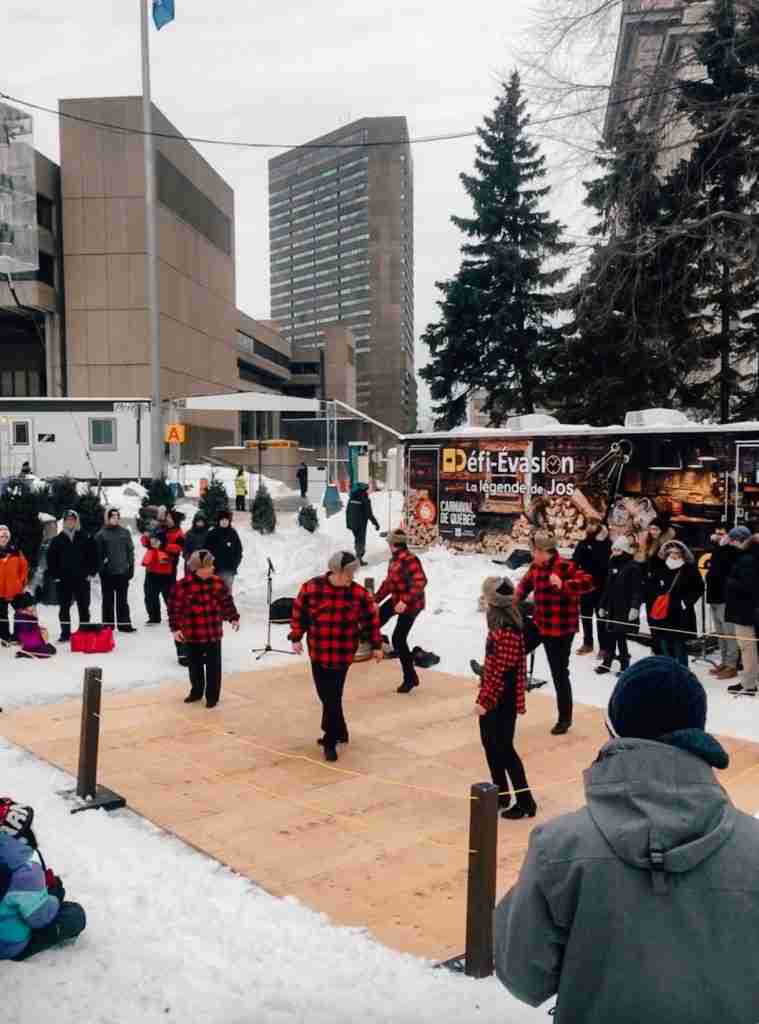 I remember in school growing up in Canada, every winter we would learn about the Carnaval de Québec. I can confidently assume that almost every single Canadian child can recognize the face of the carnival's mascot – Bonhomme, the smiling snowman! This celebration is taught to Canadian children because it is a very traditional Québecois festival and is one of the only ones that actually celebrates winter (which doesn't happen often!).
I'm pretty sure I wasn't the only one who was intrigued by all of the very unique and interesting traditions that take place at this festival and to most kids it sounds magical! It wasn't until at least 10 years later that I had to chance to actually visit the festival for a weekend and I must say that it lived up to its expectations.
*Disclosure: This article contains affiliate links. If you make a purchase after clicking one of these links, I earn a small commission at no extra cost to you.
📅 What is the Carnaval de Québec and what are the 2024 dates?
The Québec Winter Carnival is a yearly celebration that takes place in Québec City typically around the end of January to mid-February. In 2024, the festival is celebrating its 70th anniversary and will take place from January 25th-February 11th.
The first festival took place in 1894 as a way to lift people's spirits during the harsh Canadian winters and the tradition has stuck around since then. The 1950s is the first time the festival turned into a winter tourism opportunity and the Bonhomme mascot was introduced. It is now a famous family-friendly winter celebration and the largest (and oldest) winter carnival in the world!
It's actually quite special to see people embrace the beauty and fun of winter that often gets overlooked! It is also an amazing opportunity to witness and learn more about Québecois history and culture.
📍 Where do the activities take place?
Most activities take place in and around the Old Town of Quebec City. According to the Québec Cité website, the 3 main areas of events are: Place de l'Assemblée-Nationale, Place George-V and Parc de la Francophonie. If you start your visit at any one of these 3 places, you'll be off to a good start! For a full list of activities and new events in this year's Carnaval de Québec, check out their calendar here!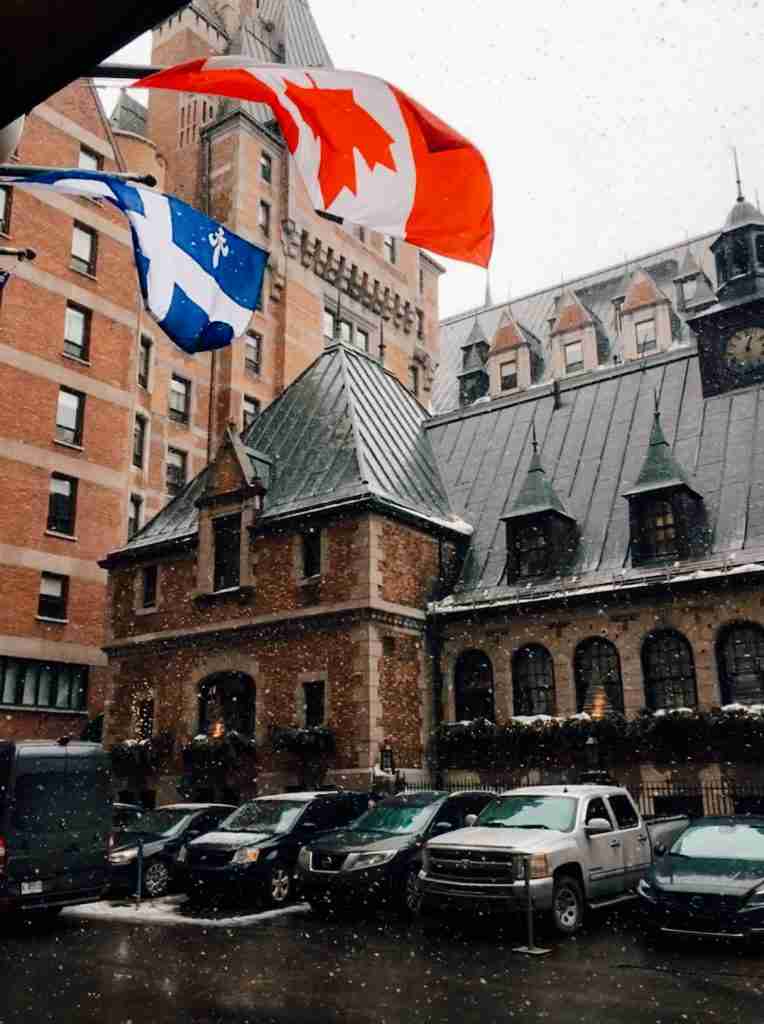 💰 How much does it cost?
When attending the Carnaval, you don't actually get a ticket, you get an effigy. This is a small trinket that you can attach to your jacket which acts as your pass to enter the Carnaval for the entire 10 days. These can be ordered online and you can pick them up at the ticket offices by providing them with your electronic ticket. They can also be purchased in person at the ticket booths.
They have cheaper prices if you buy your passes during their presale period. This tends to open at the end of November and closes a few weeks before the Carnaval begins – in 2024 presale end date January 14th. Presale prices are 20$ + tax or regular sale is 30 $ + tax.
They also have a "Full Carnival Pass" where you get an effigy and a few coupons for merch and drinks. The presale price is 55$ + tax or the regular price is 60$ + tax.
🍭 What foods to try?
Maple Taffy
This is what I call Syrup on a Stick – because thats what it is. How it works is that they will pour warm maple syrup directly onto the snow and you are tasked with rolling it up using a popsicle stick. The syrup will stick and harden onto the popsicle stick and you're good to enjoy your handmade maple lollipop.
Beaver Tails
To be clear, these are not actual beaver tails. These are flat pieces of pastry in the shape of a beaver tail that are deep fried and then topped with whatever you like. You can top your beaver tail with sugar, candy, Nutella and banana or maybe cinnamon is more your speed. There are lots to choose from and they're a classic Québecois sweet snack (be warned, they are filling!).
🛷 What to do at the Carnaval de Québec 2024?
Take a photo with Bonhomme

As I've said, Bonhomme is a big deal at the Carnaval de Québec. He typically makes an appearance at the beginning of the festival during the parade. But if you're not able to visit at that time, no worries because there are usually statues of him placed around for you to grab a quick selfie with him!

Bonhomme – the smiling snowman

Attend a Night Parade

Night Parades are a staple of the winter Carnaval. The streets are filled with floats, dancers, music and lights! They don't happen every night so be sure check to check the schedule! In 2024, one will take place on February 3rd from 5:30 – 7:00pm and on February 10th from 7:00 – 8:00 pm.

Enjoy the ice sculptures (and palace!)

Because you're celebrating winter, ice sculptures are the obvious choice for decor. And man are they impressive! And if you're lucky, you might even see some of the talented carvers in action. They even have an entire palace (which is the home of Bonhomme) made out of massive pieces of ice! It is seriously impressive!

Admire the canoe race

There is an annual canoe race that takes place in the icy St. Lawrence River. It doesn't take place every day so you'd have to check the yearly calendar to know which day to attend if this is something you're interested in watching. In 2024, the race will take place on February 4th!

Take a snow bath

Yup you read that right! There is a tradition where you can get into your bathing suit and roll around in the snow! It is sometimes called the Polar Bear dip and is a challenge you can feel to try with your family or friends! For the Carnaval de Québec 2024, this will take place on February 11th at 2 pm behind the ice palace!

MUST DO: Ride the Toboggan

As you pass the Chateau Frontenac, admiring its beauty, you'll notice just behind it there is a huge traditional toboggan slide. For just 4 dollars you can ride an old wooden toboggan down an icy slide racing your friends or other competitors. It was definitely a highlight for me! Want to see what the ride is like? Check out my Reel on Instagram!

Stop by the Ice Bar

Your visit is not complete without a stop by the ice bar. It is literally a bar made out of ice where you can order some of your classic drinks and maybe even some new ones – like the Carnaval classic the Caribou!

Try some traditional activities

You'll quickly notice that there is a lot going on during the festival. There is live performances, parades, games and so much more. During my visit, we tried ax throwing and played some really fun interactive games. We also saw live performances (like the one I described in the intro). Go for it – try some of the activities, the more traditional the better!

Stroll through the Old Town

Lastly, Old town Québec City is really beautiful. It is an iconic European-style walled city with a beautiful castle and some adorable small winding streets and small shops. Take a break from the festivities and spend some time actually enjoying the city – don't miss it!
🤝 Tips for visiting the Carnaval de Québec 2024:
If you're planning to visit the Carnaval in 2024 (or any year in the future) there's a couple of things to keep in mind:
Try and book accommodations as soon as you can:

This goes without saying but this is a very big event in Québec and Canada for that matter. Many people visit Québec for this festival and its safe to say that most accommodation fills up fast! So, try organizing your Airbnb or hotel as soon as you can to avoid any issues! Also, it is always useful to have accommodation not too far from the festivities – if it's possible! Here are some hotel ideas to get you started!

Dress warmly:

This is a must! After all, winter in Québec can be quite cold (I mean that's the whole point of the festival!). So, wear layers! Make sure you're covered in terms of your outerwear.  You don't want to be uncomfortable outside in the cold weather because that's never fun.

Keep an eye out for bathrooms:

Like most big festivities, bathrooms can be scarce so try and go to the bathroom whenever you see one. For example, we always made sure that if we were inside grabbing food or taking a break, we'd use the washrooms as well – just to be safe.

Bring tissues, lip balm and wet wipes:

As wonderful as it is to celebrate the winter, you have to come prepared. This of course means dressing appropriately (look at #2!!) but it also means bringing the right tools to help you throughout the day. Runny noses are inevitable during a winter day so bring tissues. The winter air and wind is without a doubt very drying make sure to have some lip balm handy. And packing some wet wipes is another good idea since you might be eating food while you're out (and syrup is VERY sticky).

Remember to warm up throughout the day:

You might notice that most of these tips are to do with the weather because its really important to stay comfortable when you're outside most of the day. But no matter what, taking breaks inside to warm up every now and then is strongly encouraged.
I hope this was helpful for you when planning your visit to Québec City. Have an amazing time celebrating the Carnaval de Québec – stay warm!
Comment below your favourite moments from the Carnaval!