Spending the most wonderful time of the year in Alsace is probably one of the best decisions you'll ever make. Alsace at Christmas is absolutely magical and picture-perfect! You won't find many other places in the world that feel like you've walked into a Christmas store in real life.
The very first Christmas that I spent in France I needed to make sure we paid a visit to Alsace to really get into the holiday spirit. We spent 4 days exploring the villages, markets, and all the best spots in this little corner of France.
So I thought I'd share my Holiday bucket list! I've put together my top 5 things to do in Alsace at Christmas that'll make sure you get the most out of the holiday season while also deeply exploring this really beautiful region of France.
For a complete itinerary, including accommodation suggestions and how to get around Alsace, check out my Holiday Getaway to the Christmas Markets in Alsace Itinerary! (Pssst, there's also a car-free version!)
*Disclosure: This article contains affiliate links. If you make a purchase after clicking one of these links, I earn a small commission at no extra cost to you.
Tips for spending Christmas in Alsace
1.Book your accommodations and travel ASAP
This goes without saying but Christmas in Alsace is HUGE! It is THE time to visit the region and they go all out! This also means that this is when tourists flock to experience all of the magic! I would highly recommend securing your accommodations well in advance. Also, keep an eye on the flights and train ticket prices! You can book your train tickets using Trainline or Omio. Both are great options I use frequently to book my train travel around Europe and the UK.
Here are some accommodation options to get you started:
Paul & Pia – Welcome Home Hotel in Colmar
BOMA Easy Living Hotel in Strasbourg 
2. Plan your visit wisely
Check the dates of markets and events. Some markets and events only run only certain weekends. To make sure you don't miss anything, manage your expectations by doing the research beforehand! I've included updated dates and hours for 2023 on my Holiday Getaway to the Christmas in Alsace Itinerary!
3. Be aware of the hours of the markets
I made the mistake in assuming that the markets would run later into the evening. They are open at night, don't get me wrong, but most aren't open that late. Check the times of the markets you want to visit in advance. We made the mistake of going to dinner and then afterward expecting to wander the markets. But by the time we were done, they were closed!
4. Decide in advance how you want to get around and plan accordingly
To get the most out of your visit, I'd recommend renting a car. You can visit as many local villages as you'd like without having to worry about external schedules. However, if renting a car isn't an option for you, there are trains that go from Strasbourg to Colmar AND there are even shuttles that takes you into some smaller villages. If you want more tips on how to visit the Christmas markets without a car, check out my Car-Free Holiday Getaway Itinerary!
5 Things to do in Alsace at Christmas:
1. Visit the Christmas Capital of Europe
When exploring Alsace, you HAVE to pay a visit to the Christmas Capital of Europe; Strasbourg, the capital city of the region. Strasbourg has earned this title because they have some of the oldest Christmas markets in France – dating back to 1570! During the holiday season, the city is completely taken over by Christmas as they set up 11 different markets and host different events across the city!
Head over to Place Kléber to admire the 30-meter-high Christmas tree or stop by Place Broglie for some festive foods! While in Strasbourg you also have to pay a visit to its iconic Cathedral and its famous astronomical clock (at 12:30 you can watch it come to life!)
✨The Strasbourg Christmas Markets (2023) run from Nov 24th to Dec 24th from 11:30 am to 9 pm!✨
2. Try Alsatian Food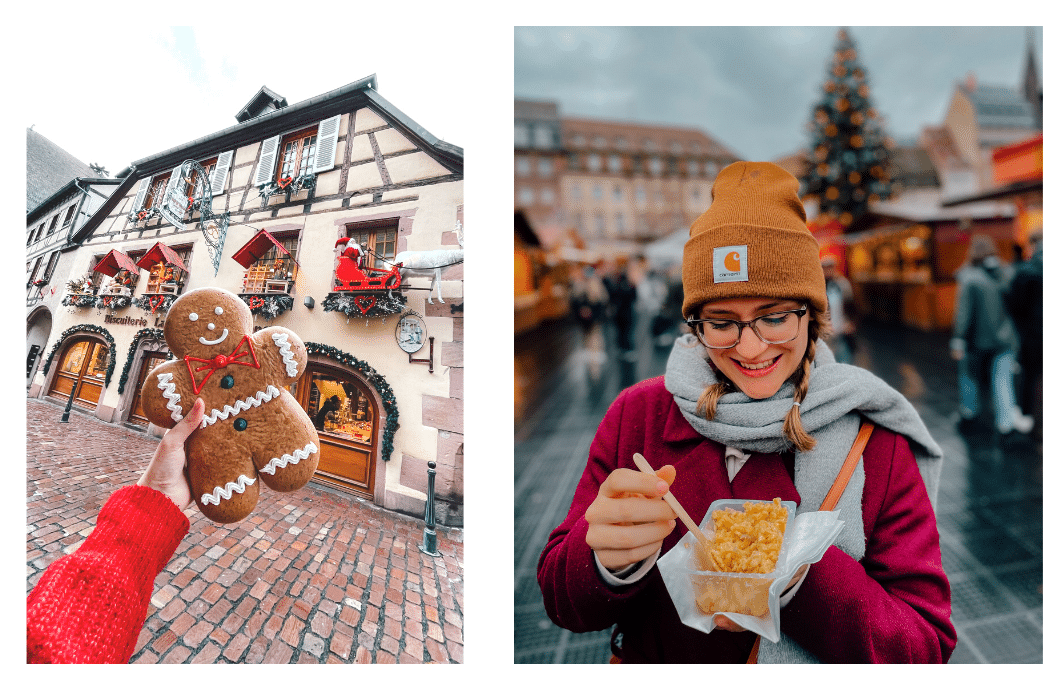 I highly recommend when visiting Alsace at Christmas to enjoy some of your meals in the Christmas markets. It is the best way to get into the spirit of things and a great moment to try some local cuisine! Since this region of France shares a border with Germany, Alsace is a really interesting cultural blend of these 2 countries. You will notice a lot of similarities between the types of food and even the names sounding a bit more German.
Here are some traditional foods to keep an eye out for:
🍝 Spaetzel: egg noodles found in many central European countries
🍕 Flammekeuken: also known as a tarte flambée, this is like a German pizza with a thin dough, cream, onions, and lardons.
🎄 Gingerbread (Pain d'Epice): you can find gingerbread everywhere in Alsace, not just in the form of cookies but as a loaf of bread as well.
🧀 Munster Cheese: this is the regional cheese!
3. Explore the small traditional markets
Larger cities like Strasbourg and Colmar are great places to base yourself. Strasbourg is the main transportation hub of the region. They have an airport and a major train station where you can easily travel to and from Paris. (You can book your train tickets here!)
Colmar, a bit further south, is just a train ride away from Strasbourg and has a lot less of a big-city vibe. However, you MUST make sure you venture outside of these main hubs and explore the regional villages.
The towns in Alsace are known as being the fairytale towns of France. The streets are lined with colourful, half-timbered houses and local shops. Each town will have its own markets and they are known for being more authentic and traditional compared to the larger cities.
Ribeauvillé, for example, has a medieval Christmas market that runs just 2 weekends in December. During these weekends you can find traditional events, artisans, and activities such as live music and performances. Visiting this Christmas market will feel like you've time-traveled back to the medieval ages!
✨The Ribeauvillé Christmas Market (2023) run from Dec 2nd to 3rd and Dec 9th to 10th from 11:30 am to 9 pm!✨
See More: for more details on getting around Alsace at Christmas, check out my itinerary here!
4. Drive along the wine route
Did you know that Alsace is another significant wine region in France? It also happens to be my favorite wine region! To get the most out of your Alsatian experience, you should add the wine route to your itinerary. It stretches over 170 km and includes 119 charming, quintessential villages, many of which are perfect holiday spots as well!
Of course the winter months aren't necessarily wine season but visiting the countryside and witnessing the the rolling hills covered in vineyards is worth the detour! Again, this is best enjoyed with a car rental however, there are shuttles and tours that visit stops along the Alsatian Wine Route.
Here are some tour ideas to give you some inspiration:
5. Go hunting for the cutest decorations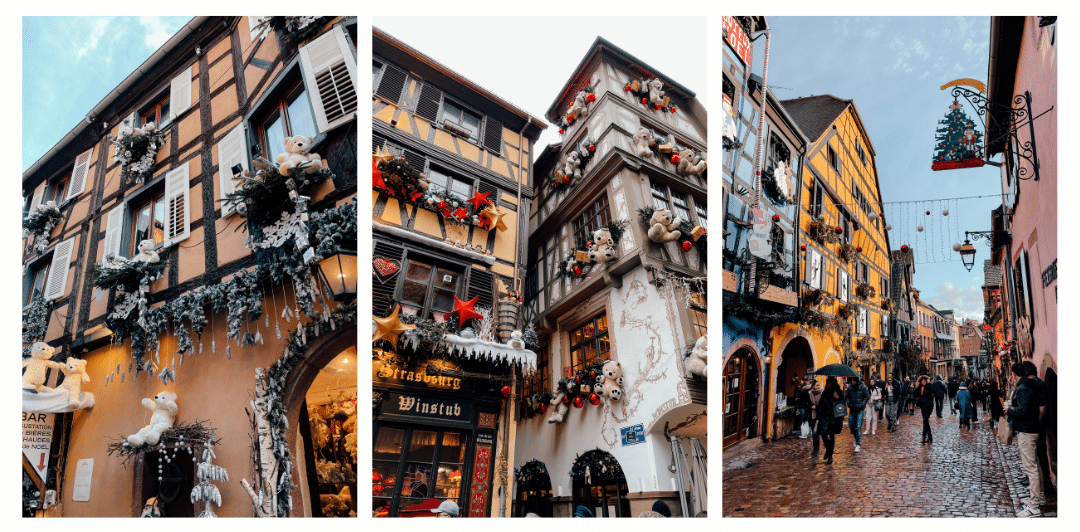 As you can guess by now, Christmas in Alsace is a big deal. They go all out! So not only should you be grabbing traditional foods in the markets, exploring the smaller villages, and visiting the Christmas capital of Europe – you also need appreciate the amount of decorations EVERYWHERE!
Outside of the popular markets, businesses and buildings are equally covered in twinkle lights and colourful decor. One of the most iconic is teddy bears!! This personally surprised me because this isn't the go-to decoration choice where I'm from. But you'll be surprised to see how many stuffed teddy bears will be plastered to storefronts and hanging off of buildings.
See More: AMAZING spots to see Christmas Lights in London
Ready for the best Christmas in Alsace?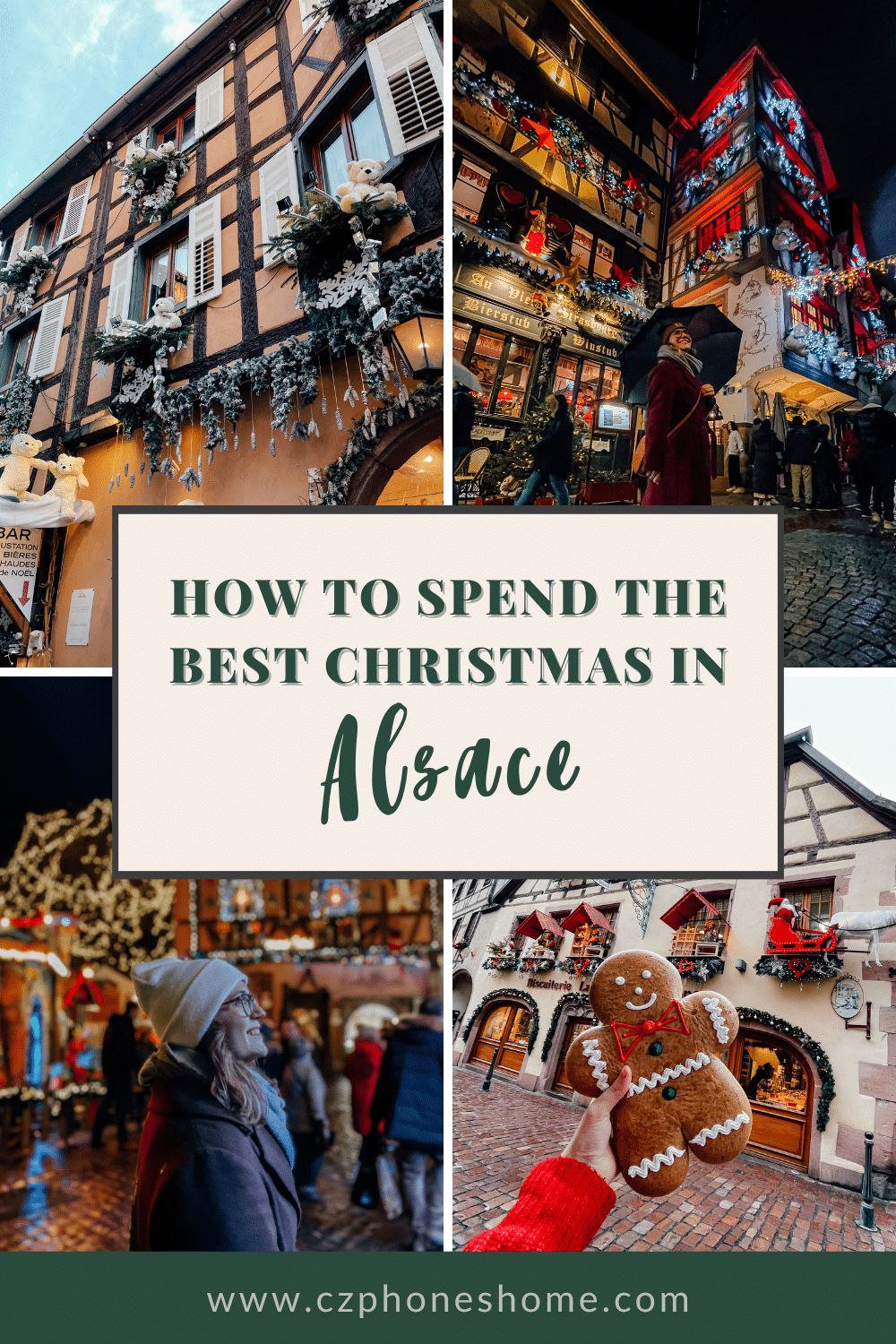 Christmas in Alsace is one of the most magical experiences I've had in France to date and I truly think visiting during the holiday period should be on everybody's bucket list! From the tasty, feel-good food to the half-timbered houses, you will feel as if you're walking in a Hallmark Christmas movie – I mean that in the best way!
The best takeaway from this post is to plan ahead for your visit. It is a popular time to explore the region so do expect plenty of crowds. To really get the most out of your visit, plan your travel and accommodation in advance, check your dates align with any markets or events you are keen on, and bring your coziest Christmas sweater.
If you liked this post, you might also like my Hunting for Christmas Lights in London post or my Holiday Getaway in Alsace Itinerary!