I had no idea that Portugal, or perhaps more specifically the Algarve, is really into coffee. Cafes in Lagos are a dime a dozen and can be found everywhere around the city. It was one of the first things that stood out to me. In the end, it is one of the things that surprised me the most about the region. They are obsessed with specialty coffee!
Not a coffee drinker? No problem. I myself am not a fan of coffee but these cafes had so many other options of drinks and pastries that you're not missing out if you're not a coffee drinker! But one of the most difficult things was choosing which ones to visit. For being a relatively small city, the selection seemed endless.
After visiting Lagos a few times during our stay in the Algarve, we managed to try quite a few cafes. Here are our top 5 cafes in Lagos! Let me know if the comments if there are any others that are worthy to be added to the list!
*Disclosure: This article contains affiliate links. If you make a purchase after clicking one of these links, I earn a small commission at no extra cost to you.
1. Black and White
Black and White was probably the busiest cafe we visited! They are an Australian-inspired coffee spot, so don't be surprised if you find a lot of English speakers here! They are known as a coffee bar and brunch restaurant. You can either sit down and enjoy a leisurely breakfast or pop into their take-out counter next door to get your coffee to go!
We came here on two separate occasions. Once for take-out (because it was too busy to sit down). Since I'm not a coffee fan, I still had a selection of juices and smoothies to choose from which were really tasty! What was particularly interesting was that they had an open kitchen on the take-out side. So you could watch the behind-the-scenes as they prepare pastries and other dishes.
On our second visit, the wait time for a table was only 10 minutes so we decided to wait it out. The menu had a really great selection of eggs, açai bowls, pancakes and toasts. It was actually quite difficult to choose! I also thought that everything was reasonably priced, so would definitely recommend coming here on your search for some cafes in Lagos.
2. Adoce a Vida
I cannot recommend this spot highly enough! They are super tiny and felt kind of tucked away, but when you find them you won't be disappointed. This cafe has the BEST pastel de natas that I've ever had! They were so good that we actually came back to Lagos another day just so we could come back!
On top of the delicious pastries and other snacks, it is also a small grocery store. If you are looking for local products to bring home as souvenirs, this is a great spot to browse. We found jams, hot sauces, liquor, nuts and lots of other products local to the area. They are open from 8:30 until 4:00 every day so you should have no issue popping by when you are in Lagos
3. Coffee and Waves
Before heading to the Algarve, I asked friends and family for recommendations. Coffee and Waves came up a few times as one of the best cafes in Lagos. It was much smaller than Black and White but it had a similar surf vibe. It was super cute inside and even though we weren't able to have breakfast here, they looked incredible! More specifically, I heard from a few people that they have the best açai bowls!
Even though I am not a coffee drinker, I can tell you that I'm very confident they have excellent coffee. From hearing reviews from people I know firsthand and from reading reviews online, everyone RAVES about their coffee. You also might be pleased to know that they are very vegetarian and vegan-friendly!
4. The Studio.Coffee
Not too far from the main old town in Lagos, is the Studio.Coffee. A relatively new shop, their coffee became such a success, it has now evolved into becoming a coffee roastery! So if you're looking to take home you can buy your favourite coffee beans! You can also find some local handmade products! This is something I found often in the various cafes in Lagos and loved it! I guess since coffee is so popular, it is a great place to also showcase local talent and other products!
At their Lagos location, you can find tonnes of vegan cakes, coffee-based cocktails, brunch, wines and other baked goods. They also are known to host community events – how cool is that!?
5. Indigo Bar
Just around the corner from Coffee and Waves is Indigo Bar. Even though this place is listed as a bar, we popped in to check out their cafe as well. They are mainly known as being a rooftop bar with scrumptious cocktails. But cafe-goers will be happy to know that the mornings are dedicated to coffee and breakfast.
Another thing we noticed while we were there, was that it was a very busy, happening place. What I mean by that is, similar to the Studio.Coffee, they also host events. We heard live music and saw that there were community events going on a regular basis!
BONUS: Another food spot worth checking out
Nah Nah Bah
I couldn't talk about popular places to eat in Lagos without mentioning Nah Nah Bah. Note: this place is not a cafe nor does it serve breakfast. I just wanted to highlight it because it is a very popular spot in Lagos.
Nah Nah Bah is a burger place and they are FAMOUS for their burgers. Like literally famous. They have been featured in the press and are known to be the "best burger joint in the world". The restaurant is filled with tiki-tropical decor and is an homage to Bob Marley. It's not the place to try local Portuguese dishes but it is probably the most iconic restaurant in Lagos. I even visited with vegetarian friends and there were choices for them as well! So, if you're in doubt about where to eat for dinner, be sure to stop by!
I'd also consider making a reservation, or showing up right when they open. As I said, they are very popular and well-known in Lagos, so they will most likely be busy!
Which one will you try first?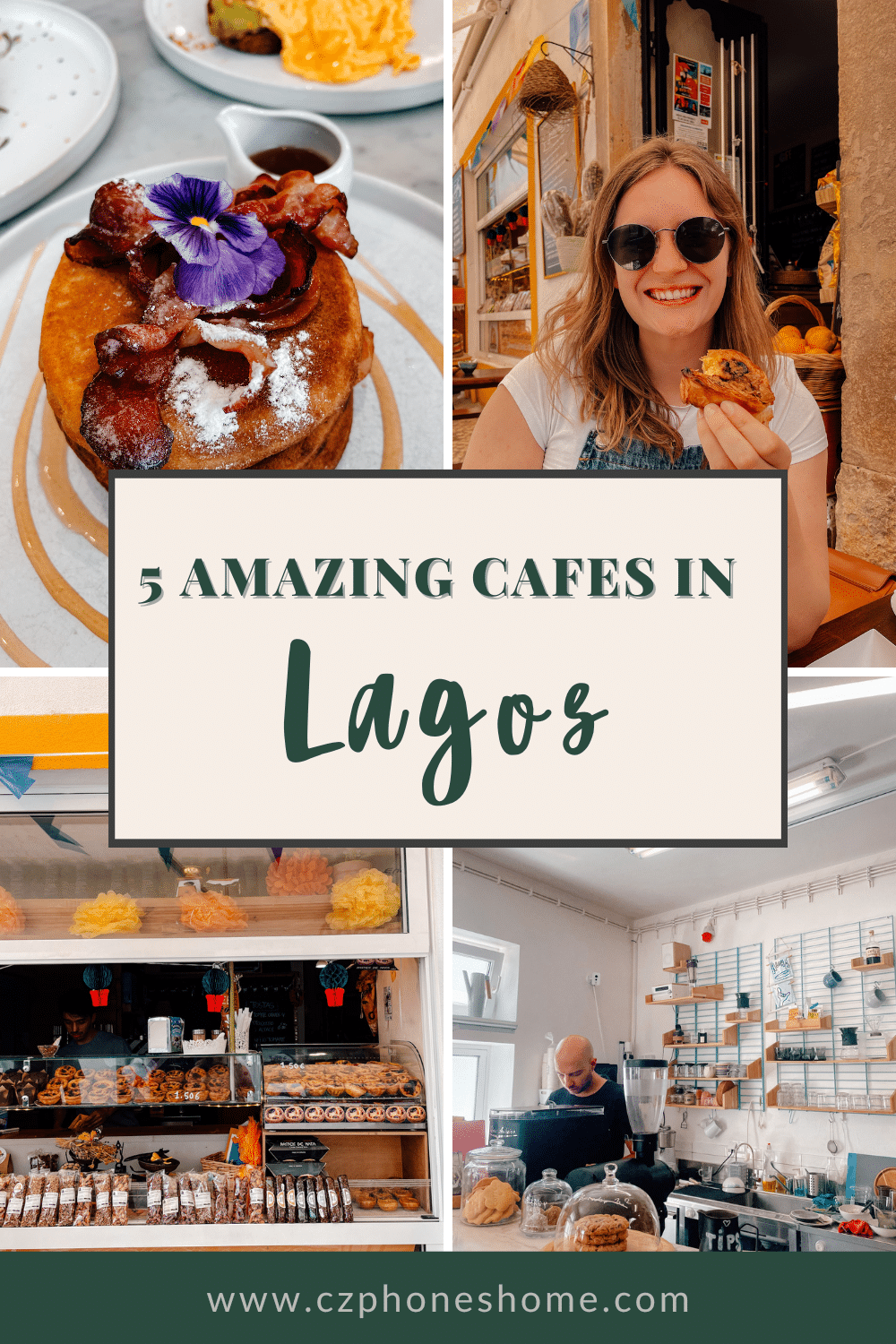 I hope this list is everything you expected it to be! And I hope that the bonus at the end was a pleasant addition! There are plenty of cafes in Lagos so I'm sure I've missed some other fantastic spots. If so, please share in the comments! I am by no means an expert and love hearing about other people's suggestions!
If you are a foodie like me and love collecting the best restaurant and foodie spots on the places you're visiting – I've got you covered. You can find more recommendations on my foodie guides about Paris, Bordeaux, Lille, North London and South London!