Germany is filled with so many enchanting cities and towns. You have the small villages along the Fairytale route, the bustling city of Berlin, and, of course, adorable Munich. I loved my quick visit to this iconic city and I only got to spend one day in Munich!
This happens often with travel – sometimes we only have a layover. Sometimes we are only gifted with a day or a handful of hours to explore a city. It's not ideal but at times, it's all you have to work with! And I am here to help you make the most of it.
As someone who has already spent one day in Munich, I can assure you that one day isn't enough. I would say ideally I would have liked to spend 2 days so we could explore other sites outside of the city center. But if you're like me and that's all you have, let me break down how to spend your day!
*Disclosure: This article contains affiliate links. If you make a purchase after clicking one of these links, I earn a small commission at no extra cost to you.
Best time to visit?
The most popular time to visit Munich is in the fall during Oktoberfest. This is when the city comes alive and features the iconic Bavarian festival! It surprisingly began as a wedding celebration and has continued on annually since then. You can find people dressed in traditional clothes, celebrating Bavarian culture and devouring beer!
2023 marks the 188th Oktoberfest and will take place from September 16th to October 3rd! For more information about prices, safety, travel and the beer tents, visit the Oktoberfest website here!
If this doesn't sound like your kind of event, it is advised to visit Munich in the spring before the summer crowds rush in. I personally visited Munich in the winter months and thought it was picture perfect. However, it was chilly and snowy so that is something to keep in mind!
How to get around?
Munich is very well connected and can also be quite walkable depending on where you're based. During our visit, we didn't need any public transportation except for the trains taking us to and from the airport. From what I've heard and what I've seen, driving in Munich should be avoided since parking is limited!
Renting bikes or e-scooters are very popular ways to get around the city in the warmer months. In the colder months you can rely on trams, buses or the U-Bahn (subway) to get around!. Something important to keep in mind is that the ticket prices change per zone. So make sure you are buying the right ticket! However, most attractions are located in Zone M, the main city centre, and this ticket costs 3.70 euros.
To get to and from the airport, you can use the S-Bahn (trains). I'd advise taking the S8 line as it goes directly into the city centre. Another option us to take the S1 line which might be a longer journey.
Interested in exploring Munich by bike? Check out the tour below!
How to spend one day in Munich
Morning
Grab a traditional German breakfast
I'd advise you start your day off in the Old Town. This is where you will most likely spend most of one day in Munich. And if you only have one day to spend, might as well stay central! You can enjoy a traditional German breakfast from Cafe Guglhupf!
It's located right off the main shopping street, tucked away in a quiet corner. They had an amazing spread for breakfast with plenty of choices! I also highly recommend grabbing a slice of Guglhupf before you go! It's what they're known for! From personal experience, we left this cafe feeling pleasantly full. So full in fact that we didn't need lunch.
Address: Kaufingerstraße 5, 80331 München, Germany
Walk around Marienplatz
After you're done breakfast, you can head over to Marienplatz. It is just down the road from the cafe and has been the main square in Munich since 1158. It houses the town hall and historically was the main marketplace. For more information about the buildings lining the town square you can learn more here!
The main thing I would like to mention about visiting Marienplatz is the Glockenspiel. Everyday at 11 am and 12 pm the bells ring and the elaborate figures dance. It was something we witnessed completely by chance and was quite exciting to see! There are apparently 4 different songs that are played and they change monthly. So even if you revisit the city, you might get the chance to witness a different performance! Fun fact: the Glockenspiel is solar powered! For more information about the Glockenspiel and its history, visit here!
Check out this guided walking tour of Marienplatz and the English garden if you'd like to learn more about the historic centre of Munich!
Afternoon
Stop by Max Joseph Platz
Another important square worth visiting on your one day in Munich is the Max-Joseph-Platz. Historically, the square used to house a Franciscan monastery but it was removed to make room for a national theatre. Today, from this square you can access the Opera House and the Residenz Munich Museum. If you're lucky, you can try popping in to visit the Opera House. There was a rehearsal going on while we were there so we didn't get the chance to see inside!
I am proposing two different activities for the afternoon. One outdoor based and one indoor based. The reason behind this is that originally, we had planned to spend our day outside. However, due to snowy weather we were rushed to change our plans. That being said, I figured it would be worthwhile to share the two different options for your day in Munich.
Indoor Activity: Residenz Munich Museum (HIGHLIGHT)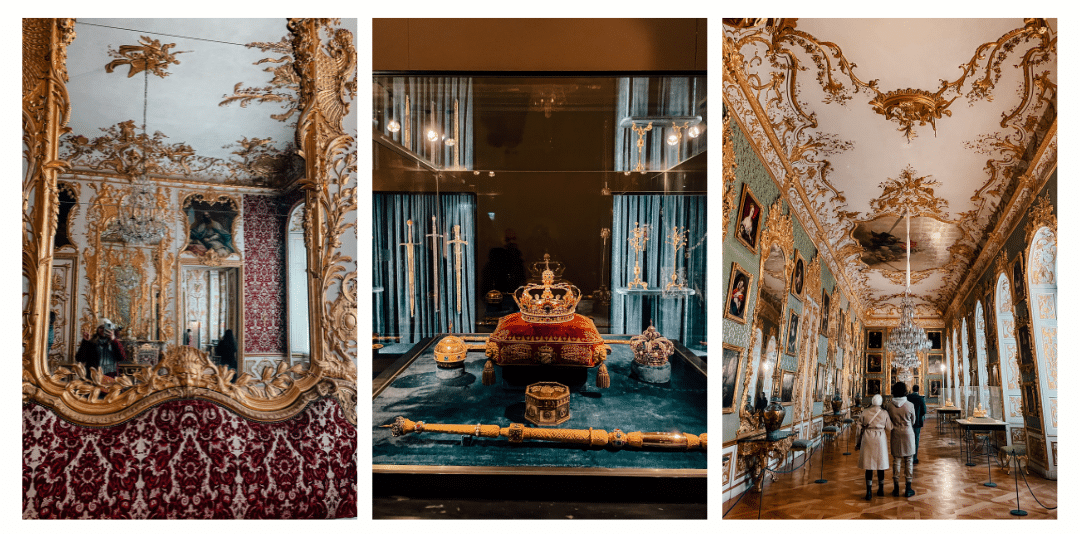 The Residenz Museum was an absolute HIGHLIGHT from our one day visit to Munich! Historically, the building is the former palace of Bavarian dukes and kings until 1918. It is actually the largest palace in Germany! This building evolved over the years from an ancient citadel in the 1300s to an elaborate palace and was destroyed during World War 2. Nowadays it is a reconstructed museum!
It was unbelievably gorgeous and I highly recommend visiting! We spent 2.5 hours exploring the Museum and the Treasury and we were absolutely blown away by the beauty and details. It's truly massive, way larger than we were expecting! There is also access to the Cuilliés Theatre for a more expensive ticket if you'd like the full experience!
Interested in visiting? Check out some activity options below!
Outdoor Activity: Watch the surfers at the Eisbach
Visiting the Eisbach was our original plan for our quick visit to Munich. The Eisbach is a river that runs through the Englischer Garten Park. The park is absolutely massive and looks like a wonderful place to wander and explore some fresh air in the city.
One of the main reasons people come to visit this river is because it is quite the popular surfing destination. All through the year you can find people surfing on the Eisbach wave. Since this river is man-made, engineers constructed a dam to divert water, resulting in a perpetual wave that has interested surfers since the 1970s! Surfing in the middle of city of Munich!? How cool is that!
Evening
Visit a Beer Hall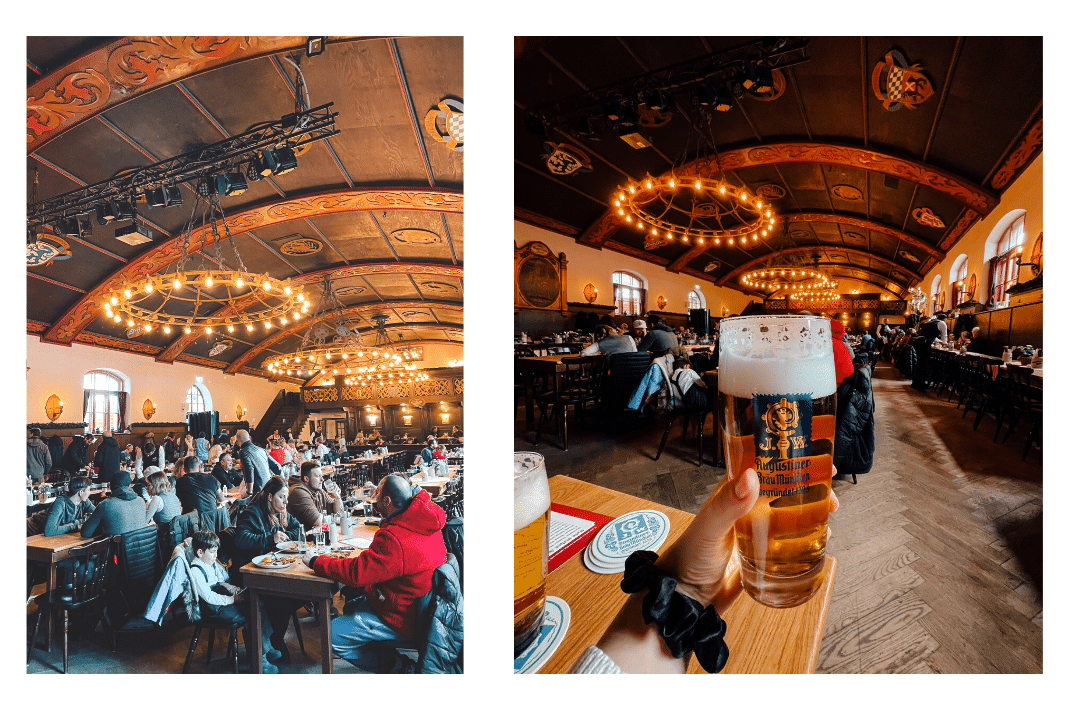 Visiting a beer hall or beer garden is a MUST while you're in Munich. They are a staple of Bavarian culture. Typically, you can find a group of tables, in a very communal setting where, at times, you help yourself to the central beer pouring station and order food. The most popular beer hall in Munich is Hofbräuhaus but I would advise checking out a different spot!
We were directed to Augustiner Keller by a couple of locals. This beer hall is close to the central train station and seems a little out of the way but felt very authentic and like a local experience! We loved it!
We were seated in a large hall on one of the long wooden tables where we ordered our beers and Bavarian comfort food! Outside, even in the winter time, people were gathered together enjoying games and huddled around fires. As a Canadian, the game they were playing resembled a variation of curling. It was such a fun, communal experience that I think everyone should experience on their visit to Germany!
Address: Arnulfstraße 52, 80335 München, Germany
End to a busy day in Munich
As I said, when you're working with limited time and only have one day to spend in Munich, you've got to make the most of it! In between each of our stops, we also made sure to properly wander about appreciate this iconic Bavarian city. It's really quite pretty and I am sure I will be back for another visit one day!
I hope this guide has fully equipped you on planning your trip to Munich and I hope you enjoy the city as much as I did! Have more time to spend in Germany? Why not consider the exploring the underrated Fairytale Route?