You may have heard of a wine tour or a beer tour, but have you ever heard of a cider tour? Personally, I have done winery tours in St. Emilion and Portugal. I've also done beer tours in Ireland and Amsterdam, so I am quite familiar with the complicated process behind these two beverages. Cider, on the other hand, I absolutely adore but I had no idea what was involved in making it. Nor had I known it was even possible to go on a cider tour in Normandy.
Before our visit, I had never even come across a cider tour before. (I guess they're not as common as the others.) Since the French are known for their wine, a cider tour does not always cross one's mind when they're visiting France. But, I did know before our visit to Normandy that this region (along with Bretagne) is the main area in France where they produce cider. So if we wanted to do a cider tour, we came to the right place!
Lucky for me, just outside of Honfleur, we discovered an adorable, local cidery called the Manoir d'Appreval. They run tours through the spring, summer and autumn for only 4.5 euros. I loved our visit and here are several reasons why…
1. You can discover the French countryside on the Cider Route
First of all, if you're in Normandy, you have to drink cider at least once. And like most Normans, you have to enjoy your cider in a bowl. And if you're going to do a cider tour in France, as I said above, why not have one in Normandy, one of the world's largest apple producers?
What I didn't know until we were in Normandy was that there is actually a 25-mile-long (40 km) cider route (again showing how important and popular cider is to the region)! There are over 20 different cider farms along the route for you to discover. Since I didn't know this route existed, the tour we went on at the Manoir d'Apreval is not actually a part of this route. HOWEVER, it is still a wonderful orchard to visit and was an excellent tour!   
This part of Normandy is characterized by its rolling hills of farmland, cottages, orchards and haras (stud-horse farms!). It is the picturesque French countryside we often see in paintings and is stunning to visit. So even if you're not entirely interested in going on a cider tour in Normandy, driving along the cider route and around this area of France is definitely worthwhile.
2. The process to make cider is very interesting and unique
Now, I don't want to go into too much detail since part of the fun of going on a tour is discovering it for yourself first hand. But I will share a few things that really stuck with me from the tour.
The apples used to make cider are not apples we usually eat (this shocked me). The apples used are the smaller apples that we do not find in the grocery store and would probably not enjoy eating raw. Another fascinating point is that there are several different types of apples that are mixed together to make the perfect flavour. It's not the juice from just one type of apple. The proportions and type of apples that are mixed together will depend on the specific farm's recipe. Each variation in combination will result in slightly different flavours of cider.
To make cider or any apple-based alcohol, you have to start with apple juice! Cider comes from apple juice and it is the fermentation of the natural sugars that will transform into alcohol. The fizzy taste of cider also comes as a result of the natural fermentation.
All in all, our guide made the process of creating cider really easy to understand and follow. At times in other tours (such as wine or beer tours), I would get confused with all of the science behind their production. I personally felt that the cider process was very easy to understand! I also like leaving a tour feeling like specific information or facts actually stuck with me!
3. You can participate in a tasting – and try more than just cider!
Another new learning experience for me was that there are different types of French cider. There is normal cider (usually categorized as brut or doux) but they also have Calvados and Pommeau. The latter two are specifically made in Normandy! Calvados is an alcohol similar to cognac and is made from cider. It is typically served as a digestif or palette cleanser and is much stronger than cider. Pommeau is an aperitif made from a mix of Calvados and apple juice. So to recap: start with apple juice, use this to create cider, use the cider to create Calvados and use the Calvados to create Pommeau!
And of course, included with our tour of the grounds was a cider tasting! After we walked around the property and were shown all of the various machines and processes, we were welcomed into a dining room for our tasting. We got to taste the cider, Calvados and Pommeau. I must say that the Calvados and Pommeau were much too strong for me however the cider was amazing.
4. You can finish your tour with a picnic in the orchards
For me personally, one of the best parts of our visit was our lunch afterwards. When booking your reservation, you can add the option to have a picnic on the grounds for an extra 16 euros per person. After the tasting, all we had to do was ask for our basket and we were off to the orchards.
As part of our lunch, we were given a bottle of cider, a baguette, paté, some homemade pain d'epice (gingerbread), and fresh vegetables from the farm. We also had some other specialities from Normandy including  some Camembert, a cider spread, and some soft caramels. And of course, we had a blanket, plates, cutlery and glasses. We could take our basket anywhere on the grounds and enjoy it for as long as we wanted. It was the perfect end to the perfect afternoon!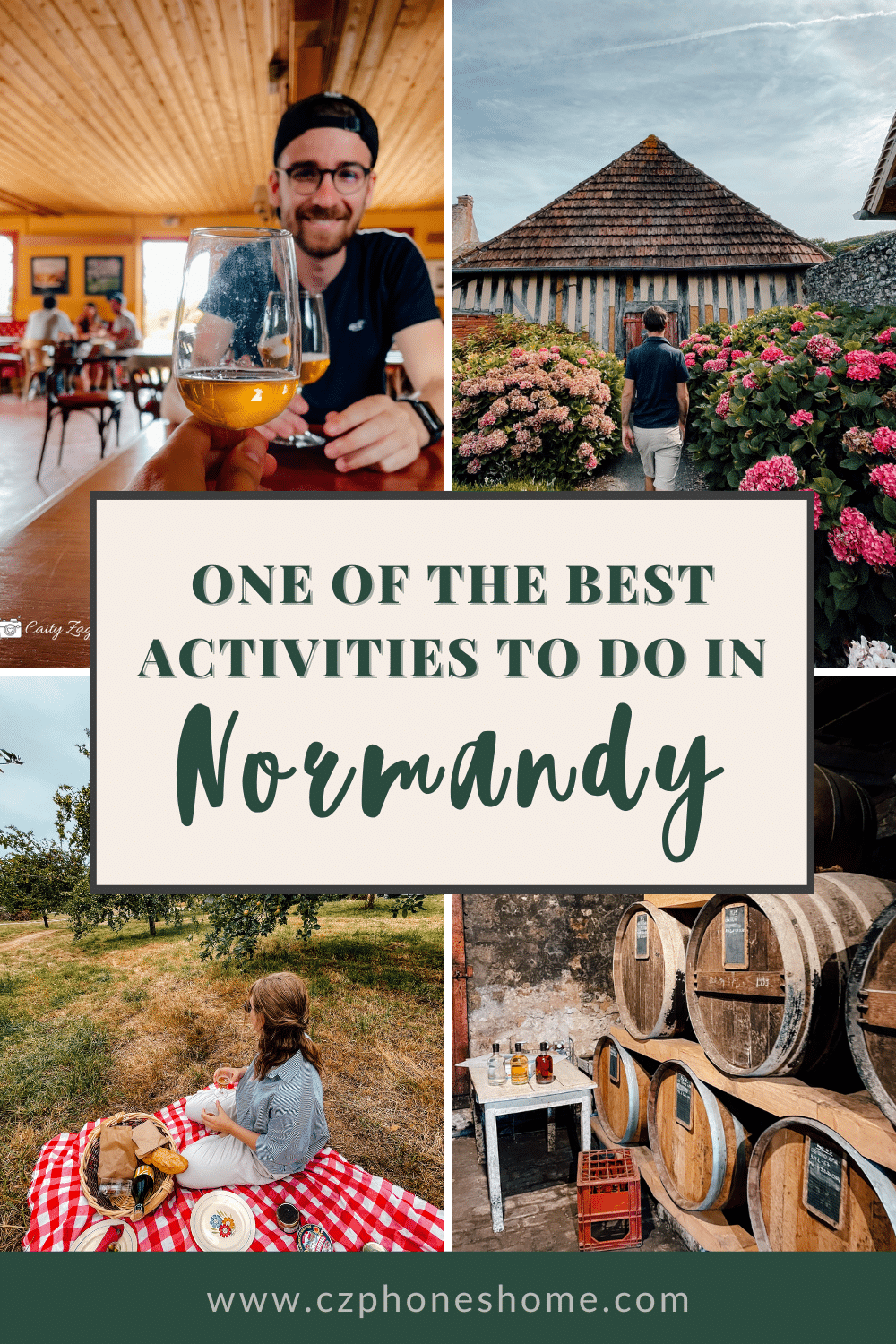 As I mentioned above, cider is a huge element of the culture of Normandy. There are many farms and cideries that you can visit, especially along the cider route.  This particular one we visited wasn't far from our road trip route so it was the perfect stop for us.  Be sure to explore and look into visiting a cidery and attending a cider tour in Normandy for a truly traditional, unique and wonderful experience in the French countryside!