What images come to mind when you picture Switzerland? Drastic mountains behind crystal clear waters? Rolling green hills to your left and right? If this sounds like Switzerland to you, then you're probably due for a visit to the Jungfrau Region.
The Jungfrau Region is at the foot of the Bernese Alps. It is where you can find some of the cutest villages and most stunning views in Switzerland. And this is exactly the region I chose as my introduction to Switzerland! (And it was one hell of an introduction!)
I was only able to visit for a long weekend and got a TASTE of what this region has to offer! So let's dive right in. What are some of the highlights of the region? What are some spots still on my bucket list? What are the best ways to experience nature? Let's take a look!
*Disclosure: This article contains affiliate links. If you make a purchase after clicking one of these links, I earn a small commission at no extra cost to you.
1. Go for a hike
Hiking in Switzerland has been on my bucket list since I was a teenager. And I so proudly crossed it off our very first day in Switzerland. Hiking is the best way to up close to nature and really experience the region to the fullest.
There are ENDLESS amounts of hikes to choose from, which can be extremely overwhelming. It's so hard to choose when they all look so incredible! So, hopefully to help you out, let me share with you a little bit more about the hike we personally did!
We hiked around Oeschinensee and I think if you're a beginner hiker or are working with limited time, this is a really great hike for you!
🚌 It's easily accessible if you have mobility issues. There is a gondola you can take up and there is also a shuttle bus that can take you directly to the lake.
⛰️The views are outstanding! A turquoise blue lake surrounded by mountains – what more can you ask for!?
🥾 The hike to the lake was very easy. And hiking around the lake (and under a waterfall) wasn't too difficult or strenuous either! BUT make sure to have good shoes!
If you'd like to know more information, check out my Instagram post! I provide more details in the caption!
2. Go Paragliding in Interlaken
Paragliding is THE THING to do in Interlaken. I personally did not know this until we got there. Walking up the main street, the sky is littered with tiny specs of people floating in mid-air! It was such a bizarre and cool thing to see when you weren't expecting it!
We didn't get the chance to do it, but this is 100% on my bucket list for next time!! Exploring the Jungfrau Region from above sounds like something that can't be missed!
3. Picnic in Lauterbrunnen
Lauterbrunnen, in my opinion, is one of the most picturesque villages in Switzerland. You may or may not have seen it on social media. A quaint little village with a river running through it, nestled in the mountains and a waterfall cascading beside it – yup that's Lauterbrunnen!
This is a really popular spot to grab a gondola to explore other areas like Grindelwald or Mürren (see more below!) But for me personally, I found it to be a calming, serene spot to just sit back and enjoy. The town itself is quite small and there isn't much besides a few restaurants and shops. There are hiking options to keep you busy, but I highly recommend just enjoying the view!
4. Visit St. Beatus Caves
Another spot on the bucket list for my next visit to the Jungfrau Region is St. Beatus Caves. The caves are located not too far from Interlaken and sound like one of the coolest ways to discover the Jungfrau Region. Underground! The tour explores roughly 1 km of the underground network of grottos and geologic features. They suggest that your visit should take around 45 minutes and it costs 19 CHF for adults. You can book your tickets online and learn more on their website!
5. Ride a train or gondola in the mountains 
One of the most iconic and memorable things to do in Switzerland is to ride a train. The Jungfrau Region has one of the highest train stations in Europe – the Jungfraujoch! Starting from Interlaken, there are trains and gondolas that can take you up into the mountains visiting towns such as Grindelwald, Lauterbrunnen, Wengen and Mürren.
This is for sure one of the coolest ways to explore the Jungfrau Region. It's a great way to get up to the mountains (without the stress of having to drive) and then spend the day enjoying yourself. I highly recommend looking at some of the different ticket options out there! Your ticket choice depends on what you want to get out of your visit. Do you want to go all the way to the top of Europe? Do you want to visit the smaller towns? Do you want to do some adventure activities?
Here are a few ideas to get you started:
Grindelwald Gondola Ride to Mount First
Day trip to Jungfraujoch Mountain
Jungfrau: Unlimited Transportation Pass
For more information about visiting Jungfraujoch and the area, visit their website!
6. Don't skip the smaller villages!
To really feel like you're visiting the authentic side of Switzerland, be sure to check out the small towns. Of course, bigger areas like Bern, Interlaken or even Geneva are beautiful as well. But, do not skip over the small towns. The houses look like Cuckoo clocks surrounded by so many shades of greens and blues, it feels like stepping into a postcard.
Not sure where to go? Lauterbrunnen (as mentioned above), Brienz and Grindelwald (mentioned below) should be on your list! But there are so many others that are out there for you to discover!
7. Try some mountain adventure activities
If you're an adventure traveller and want to get your blood racing, the Jungfrau Region has so many choices for you! I already talked about paragliding in Interlaken but there are so many more activities IN THE MOUNTAINS you can try.
A few that looked really fun and are on my bucket list for next time are the First Flyer and the First Glider! Both are sort of zip-lining down the mountain, one on your stomach and the other sitting down. There is also mountain karting, where you can ride a go-kart down the mountain! I have also seen a similar experience but it was a slide! There is honestly so much to do!
8. Relax in the free lounge chairs in Brienz
Brienz is a super small town located on Brienz Lake. It has some of the cutest towns I saw during our whole time in Switzerland, plus amazing views of the lake and tonnes of lake activities to try. It is also less visited than some other spots so it felt very authentic.
When wandering around the town, we wanted to stroll along the promenade and the lakefront. Much to our surprise, there was a stand for free lounge chairs. You grab a chair, sit back, enjoy the view and put it back when you're done. I won't lie we might have had the most peaceful nap sitting in these chairs!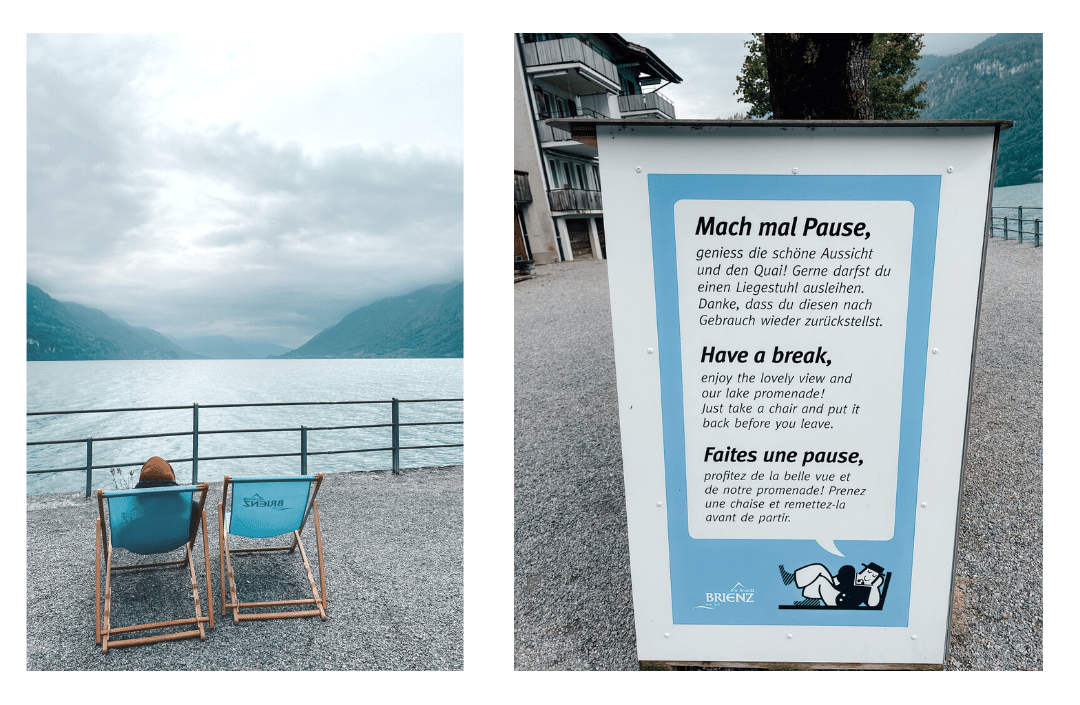 9. Enjoy the view from Harder Klum
This is one of the most well-known activities to do from Interlaken! Harder Klum is a viewing platform 1,322 metres above sea level! At the top, you can enjoy the views of Thun Lake and Brienz Lake from the platform or sit back and enjoy the sunset from the restaurant. To get there, you can take the funicular which takes around 10 minutes. From there you can walk around to enjoy the views, enjoy a folklore show or go for a hike! If you're looking for jaw-dropping views, this should be on your list!
10. Get wet and try some water activities!
I've talked a lot about mountain adventure activities but there are also plenty of lake activities you can do in the Jungfrau Region! Are you still looking for action-packed adventures? There are fun-filled water activities such as canyoning and water rafting tours leaving straight from Interlaken! Or maybe it's time to sit back and enjoy a bit. There are also more leisurely activities to check out such as kayak tours or boat tours of the 2 lakes! So take your pick!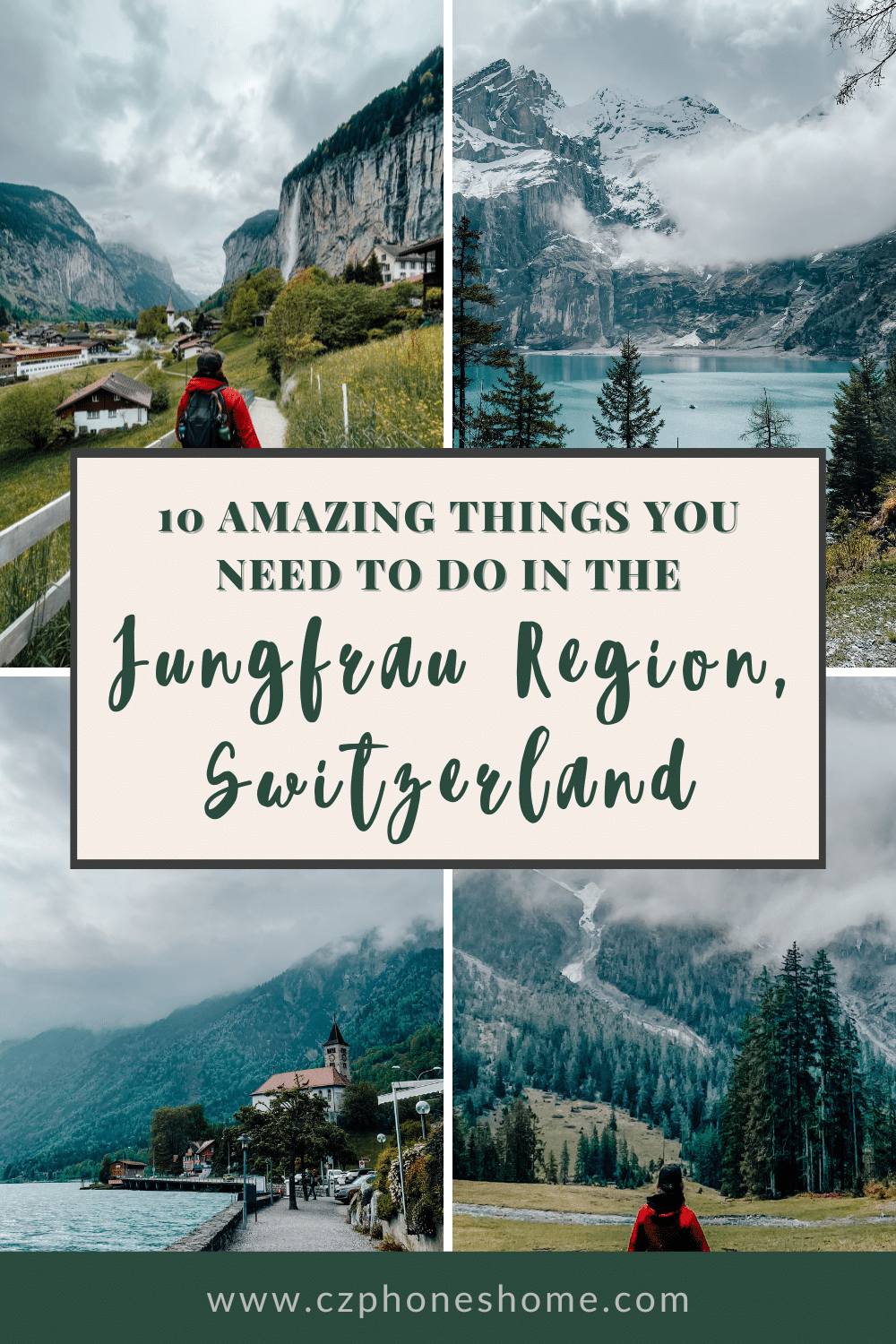 Have you booked your trip yet?
As I mentioned above, I have only scratched the surface of this region, and it has left me wanting more. More mountains, more fresh air, more chocolate, more cheese – more Switzerland! My biggest lesson from visiting the Jungfrau Region is that 1-2 days is not enough. If it is all you have, it is better than nothing. But if you can find a way to visit longer, I guarantee you won't be disappointed, and you won't be at a loss for things to keep you busy!
Stay tuned for more Switzerland content such as a full Budget Breakdown and a 3-day itinerary. In the meantime, if you're exploring other destinations in Europe on your trip to Switzerland I've got you covered! Check out my guides for the areas around Switzerland including France and Germany! Or if you'd like more help with your trip planning, I'd be more than happy to create a customized travel guide for your specific needs and trip. Check out my Thatch page for details!