As Christmas approaches, one of the easiest ways for me to get into the holiday spirit is to go hunting for Christmas lights. And London is THE place to find some of the most magical Christmas lights. The city is absolutely transformed around the holiday season.
During the 2 years that I lived in London, my friend and I had a tradition of heading out for an evening with the sole objective of finding the best Christmas lights around the city. There are so many storefronts, Christmas markets, and decorated streets that all go all out for the holiday season.
So start planning your holiday visit now! Below you will find some of my personal favourite spots to find Christmas lights in London!
Regent Street
You can't talk about Christmas lights in London without mentioning Regent Street. They have probably the most iconic setup in the whole city. Hanging over the entire street you will find huge sweeping angels creating a warm canopy of lights. When I was there, the street was also completely open to pedestrians which just added to the experience!
The lights on Regent Street were  turned on November 9th 2023 until January 5th! This is normally quite the affair! There is a concert, fireworks and a countdown leading up to the lights officially be switched on!
Seven Dials
Another wonderful twinkling display can be found in the theatre district of London. Seven Dials will decorate their streets according to a central theme. In 2019, the theme was stars and the whole area was draped in a blanket of hanging stars and snowflakes. Another popular recent theme was "Festive Woodland" in 2020, which they revisited in 2021. I wonder what theme Christmas 2023 will bring! The lights were officially switched on on November 7th 2023 and will be on until early January!
Fortnum and Mason
Another iconic symbol of London's Christmas spirit is the decorated Fortnum and Mason storefront. Recently, they have been decorating their façade along the theme of an advent calendar. Each window is equipped with a large number and they are illuminated as each day passes, counting towards Christmas Day. It's incredibly well done and really beautiful to see! And don't forget to appreciate the incredible window displays!
Popping inside to do some iconic Christmas shopping in London might not be a bad idea either! The Christmas preparations have been taking place since the end of October 2023!
Burlington Arcade
To be clear, the Burlington Arcade is not the place to find a pinball machine. An 'arcade' is a covered street where you can find many shops! And this particular arcade is just beautiful at Christmas time! The storefronts are all decorated, there are twinkle lights dangling from the glass ceiling and a large gold ribbon flowing down the centre. It's just so festive!
Leicester Square
Leicester Square turns into a Christmas market around the holiday season. The square is filled with cute, gingerbread-style booths selling everything from warm drinks to tasty treats. It's also the perfect place to find unique, handmade gifts (like most Christmas markets are!). They have a stage where they host various shows and performances. When I was last there, I was able to enjoy listening to carolers while drinking mulled wine and shopping for stocking stuffers. What's more Christmassy than that!?
The Christmas Market is due to take place from November 8th 2023 until January 7th 2024!
Covent Garden
I love visiting Covent Garden no matter the time of year. And at Christmas, it is also home to a legendary, massive tree (the largest Christmas tree in London to be exact)! Inside, you can also find some of the biggest decorations I've seen so far – expect to see some giant mistletoe chandeliers paired with enormous baubles. They are also known for surprising crowds with daily 'snow showers'. It's unclear to me how they actually do this but it's their way of making the season feel a little more magical!
The lights were switched on at Covent Garden on November 7th 2023!
Harrods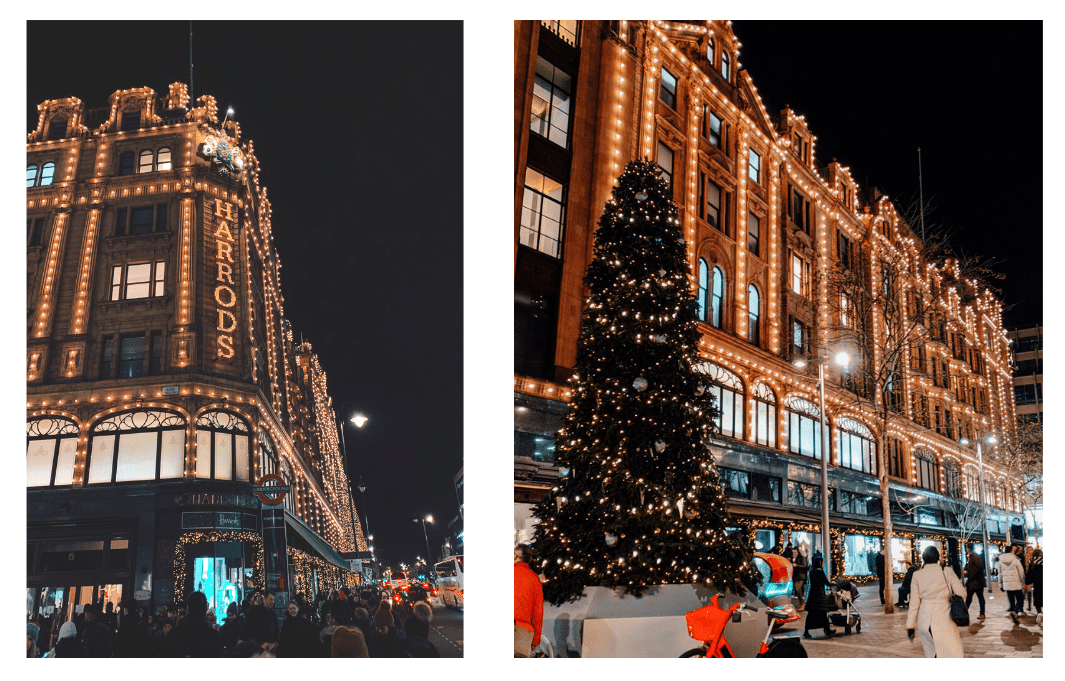 Harrods Department Store is known for having beautiful bright lights on its facade all year round. At Christmas, they amp things up a bit by adding trees and some pretty impressive window displays. But I think the true holiday experience can be found inside! They are often decorated from head to toe and have Christmas displays as far as the eye can see! I love the attention to detail London shows around the holiday season! Christmas mode was fully activated at Harrods on November 1oth 2023!
Carnaby
Carnaby is another spot that is often well-lit all year around. Similar to other spots, their displays usually follow a theme however are known to be super colourful and eccentric! In the past, they've had themes centred around marine life and most recently, the Carnaby Kaleidoscope, which filled the streets with brightly coloured butterflies!
They switched on the lights at Carnaby on November 8th 2023! Typically, on the day of the lights being switched on, many restaurants and shops in the area all participate in a sale, called the Carnaby Christmas Shopping Party! The evening can be spent enjoying the discounts, live music and giveaway! You can find out more and grab your tickets for the even here!
Leadenhall Market
This spot often brings many Harry Potter fans since it's known as one of the film's well-known filming locations in London. But I find it even more enchanting at Christmas. Hanging from the ceiling are rows and rows of garland, all leading your eyes toward the gorgeous Christmas tree right in the centre of the space. It's probably one of the coziest Christmas spots in my opinion! Christmas lights will be switched on November 16th 2023!
New Bond Street & Mayfair
These two areas are known for being super classy where you can find many luxury brands. And as a result, usually have some of the best storefront decorations around! Notable places to visit are Cartier, Annabel's, Scotts and Tiffany & Co. I'd suggest wandering around and seeing what you can find! Most decorations will be fully ready by November 16th 2023!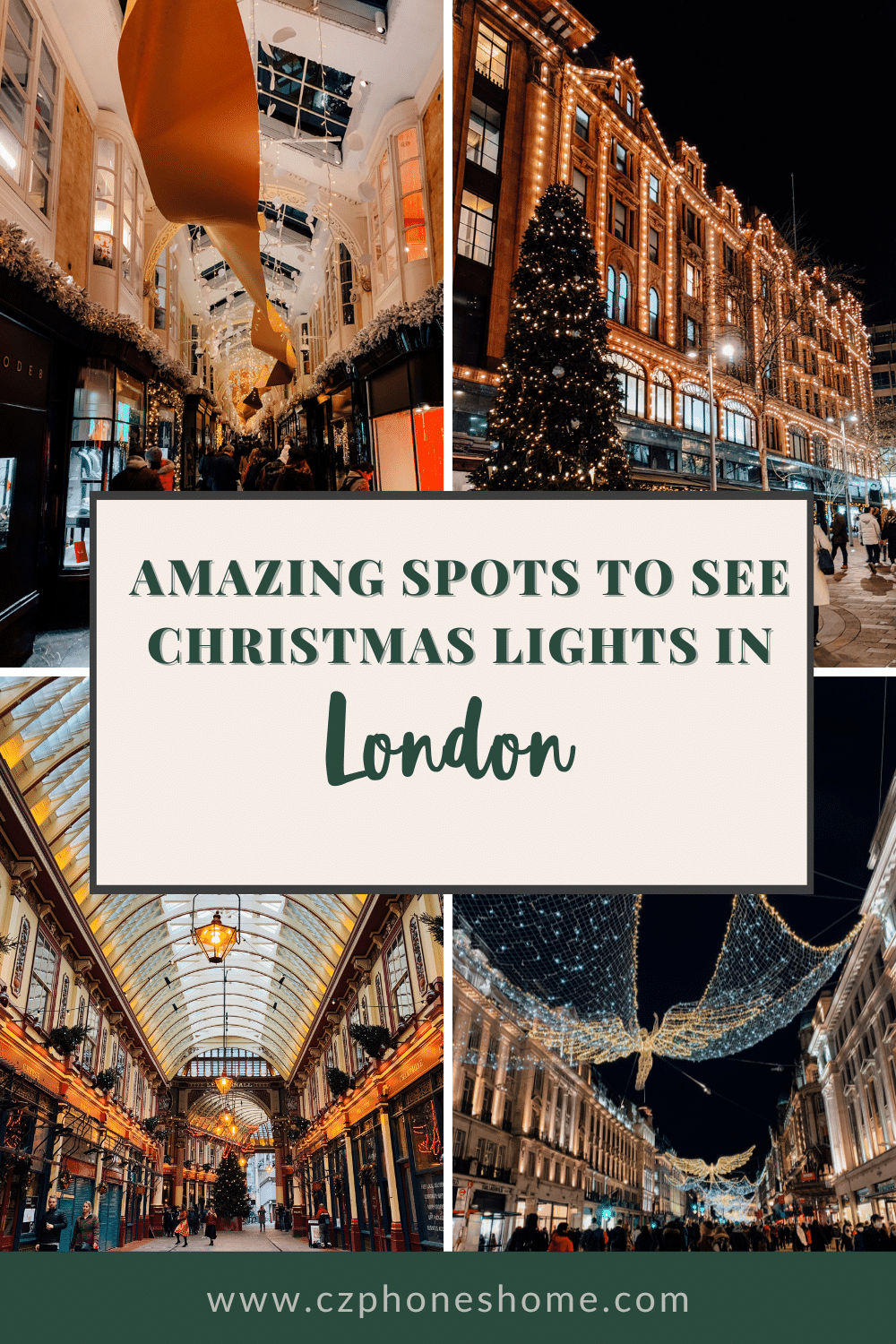 This list is just the tip of the ice burg. Luckily, there are so many ways to celebrate Christmas in London. You can visit Winter Wonderland in Hyde Park, go ice skating in front of the Natural History Museum or see the light display at Kew Gardens! But no matter what, be sure to spend time just enjoying the free display of lights all around the city! It truly is a magical place!
If you liked this guide and want a more 'on the go friendly' version, be sure to save my FREE Hunting for Christmas Lights in London Guide!
Any other noteworthy Christmas lights in London? Please share in the comments for any future visits!