2022 was a big year for the Braderie de Lille. For the past few years, this old, traditional celebration has been cancelled due to either Covid-19 or terrorist precautions. And funnily enough, a lot of French people I met during my first Braderie had told me it was actually their first time going due to all of these cancellations. So lucky for me, I was able to join in the fun during the big re-opening year.
Now I've heard of 'Braderie' mentioned many times since moving to Lille, especially as we approached the autumn season. Traditionally, Braderie takes place the first weekend of September. Branderie 2023 will take place the weekend of September 2nd. But I had no idea what it actually was. All I knew was that it was some sort of yearly 'fair' or 'festival' where you eat mussels and fries (also known as moules frites) and drink beer. That's all I really knew.
Not knowing what to expect was exciting for me because it meant I was experiencing Braderie de Lille with fresh eyes. I was discovering this iconic event with minimal bias. Below you will find all of the things I learned about Braderie de Lille over the course of the weekend to help you learn more about this fun French tradition!
1. The Braderie de Lille is the oldest and largest in France
In the past, I assumed that braderie only took place in Lille. Whenever I heard about 'braderie' it was always the Braderie de Lille. But that is not true. Braderies happen all around the flemish countries (Northern France, Netherlands, Belgium and Luxembourg) and almost every town will have their own braderie.
What's special about the Braderie de Lille is that is the oldest one (it was first mentioned in writing in the year 1127!). This yearly tradition started as a way for servants to sell their master's old clothes and objects to earn money. Later, the tradition grew to allow street vendors, locals and foreigners an opportunity to sell their goods.
Lille's braderie  is also the largest and most well-known braderie. Millions of people visit Lille to experience braderie and you can find around 10,000 vendors around the city. Here is the map for the Braderie de Lille 2023!
2. 'Braderie' literally means 'clearance sale' or flea market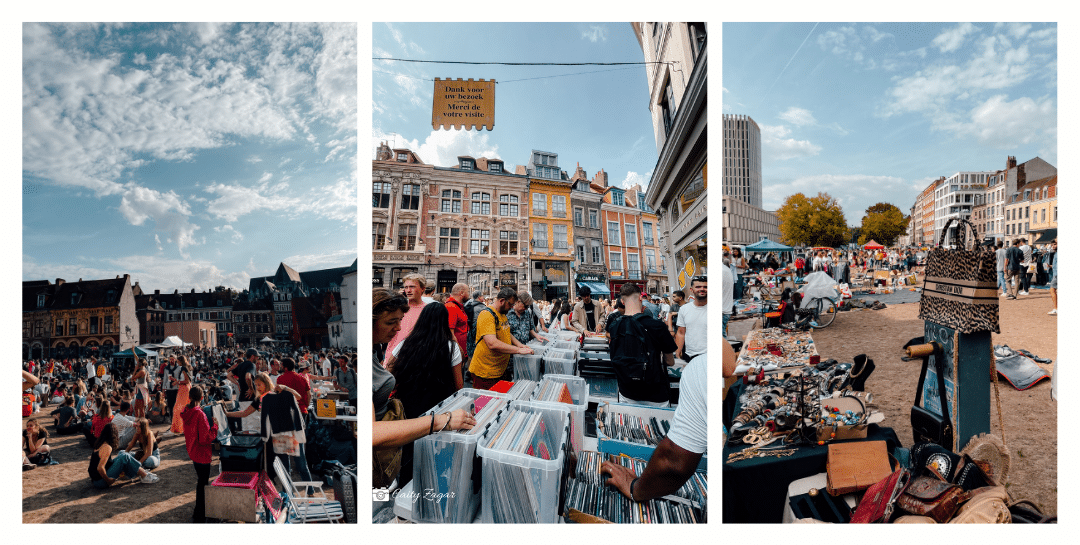 As I mentioned above, it was my understanding that braderie was a festival of some kind. I was sort of right however, a braderie is actually a local flea market. It is the place to find massive sales, antiques, and vintage or second-hand items. Nowadays, big shops also capitalize on the weekend by having huge promotions.
The streets and parks were lined with vendors. There was table after table of clothes, music, furniture, shoes, you name it. I remember we were walking to find food and we noticed a family sitting at a table and at their feet was a mounted stuffed animal deer head with a plastic gold medal around its neck. This is the sort of stuff you can come across at braderie.
If I was to describe braderie based on my experience, I would say it was like the entire city was putting on a garage sale. You could find professional vendors, legitimate brand name stores or ordinary people selling their objects off of a bedsheet. It was quite diverse. The shopping can be found on most streets in the Center and Vieux Lille and since it is essentially a flea market, cash is always a good thing to have on hand! Here is a map for the Braderie de Lille 2023!
3. Moules Frites has not always been the traditional meal of braderie
I was right that the meal to enjoy at braderie is mussels and fries. Almost every single restaurant was offering it on their menu. You know it's the meal of choice when in the middle of the street there are mountains of mussel shells piling up. In 2023, the mountains of shells will be back for the first time after Covid-19! Honestly, at every table, there was bowl after bowl of mussels. It was really amusing to me to see that almost every single person was eating the same thing as if we were in a school cafeteria. Apparently, over the course of a weekend, 500 tonnes of mussels are consumed!
But I recently learned that mussels haven't always been the star of the show. Originally, roast chicken was the meal of choice during braderie. It was sold directly in the street in front of the shop. But sadly, due to a disease that was impacting the availability of chickens, it was later replaced with mussels. Mussels are much cheaper and are also a reliable finger food and ever since then, they have been the typical dish to eat at braderie.
What I found interesting is that since 2017, the shells of all of these mussels are now being recycled. It is part of an eco-initiative where they will reuse and repurpose the 500 tonnes of shells into tiles or other objects.
4. There is more to Braderie de Lille than just beer and mussels 
I quickly realized the reality that shopping, beer and mussels are key elements to braderie but that was not all that was there. Early on Saturday morning, they also hold a marathon! I did not wake up early enough to witness this but it has become another yearly tradition!
Among the vendors, bars and restaurants there was also music everywhere! People would stand in their windows overlooking the busy streets blasting music while others would stand below dancing and singing along. I witnessed this several times during the day all around the city. But on the ground level as well, there were so many street performers and musicians serenading the crowds. I hadn't realized how big of a role music played in the energy of this weekend event. There is also the yearly fête foraine (the town fair) that takes place in the Citadelle which is filled with rides and games for all ages.
5. Don't forget you're in the North so come prepared
Now what I mean by this is that not only do you have to be prepared for crowds and noise but also the weather and walking. I didn't anticipate the fact that the Braderie de Lille covers over 100 kilometres of roads! It's massive and requires a lot of walking. So be sure to keep that in mind!
But also remember you are in the North of France. The weather is not always the best and is not always reliable. Before leaving for braderie, we checked our weather apps several times while getting ready to leave, and the weather was said to be clear and relatively warm (in the mid to high 20-degree Celsius range). However, mid-way through our day, the skies opened up and we were greeted with several little rain showers. People scrambled to get into shops or restaurants to find cover because not many were prepared. And as a result, we all were a little colder afterwards. All of this to say, no matter what the weather network is telling you, bring an umbrella, raincoat and walking shoes just in case.
6. Braderie de Lille is REALLY popular
It's estimated that around 2.5 million people visit Lille for braderie. It is a huge event and a huge weekend for tourists and locals! But with that many people, that obviously means there are a lot of crowds. Oh my word it was crowded! For braderie, the roads are all closed and the entire centre of Lille is opened up to pedestrians. So don't plan on driving to Lille for braderie! But this didn't necessarily help the flow of people.
On several occasions, we were in standstill traffic while walking because there were just too many people. Some people were stopping to look at food, others were trying to browse the shopping, and some were standing in front of a bar having a drink, either way, it was insanely crowded. This is something, I have read, that the city of Lille is trying to improve every year with increased security and measures to help the flow of traffic.
Another thing I noticed was that because of the crowds of people, accessibility was rather difficult. People with wheelchairs or strollers, from my perspective, were really struggling to navigate the crowds. I mean I am an able-bodied person with no children and I was having a hard time so I can only imagine.
7. Braderie typically lasts for 33 hours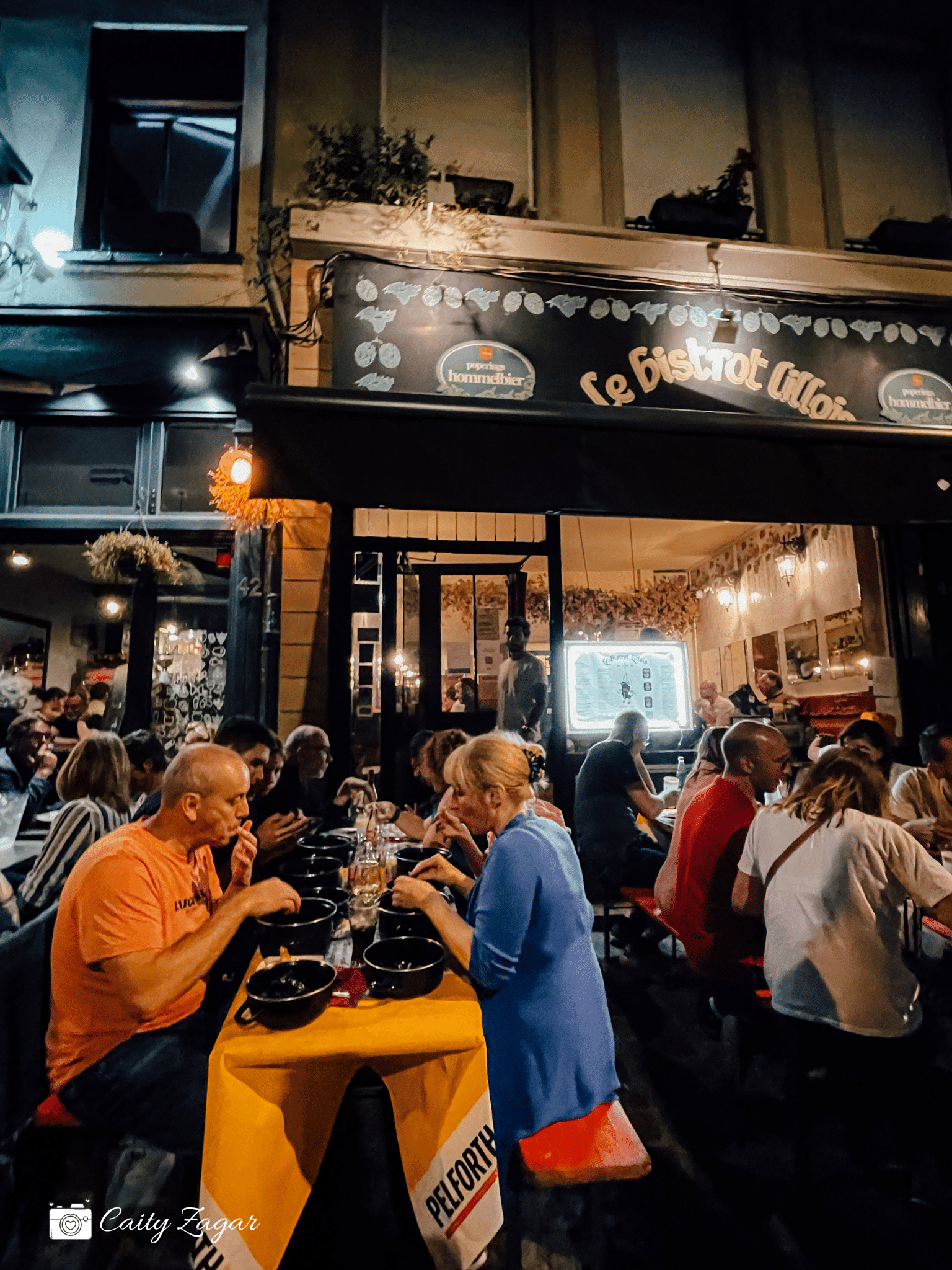 One special thing about the Braderie de Lille is that it traditionally lasts 33 hours! In 2023, it starts the Saturday September 2nd around 8 am and ends Sunday at 6 pm. This means that vendors are working through the night. People are eating, drinking and listening to music until the next morning! After we finished our moules frites and maroilles sauce, it was a totally different environment than bargain shopping. Groups of people were singing, dancing and going from bar to bar. Everyone had a great time and enjoyed themselves. I was surprised to see some kids around in the late hours as well! In 2022, the music was cut off a bit earlier than in past years but it was still a fun environment to hang out and enjoy with family and friends.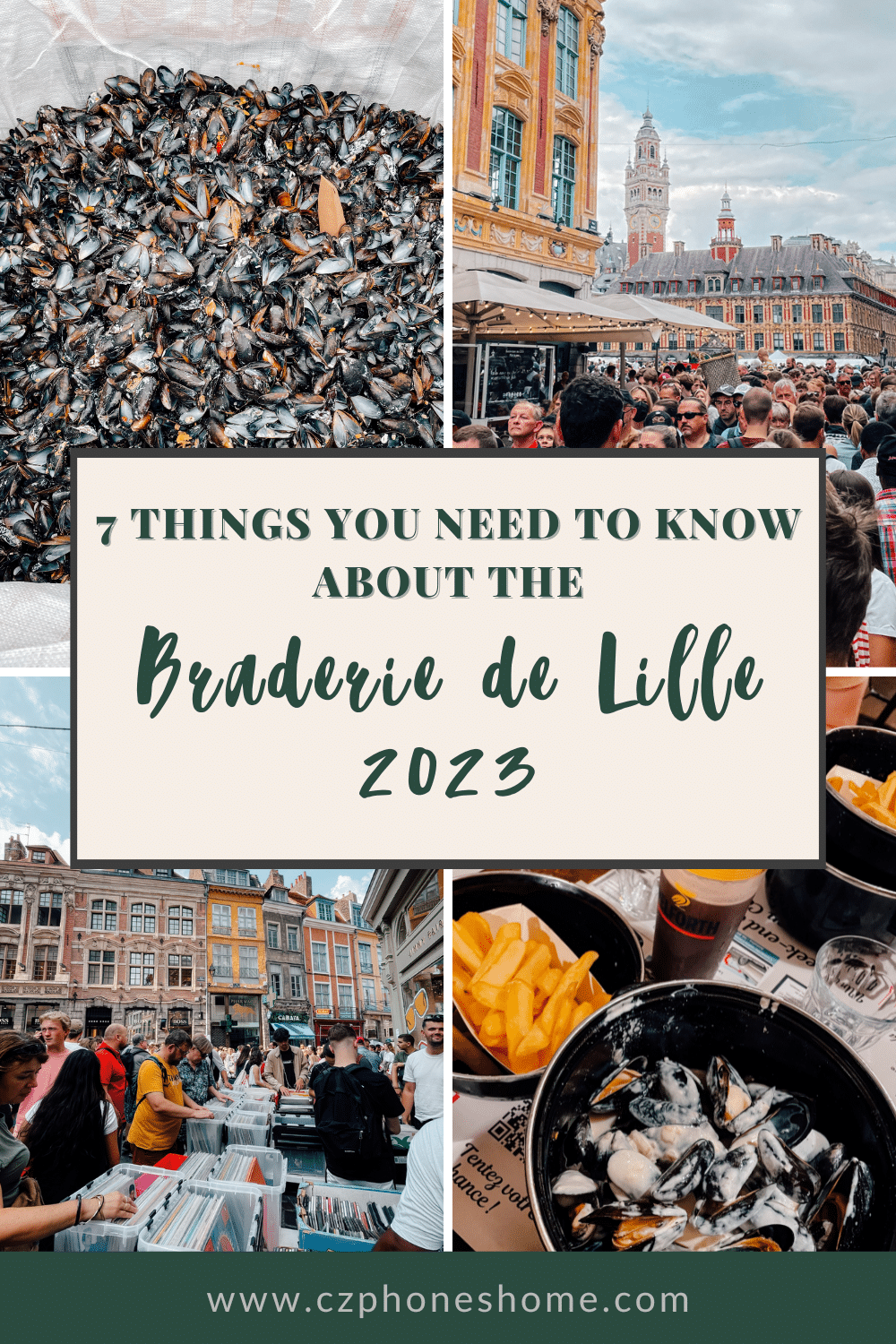 All in all, braderie is a fun, unique experience. I personally found it a little difficult to actually shop (which is the whole purpose of the event) due to the crowds of people. But I was pleased that even though there were so many people, it wasn't too much of a challenge to find a place to eat. Since most places were serving the same thing there were tonnes of options to sit down and enjoy some mussels.
I also do get the impression that for some people, braderie is a good reason to go out, party and have a good time. However, it is amazing to me that this tradition has continued to survive despite the many years of hardship throughout history. For that reason alone, Braderie de Lille is an event worth witnessing at least once in your life!